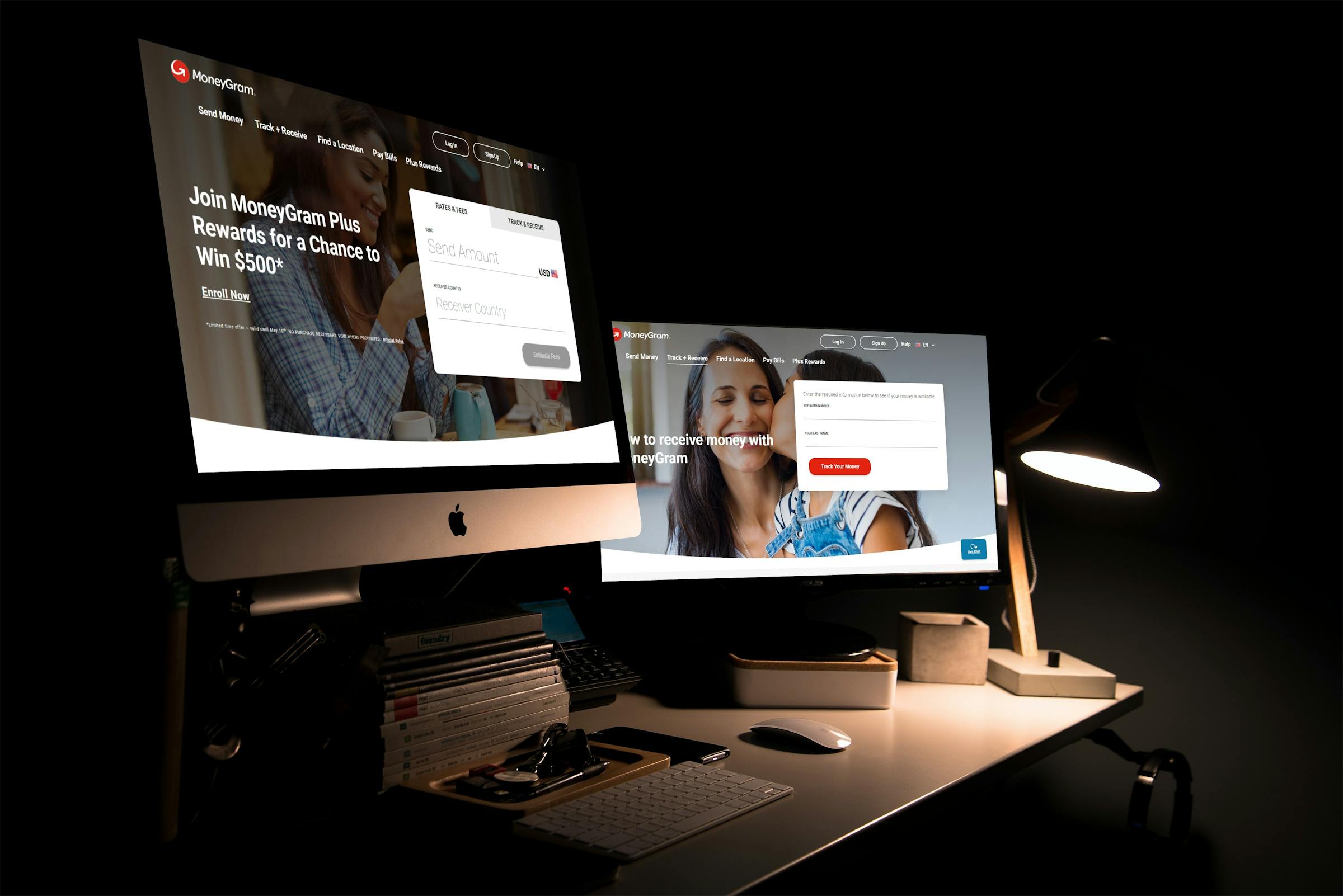 MoneyGram Review: Monito's Definitive 2023 Review
MoneyGram Online is a great money transfer service (8.0/10) often recommended by Monito's experts for cash pick-ups. The second-largest transfer company in the world, MoneyGram has built up a solid reputation (7.6/10), although its pricing isn't entirely transparent. All in all, activating and using an account to transfer money overseas is reasonably easy with MoneyGram Online (7.3/10) on a highly-praised website and mobile app (9.4/10). However, the service's fees and exchange rates are not very competitive (7.8/10) and are seldom the cheapest option, especially for bank transfers.
What Monito Likes About MoneyGram
Enormous access to around 200 countries and 50 currencies;
Large, reputable company with a long service history;
A variety of

pay-in options

are available.
What Monito Dislikes About MoneyGram
Often pricier than specialized money transfer services;
Maximum transfer limits are often very low;
Around 90% of fees are hidden away in nontransparent margins;
Exchange rates on the website can be different from those paid.
Monito recommends MoneyGram Online particularly for cash pickup transfers due to the broad scope and fair pricing of these services, especially if you are sending from the United States. For transfers to a bank account from any other country, or if you'd like to discover the best deal, then we'd highly recommend you run a search on our real-time comparison engine and weigh up your options instead.
| Criteria | Monito's Score | Review Highlight |
| --- | --- | --- |
| | 7.6/10 | 2nd-largest money transfer company |
| | 7.3/10 | Transfers are reasonably straightforward |
| | 7.8/10 | Not always offering competitive fees and rates. |
| | 9.4/10 | A solid 4.4/5 star rating on Trustpilot. |
How We Review Money Transfer Providers
With more than 50 providers reviewed and 100 test transfers made over the past ten years, we pride ourselves on providing the best reviews of international money transfer services online. Curious how we make them and why you can trust us? Take a look at our process below:
🔎 See how our scoring methodology works

All international money transfer services we review are put through a comprehensive and rigorous scoring methodology, which involves the testing of the platform's functionalities, assessment of customer reviews, fees, pay-in options, customer service, and business metrics. The methodology is also powered by an analysis of millions of searches on Monito's comparison engine to determine each provider's competitiveness in terms of pricing. When the research is done, each Monito Score is then peer-reviewed by at least one Monito expert. Learn more about our scoring methodology here.

🤝 See why you can trust our recommendations

Reviews are written independently by Monito's editors, and the recommendations given are our own. We might make money from some links on our reviews to bring you premium content without pesky banner ads and paywalls. We promise you that this never impacts the independence of our recommendations. Learn more about our promise and our business model here.
Background check
MoneyGram International is a publicly traded company, licensed and authorized by the New York State Department of Financial Services in the US and in every region in which it operates globally.
Security & reliability
MoneyGram's platforms are fully secured and use top-notch security protocols, including segregated user accounts and HTTPS.
Company size
A well-established company with a long history, MoneyGram today has more than three thousand employees, 150 million customers, and handles some US$25 billion in transactions every year.
Transparent pricing
MoneyGram is not transparent about its pricing, with some 87% of total fees being buried away in hidden exchange rate margins.
Can I Trust MoneyGram?
Having moved around US$25 billion in 2023 for around 150 million customers globally, MoneyGram is undoubtedly a trustworthy and credible service when it comes to international money transfers.
Is MoneyGram Legit?
MoneyGram International Inc. is a giant multinational company publicly traded on the Nasdaq Stock Market with a US$175 million market capitalization in September 2020. The company, which has over 3000 employees worldwide, has a track record of close to 80 years. It has gone through numerous mergers and acquisitions during this time and has demonstrated significant expertise in the money transfer industry.
MoneyGram has built its reputation through its quality, which provides a convenient and safe way to send money to or from nearly every country in the world. The MoneyGram brand is recognized and trusted globally, thanks in part to its network of agent locations which, apart from Western Union's, is unmatched by any of its competitors.
Is MoneyGram Safe?
MoneyGram is subject to a wide range of laws and regulations of countries around the world. MoneyGram is licensed in all 50 US states and the District of Columbia, Puerto Rico, the U.S. Virgin Islands and Guam. In the UK, MoneyGram is licensed as an Authorized Payment Institution under the European Union Payment Services Directive, allowing MoneyGram to provide payment services throughout the European Economic Area.
Many other jurisdictions in which MoneyGram operates impose licensing or other regulatory requirements. These include minimum capital requirements, compliance with operational procedures, agent oversight and maintenance of reserves, and specifically designed to protect consumers' funds. MoneyGram takes its regulatory compliance very seriously and invests US$50 million a year into its compliance program.
So, is MoneyGram safe to use? Absolutely. MoneyGram couldn't be the second-largest money transfer provider in the world if it didn't adequately protect its customers' funds.
How Transparent Is MoneyGram?
While MoneyGram appears to present its fees and exchange rates in a relatively transparent manner, as a customer, you will, in fact, be left in the dark about the exact amount that you'll end up paying in exchange rate margin fees until the very point of transferring money. This is because the exchange rates that MoneyGram will quote you will only be estimates based on variable exchange rates rather than the actual exchange rate at which you'll be charged.
According to Monito's analysis of MoneyGram's pricing for ten major transfer corridors, some 87% of total fees being buried away in hidden exchange rate margins, meaning that most of its fees are not made public outside of the fine print.
While not fully transparent, this aside, MoneyGram does provide a fair level of explanation for the fees it charges. Furthermore, the company is honest enough to refer to the transfer's final cost as the "Estimated Total Cost" rather than merely the total cost. For these reasons, while MoneyGram would certainly have a lot of work to do to brush up on its overall transparency, all things considered, the service will ultimately give you a fair sense of how much you'll likely end up paying for your transfer, although not necessarily totally accurate.
Opening an account
Account registration at MoneyGram Online is a reasonably laborious process, and you'll be required to enter a lot of personal information before making your first transfer.
Making a transfer
Transferring money with MoneyGram Online is simple and straightforward, although you might encounter some regulatory questions along the way.
Contacting support
Customer support features such as a FAQ are available; however, accessing live chat support is only possible if you're making a transfer.
MoneyGram's Service Quality
While transferring money with MoneyGram Online is usually a painless process, you may face some hurdles while signing up for a new account.
What Is MoneyGram?
MoneyGram is the second-largest money transfer service globally. True to its reputability and scope, the extent of MoneyGram's service across the world is very impressive indeed, matched only by its competitor Western Union. Aside from allowing you to exchange the USD for as many as 47 different foreign currencies from thousands of locations globally, MoneyGram also offers the following services:
Bill Payments
MoneyGram's bill payment service allows you to pay your relatives' bills or your own from thousands of companies. The service is available in nearly all agent locations across the US, Canada and Puerto Rico and certain agent locations in select countries in Europe and the Caribbean.
Money Orders
Money orders were the first service that MoneyGram offered when it was founded in 1940. While the company still offers this service today, it only represents a small share of their business. The service, which is only available at certain agent locations across the US, is basically a prepaid check which you can deliver by mail or in-person to the recipient.
MoneyGram Transfer Limits
While there is no daily transfer limit, you are allowed to send up to only US$10,000 every 30 days. The maximum amount of money you can send through MoneyGram Online per transaction is also US$10,000.
Mobile Top-Up
MoneyGram lets you top up prepaid mobile phones of more than 350 mobile carriers in over 100 countries worldwide. This is a great way to ensure that you and your relatives abroad can stay in touch. Mobile top-ups are available at MoneyGram agent locations in the US but can be sent online from any country in the world.
MoneyGram App
The MoneyGram app is available on both Google Android and Apple iOS in Australia, Austria, Belgium, Denmark, France, Germany, Ireland, Italy, Netherlands, Norway, Portugal, Spain, Sweden and the UK. The MoneyGram app lets you send money, track past transactions, estimate fees or find agent locations for future transactions, and manage your account. While the app is rated 4.65 on the Google Play Store, it has an incredible 4.9/5 stars on the Apple App Store.
Customer Support
MoneyGram appears to be very easy to reach by all available metrics when it comes to supporting its customers. The website homepage, for example, provides users with a 'Help' function in the top right of the interface, which easily allows you to access live chat, a fairly detailed FAQ, as well as a contact form that will help you get in touch with MoneyGram assistants via email.
In addition, by and large, customers tend to report a highly responsive team who are ready and able to provide sound feedback and help as needed.
How MoneyGram Works
Step 01

Check MoneyGram's Rates

Use Monito's comparison engine to see how MoneyGram's fees and exchange rates weigh up against the rest and make sure they are indeed the cheapest option for your international money transfer. There, you'll be able to discover both the cheapest ways to fund your transfer and have the money received.

Step 02

Open a MoneyGram Account

You can sign up for MoneyGram Online on the web or using the mobile app using your email address. You'll need to provide MoneyGram with your full name, residential address, mobile phone number, country of birth, and date of birth.

Step 03

Verify Your Identity

If you'd like to transfer over a threshold limit (e.g. US$900), you'll be required to verify your identity regardless of your payment method. To do this, start the verification process when prompted and follow the instructions to scan and submit your valid photo ID. Take note that, depending on the amount you send, you may be questioned about your occupation in order to verify your identity.

Step 04

Set Up Your Money Transfer

After you're signed in, you'll be able to set up a new transfer by entering how much you'd like to send, your destination country and currency, and after clicking 'Estimate Fees,' you'll also be able to specify your payment method and your beneficiary's receiving method. You may be asked additional questions about your occupation, source of funds, relationship to the receiver, the purpose of your transaction, and your country of citizenship

Step 05

Add Your Beneficiary

Next, you'll be directed the 'Receiver Information' section where you'll need to specify your beneficiary's full name and bank information. If you're sending money within the Eurozone, you'll need your recipient's IBAN in addition to their SWIFT/BIC code and their bank's name.

Final step

Review and Pay

Having added your beneficiary, the final step will be to enter your payment details in the 'Payment Information' section. This will include an option to enter you card details if you chose to pay by card, or it will show the bank details of the bank account to which you should send your money if you chose to pay by bank transfer.

Go to MoneyGram
Fees & Exchange Rates
7.8
Transfers to a bank account
MoneyGram was competitive on 60% of available Monito searches for bank transfers over the past six months since April 2023.
MoneyGram's Fees & Exchange Rates
MoneyGram Online only sometimes ranks as the cheapest service available for cash pickups and bank transfers, and therefore it isn't usually the best deal. When it comes to fees and exchange rates, you'll encounter the following two costs when making an international money transfer with MoneyGram:
MoneyGram's Service Fees
MoneyGram fees generally vary depending on the amount sent, the send and receive countries, and the payment and receive methods. Here how you can save on fees with MoneyGram:
When sending money online with MoneyGram, it's best to pay by bank transfer if this is available.
Sending to a bank account is usually less expensive than sending money for cash pick-up.
If you send money to a bank account, it is often cheaper to send it at an agent location than online, regardless of the payment method. Still, fees at agent locations can also vary depending on which location you choose.
If you are sending money for cash pick-up, the online service will generally be cheaper than sending money at an agent location, but only if you pay by bank transfer.
MoneyGram's Exchange Rate Margins
MoneyGram applies the standard practice of taking a margin on the exchange rate. That means that the exchange rate offered to MoneyGram customers is not as good as the real mid-market exchange rate, and MoneyGram profits from this difference, known as an exchange rate margin.
While this generally costs you a couple of percentage points of the amount you are sending, the amount you will pay above the mid-market exchange rate can occasionally exceed 5%. Since some money transfer services can offer exchange rates without any margin and save you plenty of money, it's crucial to always compare all available money transfer services before sending money abroad.
How Does MoneyGram Compare?
All in all, MoneyGram's fees and exchange rates leave the service only rarely the cheapest provider between countries. According to our analysis, MoneyGram was the cheapest service only 1.85% of the time across over half a million searches on our comparison engine from around the world in September 2020.
Over that same period, the three cheapest services, TransferWise, Skrill, and WorldRemit — who were the cheapest providers globally around 53% of the time — all offer lower exchange rates and fees than does MoneyGram on most corridors.
For example, if you were to send US$2,500 from the United States to the Philippines, you would pay US$58.57 in total fees, and your beneficiary would receive ₱118,290 if you chose to send the money with WorldRemit. If you chose to make the same transfer with MoneyGram, on the other hand, you'd pay a considerably higher US$79.55 in total fees, and your beneficiary would receive only ₱117,274. That's more than a thousand pesos fewer than they'd receive if you'd sent with WorldRemit!
Compare MoneyGram's fees & exchange rates:
Customer Satisfaction
9.4
Trustpilot reviews
Gleaning 4.4 out of 5 stars from customers on Trustpilot, MoneyGram Online is without a doubt a much-liked money transfer service.
Google Play reviews
MoneyGram earned a 4.6/5 star rating from over 82 thousand reviewers on Google Play.
App Store reviews
An impressive 349 thousand reviewers gave MoneyGram an average rating of 4.9/5 stars on the App Store.
Customer Reviews of MoneyGram
MoneyGram Online generally earns very positive reviews from its global base of customers. And, having ironed out many creases in terms of its customer satisfaction over the past few months and years, MoneyGram has come to enjoy an improvement in its reviews from users across the globe.
On both the App Store and Google Play Store, for example, tens of thousands of customers have scored MoneyGram's mobile app with a very high ranking — 4.9 and 4.6 stars out of 5 respectively. Similarly, on the customer review site Trustpilot, customers of MoneyGram have indicated a broad satisfaction with the company's service, with the average ranking being 4.4 stars out of 5.
Also worthy of note is that MoneyGram very frequently responds to negative reviews written by customers. This very likely indicates a genuine willingness to accommodate feedback and help its users. Take a look at the frequently-mentioned pros and cons that are mentioned about MoneyGram, according to its customers:
Positive Reviews
Customers liked the fact that the money was available in minutes at the receiving end of the money transfer;
Friendly and helpful telephonic assistance;
Easy to use the web and mobile apps.
Negative Reviews
Some customers have seen their transferred cancelled and had problem to get their money back;
Negative experiences with customer service-little support or dedicated, personal service;
Customers had problems using their online service;
Some were annoyed by the verification process to identify themselves (which MoneyGram is required to perform by law).
Note: MoneyGram is not inviting its users to share their experience with Trustpilot which could partially explain the extremely high proportion of bad ratings. The rating might not be representative due to the low number of reviews.
FAQ About MoneyGram
💸 How do I avoid MoneyGram's fees?

There is no way to fully avoid MoneyGram's fees. However, you could minimize what you end up paying by doing the following:

Compare MoneyGram's fees and exchange rates with alternatives using our comparison engine;
Use MoneyGram's price estimator before continuing with your transaction to check the transfer fees and exchange rates;
Use the online coupons offered by MoneyGram (e.g. available on special occasions such as Thanksgiving or Cyber Monday) or on comparison websites;
Make sure you're using the most affordable way to receive the money. The option to deposit the funds on a bank account versus picking up the cash at an agent location is almost always cheaper;
Avoid credit card charges. MoneyGram or the card issuer may charge additional costs on your transactions.

💰 How much does it cost to send a MoneyGram transfer?

You can estimate MoneyGram's transfer fees with Monito's live comparison widget and discover if MoneyGram's cost to send money is the lowest. MoneyGram fees do vary depending on the amount you're sending, the countries that you're transferring money between, how you're paying for the transfer, and how the beneficiary is accessing the funds you're transferring — for example, via cash pickup or a bank account deposit. The tool lets you quickly calculate how much you'll pay, whether you're transferring online or visiting a local agent. It also tells you exactly how much the beneficiary will receive, based on the exchange rate offered by MoneyGram. Typically, MoneyGram fees are lower if you fund your transfer with a bank account and higher if you pay with a credit or debit card.

🔐 Is MoneyGram safe?

Yes. MoneyGram is a very well-established money transfer company that has been around since 1940. They are the second-largest money transfer business in the world after Western Union. MoneyGram complies with all laws and government regulations in every country where it provides services. The company serves tens of millions of customers every year from its over 350 thousand agent locations while investing millions of dollars annually in world-class compliance platforms. MoneyGram has also implemented its own Global Partner Compliance Policy. This reinforces and strengthens MoneyGram's commitment to protecting its consumers from fraud and preventing money laundering, terrorist financing and other criminal acts.

💵 How much money can I send with MoneyGram?

The total amount you can send depends on if you're transferring funds through MoneyGram's website or from a MoneyGram agent location. For most countries, you can send up to US$10,000 or equivalent in a single online transfer. MoneyGram also limits the amount you can send every thirty days to a total of US$10,000 or equivalent. If you want to transfer money over this amount, you will normally need to visit a MoneyGram agent location and provide certain identity documents.

📝 How do I fill out a MoneyGram money order?

MoneyGram money orders give people without a checking accounts the convenience of a check. To fill one out, you'll need to do the following:

Find a MoneyGram location that offers money orders and pay for the transfer;
Confirm that the amount you've paid and the amount printed on the money order are identical (if they're not, speak to your local agent or MoneyGram);
Write the beneficiary's name in the "pay-to-order" line (make sure you spell it completely and correctly as this is the only person who will be authorized to use, deposit, or cash out the money order);
Sign the money order on the "Purchaser, Signer for Drawer" line;
Fill out the address clearly and correctly;
You may also need to provide your date of birth for security, and an email address, so you can get status updates;
Separate the money order and keep the receipt until you know the beneficiary has received the money;

MoneyGram recommends using black ink and printing clearly so the money order is easy to read and follow. To keep your money order safe, remember to fill it out immediately and completely. Never leave anything blank. MoneyGram money orders can be delivered in person or sent by mail.

💻 How do I send money abroad with MoneyGram?

There are two main ways to send money overseas with MoneyGram — online or at an agent location. You can send money online through MoneyGram's website and you can pay for your transfer with a debit card, credit card or directly from your bank account. You can also choose to send money from over 350 thousand MoneyGram agent locations worldwide and can also fund your transfer with cash or a check.

Sending money online with MoneyGram

Go to the MoneyGram website
If you have a MoneyGram account you can log in, otherwise, you will need to create a new account.
Decide how much you'd like to send and where you want to send it to.
Enter all the required information about the beneficiary, this might include their name, address, bank account details, and other personal data.
Tell MoneyGram how the beneficiary wants to get their money—through a bank transfer, cash pickup, or via some other means.
Agree to the MoneyGram exchange rate and any fees.
Pay for your transfer.
Enter your information to verify your identity.

Sending money in person at a MoneyGram agent location

Find a MoneyGram agent near you.
Visit the agent and make sure you have identity documents and the details of the beneficiary.
Decide how much you'd like to send and where you want to send it to.
Enter all the required information about the beneficiary, this might include their name, address, bank account details, and other personal data.
Fill out a sending form, give it to an agent and pay for your transaction.
Depending on how much you send, you may need to upload a copy of your ID. You can do that here.

Transfers can typically be sent to a bank account, to a mobile wallet or to an agent location. If you're sending money to a bank account, select the 'account deposit' option. If you're sending money to a mobile wallet, provide the beneficiary's mobile number with the international code.

💶 Where can I cash a MoneyGram money order?

The places you can cash a MoneyGram money order depend on the country you're in. Some MoneyGram agent locations will let you cash out a money order, and you can find an agent location here. If you're in the US, you can cash your money order at Walmart or CVS. Cash out locations for money orders in other countries do vary. You may also be able to deposit a money order into your bank, credit union or other account, although this can vary depending on who you hold your account with.

📥 How do I receive money from a MoneyGram money transfer?

Depending on where you're located, you have a few options for how you can receive money that's been sent to you. Your options for receiving money depend on the information entered by the sender, the country you're in, the currency you're receiving, and some other factors. Some ways of receiving money may not be available to you.

Receive money directly into a bank account

MoneyGram allows for a deposit directly into your bank, credit union or other financial account.

Cash Pickup

MoneyGram allows you to pick up money in person at a MoneyGram agent location. There are more than 350,000 MoneyGram agents around the world, and you will need to take identity documents to receive cash. Money is typically available within ten minutes of being sent.

Transfer to a debit card

Money can be sent directly to your debit card.

SmartMoney and mobile wallets

Money can be sent directly to a  receiver's mobile wallet account, including M-PESA.

Home delivery

Money can be delivered in person to your home address. The money is delivered by a local MoneyGram agent.

⏱ How long does a MoneyGram transfer take to arrive?

MoneyGram transfers can take from a few minutes to a few days, depending on where you're sending the money, the currency you're transferring into, how you're funding the transfer and how the beneficiary is receiving the money. If the beneficiary is picking up cash from a local agent, it will typically be ready for collection within a few minutes of being sent. Bank account deposits can take from a few hours to a few days, depending on the destination country, banking hours, local laws and regulations.

📱 How do I withdraw money from PayPal to MoneyGram?

You cannot withdraw money directly from PayPal using MoneyGram. The two companies used to have a partnership deal that allowed their customers to withdraw cash with MoneyGram and send funds to a PayPal account. Unfortunately, that partnership has expired, and the service is no longer available.

You do have three options for withdrawing funds from a PayPal account. You can choose to:

Have a money transfer directly into a linked bank account;
Withdraw funds to a PayPal debit MasterCard;
Get a check from PayPal.

If you have a PayPal Debit MasterCard, you can use that card with MoneyGram to transfer funds out of your PayPal account. Select your card for "Card Type," in the "Payment method" section on your MoneyGram account. Then choose an available MoneyGram pay-out method. This option is available only in select countries and for certain amounts of money. Additional fees may apply.

🧭 Where can I find a MoneyGram agent near me?

🕜 What time do MoneyGram agent locations close?

Visit the MoneyGram location finder, where you will find the opening hours of a MoneyGram agent, together with their address and the services they provide.

🔢 What are the numbers on a MoneyGram order?

MoneyGram uses an 8-digit reference number whenever you send money. You can find the reference number on a physical money order (sending cash at an agent location) or in the confirmation email or the transaction history on your MoneyGram account (transferring money online). You will need this number to track your transaction or cash pickup when the beneficiary needs to provide the number.

⏮ Can I get my money back from MoneyGram?

If you want to claim money back from MoneyGram, you can request it through the Money Order Claim Card form. Only the person who originally purchased the money order or funded the transaction can make a claim. Once you've completed the form, mail the request to MoneyGram at the address listed in the upper right corner of your Money Order Claim Card. You'll find further instructions on the Money Order Claim Card form. Note that there's no guarantee that a refund will be issued and that it usually takes between three and ten days for the refund to be returned to you.

🏬 In what stores are MoneyGram agents available?

You can find out the stores near you that have MoneyGram agents and services by using the MoneyGram location finder. MoneyGram works with many different, popular chains around the world. In the U.S., MoneyGram services are available from many branches of CVS or Walmart, and in Australia, you can send and receive money at 7-Eleven locations. All the info about finding MoneyGram location in the UK you can find on our blog.

🔍 How do I track a MoneyGram money order?

You can track a MoneyGram money order by calling MoneyGram or by tracking the order online. In the U.S., call the MoneyGram toll-free number on 1-800-542-3590. An automated system will then collect your details and provide an update. Alternatively, you can track a transfer online.

If you have an online account, log in and view your transaction history;
If you do not have an online account, or if you are the receiver of the transaction, use the MoneyGram Tracking tool to check a transfer status using your reference number.

⛔ How do I cancel a MoneyGram transfer?

The way that you cancel a MoneyGram transfer  depends on how you created and sent the transfer originally. If you made a transfer at a MoneyGram agent location, you will need to contact MoneyGram by phone, through their website or via email. Requests are typically processed within 30 days, and you may be charged a cancellation fee. If you made the transfer online, then you should log in, find the transaction in your transaction history and then cancel it on the "Transaction Details" page. If you do not have a MoneyGram account, use the "Track a Transfer" tool to find the transaction and then cancel it on the Transaction Details page. If you don't want to cancel your transaction online, contact the MoneyGram Electronic Operations Center through the website or via phone.

🚫 Why did MoneyGram decline my transaction?

MoneyGram may decline transactions for several reasons. For example, you may not have provided sufficient identity information for MoneyGram to verify you are who you say you are. In some cases, your planned transaction may not meet the strict regulatory standards and internal policies that MoneyGram needs to comply with. It's also possible that your transaction was declined by a bank. In these cases, banks do not share the specific reasons for declining a transfer with MoneyGram, but those reasons could include: Insufficient funds, incorrect beneficiary details, wrong bank account numbers, or other errors.

💻 How long does a MoneyGram transfer to bank account take?

Depending on the transfer method, MoneyGram transfer can range from several minutes to two working days to arrive. When it comes to cash pickup services, MoneyGram can be impressively fast, taking only a matter of minutes to be ready for collection. Bank transfers usually take around one working day (24 hours) to arrive, up to a maximum of two days at the extreme.

📤 What is the maximum amount of money you can send through MoneyGram?

The maximum amount of money you can send through MoneyGram is US$10,000.00 per online transfer. You can send up to US$10,000 every 30 days.