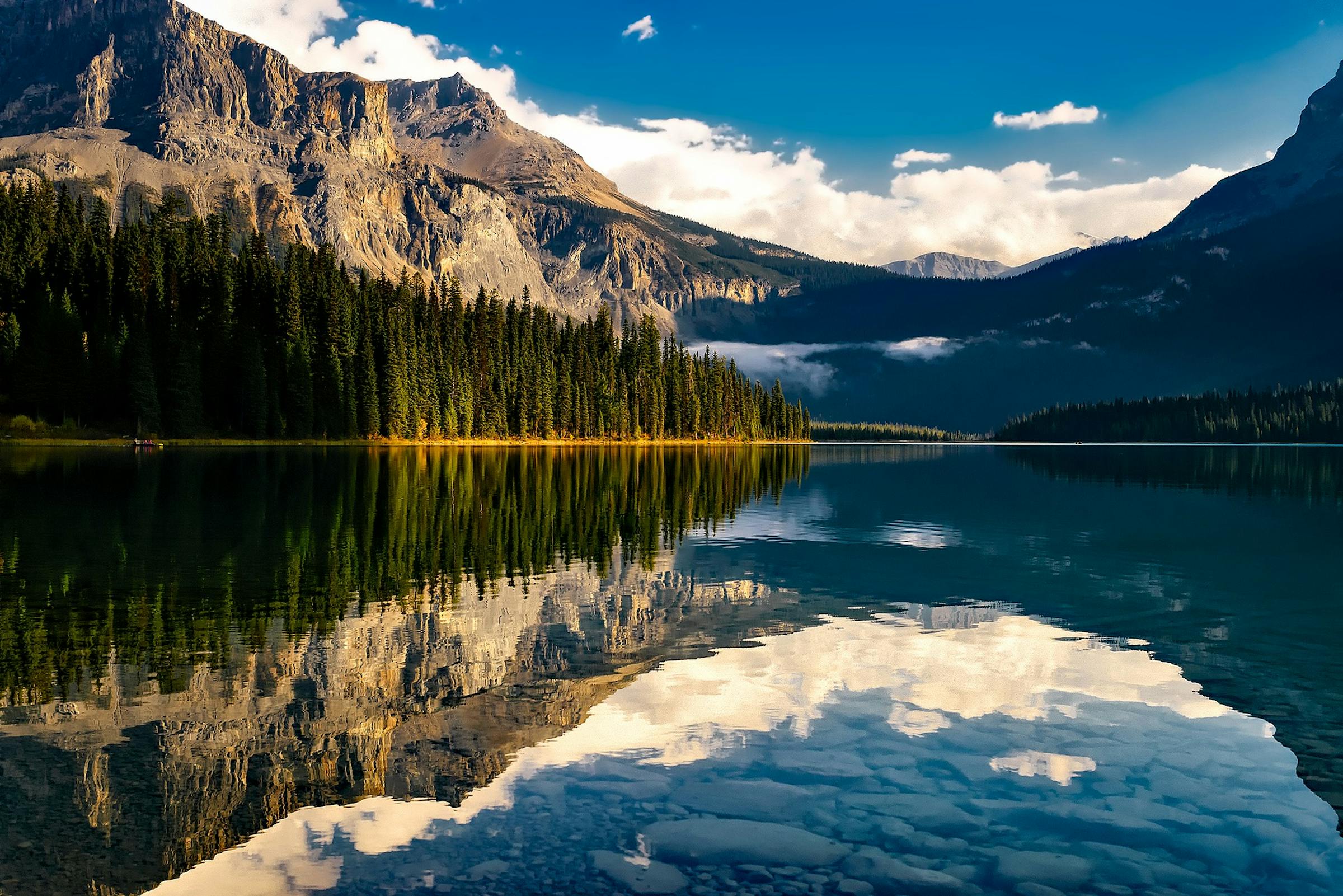 Moving to Canada: Monito's In-Depth Guide
Canada is an excellent country to consider relocating to: with its breathtaking landscapes and well-developed cities, it has something to offer for everyone, whether you love the mountains or the sea, cities or towns, English or French. Home to many exciting new industries, tech, and more, its professional and economic landscape has much to offer.
If you're thinking about moving to Canada, whether to work, study, or simply enjoy this beautiful country, our Monito experts have gathered all the information you need about what you can expect and what you need to know.
An Introduction to Canada
Canada is a North American country sharing a very long land border with the United States, its neighbor to the south with which it is often compared. Unlike the US, it is rather sparsely populated, with most of its 38,5 millions inhabitants living in its southernmost, warmer regions. Ranging from the Atlantic to the Pacific coast, from the Great Lakes to the Arctic Ocean, with great spans of forest, mountain and prairies in between, Canada is an immense country, offering a great diversity of landscapes.
A former British colony, Canada is, much like the US, a federal nation made up of ten provinces and three territories. Although English is the most spoken language in Canada, the country also has a large French-speaking minority — French is the sole official language in Québec, and is also one of two official languages of New Brunswick. Canada is also home to a substantial indigenous population. Having seen large-scale immigration in the past few centuries, it is generally one of the most diverse countries in the world.
Canada is a highly developed country, with high average income globally and ranking sixteenth in terms of the Human Development Index. It has a powerful economy, which relies heavily on the energy sector, as well as its services industry.
Fast Facts About Canada
🏛 Capital City: Ottawa
🏰 Largest City: Toronto
💵 Currency: Canadian dollar (CAD)
👨‍👩‍👧‍👦 Population: 36.99 million (2021)
🗣 Official Languages: English, French
📞 Dialling Code: +1
🚗 Driving Side: Right
⏰ Time Zones: UTC -8 to UTC -4 (Winter), UTC -7 to UTC -3 (Summer)
📦 Top Exports: Oil, cars and vehicle parts, gold, sawn wood
Economic Attractiveness
7.6
Economic Opportunities
Canada offers good economic opportunities, despite a middling unemployment rate at the moment.
Cost of living & Purchasing Power
Canada can be an expensive country to a live in, but this is offset by strong salaries, resulting in a strong purchasing power.
Tax competitiveness
Canada is far from a tax haven, but it doesn't impose confiscatory taxes either.
Prosperity
Canada is generally prosperous, and its prosperity is well shared, with little income inequality.
What is the Canadian Economy Like?
As of 2021, Canada is the world's ninth-largest economy, and ranks highly when it comes to GDP per capita, matching or surpassing countries like France, the United Kingdom, or Germany. Although its unemployment rate is slightly higher than that of the United States, Canada also has less income inequality than its southern neighbor, and can boast a slightly higher average net salary, with comparable costs of living.
Canada is also an interesting country because of its unusually diversified economy for a developed country: although the service industry is its main employer, it also has a very important primary sector. Forestry and the oil industry are two of its essential parts — Canada is one of the few developed nations that is a net exporter of energy —, but mining and agriculture are also important. Canada also has a thriving manufacturing sector, of which aeronautics and the automobile industry are two big components. You don't need to work in one of these industries to move to Canada: the most in-demand jobs in the country, after all, are in healthcare, IT and engineering!
Life Expectancy
Canada's strong healthcare system translates to a very high life expectancy.
Healthcare Access & Quality
With its single payer public healthcare system, Canada provides healthcare to all for cheap.
Overall Safety
Canada is a generally safe country, with low levels of violence, corruption or organized crime.
Healthcare and Safety
What is the Canadian Healthcare System Like?
When it comes to healthcare, Canada generally ranks pretty highly, on par or above countries like the United Kingdom, the United States, or France. Most residents in the country are covered by a single-payer system for free, whether they're Canadian citizens or not. Instead of a nation-wide system however, each province and territory has its own: Ontario has the Ontario Health Insurance Plan (OHIP), Quebec has the Régie de l'assurance maladie (RAMQ), while British Columbia has the Medical Services Plan (MSP), and so on. 
Each system has its own quirks when it comes to eligibility, which might require you to take out private insurance in some situations: for example, workers coming in from abroad have to wait up to three months in provinces like Ontario and Quebec, but are covered from the first day of their contract in provinces like in Nova Scotia or Newfoundland and Labrador — in most cases, however, they need to live in the country for at least six months. International students in particular need to be careful about eligibility. Some provinces cover them from their first day like Newfoundland and Labrador; some require a lengthy waiting period like Nova Scotia, but larger provinces simply don't: if you're coming to Ontario, Quebec or British Columbia to study, you will have to take out private insurance through your university. 
Besides eligibility, the Canadian health systems also differ from each other in their coverage: though they all cover the basics, there are differences when it comes to things like mental health, ambulance services, or physiotherapy. Prescription medications are generally not covered — though Quebec has a separate insurance plan for them, and some provinces do offer coverage for the young or the elderly. All in all, Canada's strong healthcare system yields results: its life expectancy is one of the highest in the world, ranking higher than the UK and the US.
How Safe is Canada?
More generally, Canada is a very safe country to live in: it's one of the most peaceful countries according to the Institute for Economics & Peace's Global Peace Index, ranking 10th along the likes of Switzerland, Singapore, or Norway. It's also safe when it comes to crime, doing better globally than European countries like the UK or France, on a similar level to Australia and New Zealand. Although it does less well in terms of homicide rate, it is broadly comparable in this regard to Belgium or Chile, and far better off than the US. Canada also scores pretty well on corruption surveys: Transparency International puts it at the 11th rank of its Corruption Perception Index, scoring the same as Australia and the UK, and better than countries like France, Japan, and the US.
Nature can actually be more dangerous than humans in Canada. British Columbia can be subject to seismic activity, particularly around Vancouver, and, along with neighboring Alberta, sees frequent forest fires from June to September. The Atlantic coast, particularly Nova Scotia, is also regularly hit by hurricanes in the late summer and early autumn.
Ease of migration
Compared to more restrictive countries like the US or the UK, migrating to Canada is relatively simple, especially for skilled workers, thanks to comprehensive, clear and transparent points system. The Express Entry system in particular greatly simplifies accessing permanent residency, whether you're applying from within Canada or abroad.
Ease of acquiring citizenship
Once you have permanent residency, it is relatively easy to become a Canadian citizen. In order to do so, you need to also: have lived in Canada for 3 of the past 5 years; be up to date with your taxes; pass language requirements; pass a citizenship test.
Temporary Visas & Permanent Residency in Canada
Broadly speaking, there are two ways of moving to Canada, and the first one can lead into the second one: you can either move temporarily, whether it is to work or study, or you can apply for permanent residence, whether you've lived in Canada before or not.
Temporary Canadian Work Visas 
Temporary stays in Canada usually require a permit, whether to work or to study. Generally speaking, getting a work permit will require a job offer and a labor market assessment that proves that the position can't be easily filled by a Canadian worker — although there are exceptions for fields where labor shortages are significant, like IT or healthcare. You can also get a temporary work visa if you're transferred to Canada within your company, if you're coming to fulfil a contract with a Canadian client, or if you're intending to invest in Canada. 
Graduates from Canadian higher education institutions can also obtain Post-Graduation Work Permits, that allow them to work for any Canadian in any position for up to three years, which can be a good step on the way to permanent residence. Through the International Experience Canada program, people from select countries can also apply for a working holiday permit which allows them to stay and work in Canada for up to two years, as well as for internship permits and young professional work permits.
Permanent Residency in Canada
Permanent residency can be obtained through several channels, though most of them are generally processed through the online Express Entry system, and rely on point-based scores to determine your eligibility — based on things like age, level of education or language skills — as well as to rank your application — with factors like having a job offer or being sponsored by a province increasing your score. Draws are held regularly to select high-ranking applicants and invite them to apply. Though the programmes differ depending on skills and experience requirements, as well as whether they require having worked in Canada before, all of them draw from the same pool of candidates, so only one application is necessary. 
Aside from the Express Entry system, you can also get permanent residency as a self-employed professional — typically as an artist or athlete — through investment, if you bring a start-up into Canada, or, of course, if you're sponsored by an eligible family member.
Quality of life
Canada ranks highly when it comes to quality of life, and is a great destination for expats who want to enjoy life in another country without concessions.
Happiness
Canadian residents are generally very happy to live in their home country, and expats also rank it as the 9th best country to live in.
Climate
Although Canada is a pretty safe country when it comes to natural disasters, its climate is not the nicest year-round, with winters that can be especially. Beware if you're allergic to cold and snow!
Bureaucracy
Canada has a remarkably efficient government and ranks well in comparison to other countries – though its federal system can of course cause occasional confusion.
Quality of Life in Canada
Canada frequently tops the global rankings when it comes to quality of life, and for good reason: the combination of a strong economy and highly efficient healthcare system, by banishing worries, already helps to set good foundations, which are then topped by a number of perks, especially for expats looking to move there.
Whether it's city life or outdoor living that you are after, Canada offers plenty of both. Toronto, Montreal or Vancouver, for example, are great cities to live in, offering all the cultural experiences you might want, from concerts to museums, from theatres to nightclubs. On the other hand, if you are feeling the call of nature, Canada also has a lot to offer, whether you want to go mountaineering, swimming, skiing or boating, or even if you just want to take a short hike in a breathtaking landscape.
Beware, however, if you're the kind of person that looks for warmth and sun year-round: although Canada can have beautiful warm summers, its winters can often be cold and harsh, with snow up to six months a year, or permanently if you go further north. British Columbia is somewhat of an exception, but you must still be prepared for rather rainy weather, at least during the colder months.
Canadian residents are generally pretty happy with life in the country, according to surveys. Even amongst expats, the feeling is not very different: Canada is ranked ninth best country to live in for expats by the 2021 Expat Insider survey, ahead of any European country. Aside from the quality of life, safety, strength of the economy and natural beauty of the country, Canada might be helped here by its relative lack of red tape, despite its potentially complex federal system: it ranks 13th in the 2020 bureaucracy rating.
Canada compared to other popular migration destinations
Why Trust Monito?
You're probably all too familiar with the often outrageous cost of sending money abroad. After facing this frustration themselves back in 2013, co-founders François, Laurent, and Pascal launched a real-time comparison engine to compare the best money transfer services across the globe. Today, Monito's award-winning comparisons, reviews, and guides are trusted by around 8 million people each year and our recommendations are backed by millions of pricing data points and dozens of expert tests — all allowing you to make the savviest decisions with confidence.
Learn More About Monito
Monito is trusted by 15+ million users across the globe.

Monito's experts spend hours researching and testing services so that you don't have to.

Our recommendations are always unbiased and independent.