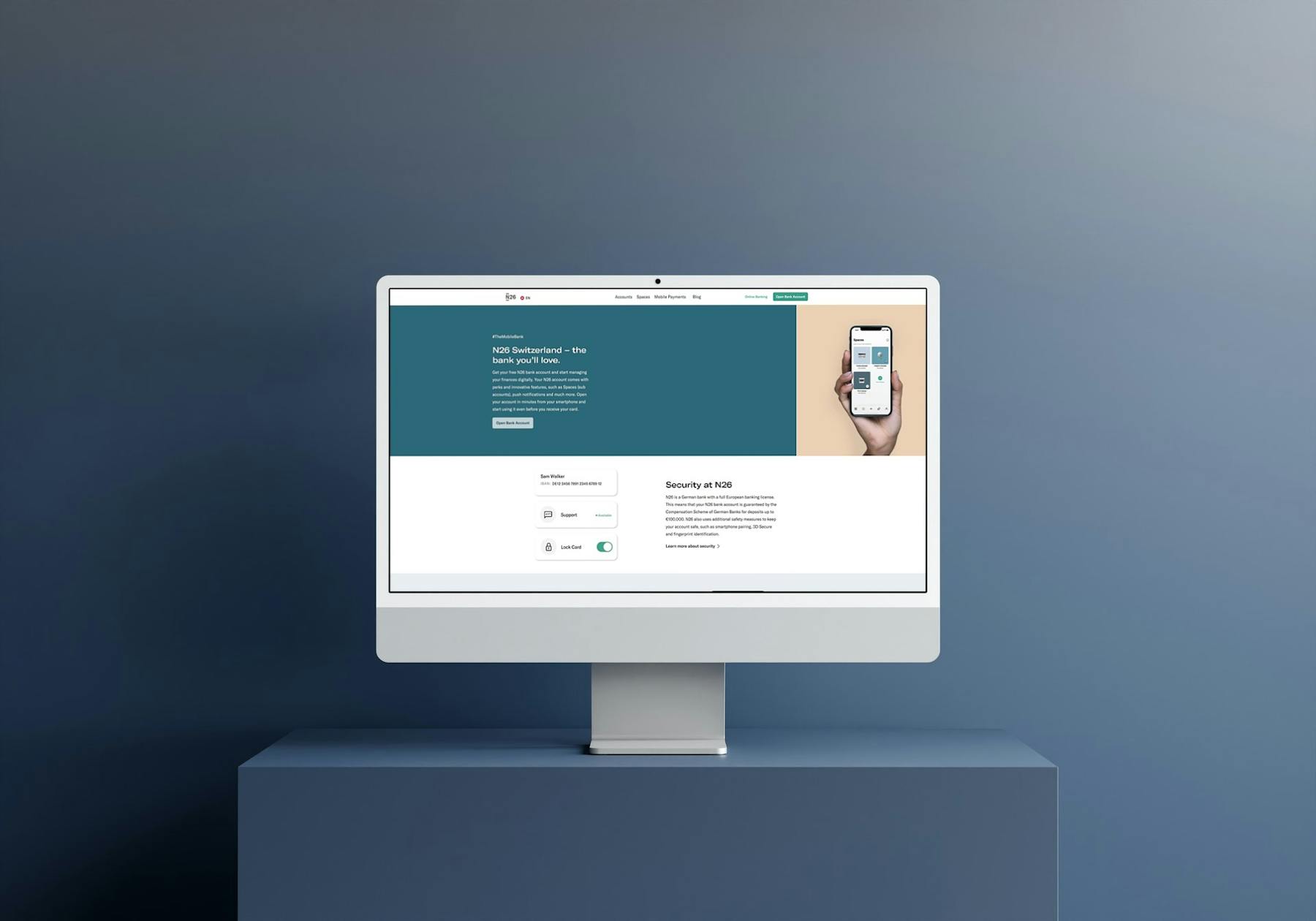 The Ultimate N26 Review: Currencies, Money Transfers, Exchange Rates, and Monito's Verdict
N26 is a good digital banking option (8.5/10) recommended by Monito for its low-cost debit card spending options (9.3/10) and savvy mobile app and account features (8/10). On top of its app and low costs, N26 also garners excellent feedback from customers (8.7/10) and operates as a fully-fledged bank in the EU, making it a robust alternative to traditional banks (7.9/10).
What Monito Likes About N26
Integrated with Wise for international money transfers;
A secure current account with a licensed bank;
Instant transfers to most other SEPA bank accounts;
The standard plan is practically free for everyday use.
What Monito Dislikes About N26
A 1.70% fee for foreign currency ATM withdrawals;
A lack of standard banking services that some may be looking for;
Upgrade needed for unlimited, fee-free cash withdrawals;
N26 is currently limited to onboarding new customers from Germany and Austria only.
Monito's Recommendation
One of the cheapest banking options available to EU residents, N26 shines when it comes to low-cost everyday use, and we therefore recommend the bank if you're looking for a smart, digital-only alternative to traditional banks in Europe (especially if you don't plan to withdraw frequently at the ATM). However, it should be noted that N26 is currently only onboarding new customers from Germany and Austria. If you'd like to get a better picture of how N26 compares to its alternatives, then you can compare travel cards on Monito instead:
Where Is N26 Currently Available?
You can sign up for the waitlist in most of the EU (see the full list here), Iceland, Liechtenstein, Norway, and Switzerland. However, because N26 is temporarily restricting the number of bank accounts they open each month, only new customers from Germany, Austria, and Spain are currently able to open a free account directly.
Monito's reviews are trusted by 100,000+ readers every month.

We don't merely research. We probe and verify every statement.

Our recommendations are always unbiased and independent.

We only recommend what we'd recommend to our friends and families too.
How Monito Reviewed N26's Services
As with all services reviewed by Monito, N26 underwent a rigorous evaluation to assess the quality of its service. To begin with, our experts analysed several key criteria, including customer reviews, the percentage cost of various transaction types, top-up options, access to customer service, as well as business and legal metrics such as revenue, appropriate authorisation, and company size. As with all Monito Scores, N26's score was peer-reviewed by at least one Monito expert.
Reviews are written independently by Monito's editors and recommendations given are our own. Services you sign up with using our links may earn us a commission.
Background check
Licensed as a bank in Germany and regulated by BaFin, the country's financial regulatory authority.
Security & reliability
Accounts are fully secured using segregated user accounts and HTTPS and cards are 3-D Secure.
Company size
Around 7 million customers and 1,500 employees worldwide.
Transparent pricing
A full overview of pricing is very accessible, although it doesn't provide every fee as per the regulator-standard fee schedule.
Is N26 Safe?
Yes, N26 is a very safe and trustworthy bank, and just because the company has no branches it is no less trustworthy than any other European bank. N26 has held a full banking license from the German regulator BaFin since 2016 and offers customers deposit protection of €100,000.
Compared to conventional banks, in our opinion, N26 customers are even better protected against fraud. You can set the daily limit of your debit card yourself in the N26 app. In addition, you will receive a push notification with every transaction, informing you of what is happening in real-time.
Logins and online purchases that exceed a certain purchase value must also be confirmed via the mobile app, and you can also generally deactivate your card for certain transactions.
You can find out more about the security aspects of N26 here.
Using the mobile app
Well-designed and smooth interface with many interesting features, including 'Spaces' and in-app card freeze.
Managing the account
Overdraft and multiple top-up methods are available, but only one currency is supported.
Contacting support
FAQ and live chat are available on the standard plan, but phone support isn't available to all users.
Making card payments
Contactless, online payments, Apple Pay, Google Pay, and social payments are all supported.
N26's Service Quality
N26 is an internet-only bank accessible through a mobile phone app or online banking service. N26 is currently serviced across Europe, though it is currently only onboarding new customers in Germany and Austria. N26 provides a variety of simple banking services for busy people. It offers international money transfers through a partnership with the popular currency exchange provider, Wise (formerly TransferWise).
Currently, N26 offers transfers into 36 other currencies, but account balances are only possible in one: the Euro.
Some banking services are not available through N26, including cash deposits, credit cards, and cash payouts outside of using an ATM. Also note that it is not possible to make a foreign currency transfer in the app from an N26 business account or to make transfers to businesses.
For free, worldwide ATM cash withdrawal, you will need to pay a monthly fee for the 'N26 Black' service. Free cash withdrawals from an ATM in your home country are set by N26 and vary depending on where you're located.
Which Current Accounts Does N26 Offer?
N26 offers four different current accounts for private individuals. In addition to the free existing account, three chargeable variants are offered. These are 'N26 Smart', a relatively inexpensive entry-level account with telephone support, "N26 You," an account for international lifestyles with a colourful debit card that is primarily intended to offer advantages to travellers, and "N26 Metal," an extended "N26 You" with a metal debit card.
Which checking account is worthwhile for you depends primarily on your needs and preferences. If you travel a lot and often withdraw cash from abroad, the "You" account can pay off. The "Metal" account, on the other hand, offers relatively few additional functions for the surcharge and therefore serves more as a statement. You can read more about it in our dedicated review.
As long as you have no problems with the N26's online chat function, we would not recommend the "Smart" account because there are hardly any additional extras apart from telephone support.
Most customers, on the other hand, will be delighted with the free checking account. Therefore, we will concentrate on this in this article and keep the paid variants in the back of our minds for now.
Is N26 Really Free?
As already mentioned, there is a free and a paid current account at N26. The free version has no basic fees and only costs money if you use additional services. A monthly receipt of funds is also not required. So you are free to use the N26 account as a second or third account.
It is important to note that the actual use of the account, i.e. receiving amounts of money and paying with the Mastercard, are generally free of charge. Withdrawing cash is also included for up to 3 withdrawals per month, at least in Europe. Anyone who draws money more often pays a flat fee of €2.00 per withdrawal.
The following services are included in the N26 basic account:
A transparent Mastercard;
Worldwide free payments (contactless, Apple Pay, etc.);
3 Free cash withdrawals in Europe;
All app features (support via chat, 3D secure, etc.);
Wire transfers and other banking functions;
German bank details (IBAN).
Fees & Exchange Rates
9.3
Everyday use
Zero everyday costs such as monthly fees, transfer fees, and local ATM withdrawal fees.
ATM withdrawals
Free up to 3 withdrawals per month in the Eurozone.
Online spending
Ordinary online spending comes at no cost in the default currency, although a small Mastercard conversion fee may apply for spending in a foreign currency.
International spending
Fees are quite low for overseas spending, although a 1.7% ATM withdrawal fee does apply.
N26's Fees and Exchange Rates
Every N26 bank account comes with a Mastercard. The free current account includes a transparent debit card that you can use to pay in almost all stores worldwide. With some N26 partners, you will also receive special discounts and offers when you shop with your N26 Mastercard.
For an additional fee of €5.00, you can also get a Maestro card that you can use as a backup in an emergency. This is also recognized by the partner companies. Until 2020, payments in foreign currencies at N26 generally cost 1.70% of the invoice amount, but this is now 100% free of charge for all customers. The free N26 account is already suitable as a practical travel credit card.
Cash withdrawals are also possible abroad and are billed at a flat rate of 1.70% of the invoice amount. In contrast to withdrawing money in the EU, there is no limit.
These are the fees for withdrawing money abroad:
Withdrawing cash from ATMs using a debit card
N26 Standard: 3 free ATM withdrawals per calendar month
N26 Smart/You: 5 free ATM withdrawals per calendar month
N26 Metal: 8 free ATM withdrawals per calendar month
N26 Maestro card: €2.00 per withdrawal
Withdrawing cash using a debit card in currencies other than euros
N26 Standard/Smart: 1.70% of the amount withdrawn
N26 Maestro card: €2.00 + 1.70% of the amount withdrawn
What Are N26's International Wire Fees and Exchange Rates?
N26 does not list fees or exchange rates for N26 on their website, as they are only available from within the app when you decide to make a transfer. We know that Wise charges among the best exchange rates and lowest fees of all money transfer specialists, but we cannot confirm if these are the same rates and fees offered through the N26 mobile app.
N26 states that there are no hidden fees when making a transfer through the N26 app, and they say it is up to six times cheaper than a traditional bank.
If N26 does offer the same exchange rates as Wise, here's how much it would cost to transfer money...
Sending 1,000 Euros to US Dollars
Mid-market exchange rate: €1.00 to US$1.1183
Exchange rate offered by Wise: €1.00 to US$1.1183
Fee charged by Wise: €4.23
The beneficiary receives: 1,113.57 USD
Wise offers the exact exchange rate as the base exchange rate, meaning you won't pay any hidden fees. The only additional fee Wise charges is their service fee, which is very competitive.
Wise is often the least expensive, fastest, and most reliable money transfer business in most of our specialist currency provider comparisons.
If you want to know more about hidden fees in the exchange rate, take a look at our guide on how banks and money transfer operators make money with hidden fees.
Alternatively, to find the best travel card option to suit your needs (and see how N26 compares to the rest), run a search on Monito's real-time travel money comparison page.
Best Multi-Currency Cards Compared
To get a better picture of how N26's pricing compares to that of other multi-currency alternatives, take a look at the table below:
Customer Satisfaction
8.1
Customer review score
Average Trustpilot rating of 3.9 out of 5 stars.
Number of positive reviews
Nearly 15,000 four- and five-star reviews.
N26 Customer Satisfaction
N26 has fairly good reviews on Trustpilot with a satisfaction score of 3.9/5. Over 18,500 people have left reviews, and we provide a summary of positive and negative comments below:
Positive N26 Reviews
Simple, well-designed, and slick mobile application;
High in-app security;
Opening an account is very smooth;
Straightforward banking solutions.
Negative N26 Reviews
Regulatory steps can make opening an account burdensome;
Customer service can be slow to respond.
Frequently Asked Questions About N26
How long does an N26 international wire take to arrive? ⏱

How do I make an N26 international wire transfer? 🔌

Here's how to make an international money transfer using N26:

Open an N26 bank account
Download the N26 app
Hit the + menu
Select Transfer
Add the transfer recipient
Select currency
Select your desired amount
Authorize and pay for the transfer

Note that you will need to setup the recipient's details before making a transfer to them. Typically, you will need to include the following:

Name and address
Bank branch name and address
Bank routing code and account number
SWIFT or IBAN code
Any special messages, references, notes or details

What currencies does N26 support? 💱

As of June 2020, N26 allows currency exchange between Euros and 36 other currencies, including the following: British Pound (GBP), Swedish Kroner (SEK), Polish Zloty (PLN), Swiss Franc (CHF), Danish Krone (DKK), Norwegian Krone (NOK), US Dollar (USD), Czech Republic Koruna (CZK), Chinese Yuan (CNY), Indian Rupee (INR), Canadian Dollar (CAD), Australian Dollar (AUD), New Zealand Dollar (NZD), United Arab Emirates Dirham (AED), Ukrainian Hryvnia (UAH), Hungarian Forint (HUF), Bulgarian Lev (BGN), Georgian Lari (GEL), Romanian Leu (RON), Brazilian Real (BRL), Mexican Peso (MXN), Philippine Peso (PHP), South African Rand (ZAR), Singapore Dollar (SGD) .

If you cannot get the currency you need through the N26 app, they recommend visiting Wise directly. They provide the following instructions: "You can log in by entering your N26 account email and selecting Forgot password? You'll receive an email from Wise to change your password and then you can use both log in details to perform the transfer from there."

What is N26's SWIFT code? 🔢

If someone needs to send you money from abroad to your N26 bank account, they'll need a SWIFT Code. The SWIFT Code for N26 is: NTSBDEB1XXX.

Which N26 address and details should someone use when sending me money from abroad? 🏢

N26's address is as follows:

N26 Bank GmbH

Klosterstraße 62

10179 Berlin

Germany

What is N26's IBAN? 🔢

You can find your IBAN and N26's BIC number on your balance statements or in "My Account" from the mobile app.