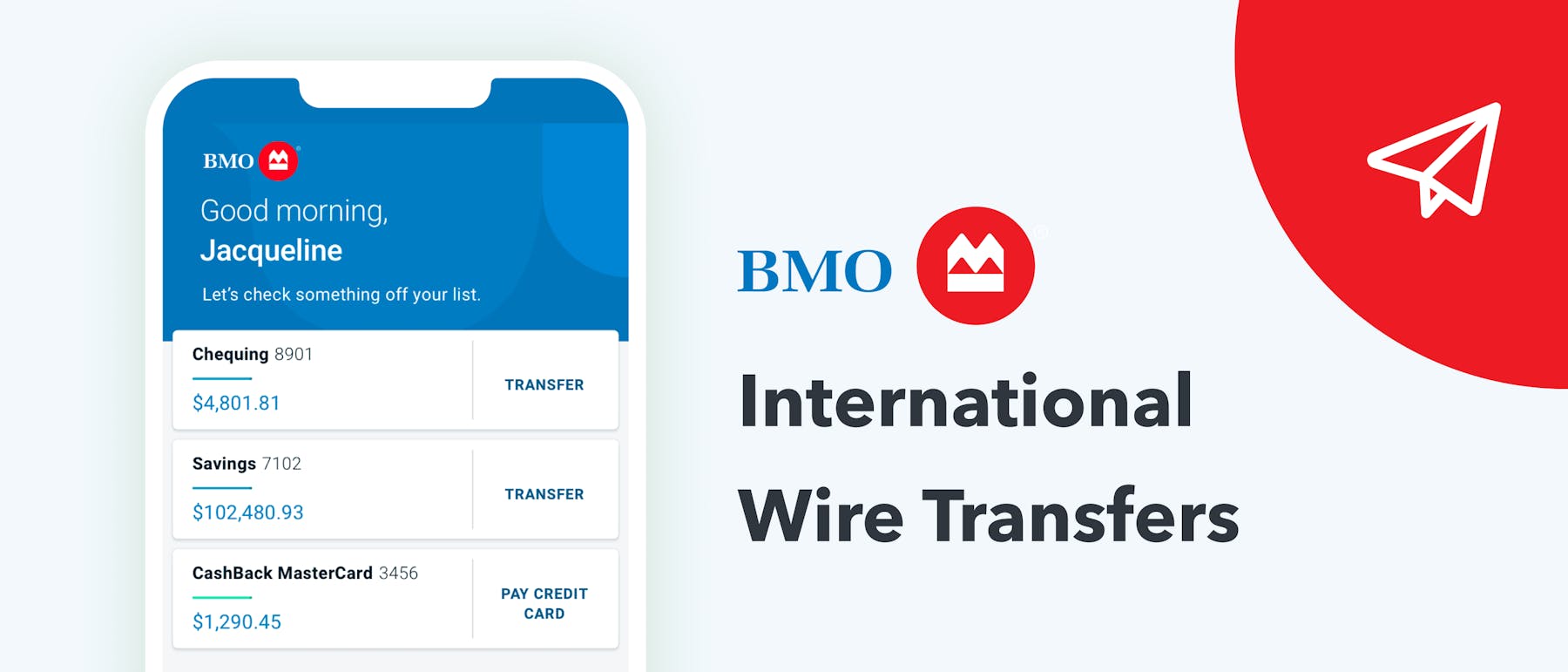 BMO International Wire Transfer Fees, Exchange Rates, Alternatives, and More
As the oldest and one of the largest banks in Canada, the Bank of Montreal (BMO) offers a broad range of retail, business, and investment banking services to its more than nine million customers around the globe. Since its foundation in 1817, the bank has forged a leading role in the Canadian banking sector. Today, it serves over seven million customers from more than 300 branches across the country.
As one of its many services, the bank offers BMO wire transfers and international e-Transfers through a business partnership with Interac and Western Union, the world's largest currency exchange provider. In this guide, we explore why although this offers you scope and flexibility, it also means that you'll also be paying a rather large set of fees every time you send a global money transfer abroad.
Compare BMO to top altnernatives:
BMO Wire Transfer Fees
When sending money abroad with the Bank of Montreal, you'll be able to get the job done using either an ordinary bank transfer, sent as an Interac e-Transfer processed by Western Union, or using a BMO wire transfer, processed by the bank itself. Regardless of which option you choose, your transfer will be subject to many built-in fees, the size of which will depend on which option you choose and how much you send.
Let's take a look at how the costs break down for BMO international money transfers according to the two major sending methods:
Western Union Interac e-Transfer
For e-Transfers sent through Interac and its partnership with Western Union, you'll be charged the following fees:
BMO Wire Transfer
When sending an ordinary BMO international wire transfer through your BMO Online Banking account, on the other hand, the fees will be the following:
A CAD 10 fixed fee (termed a "communication charge") per transfer;
A 0.2% commission fee at a minimum of CAD 15 up to a maximum of CAD 125 per transfer.
The point at which a BMO wire transfer becomes cheaper than an e-Transfer is around CAD 1,000. Therefore, if you're interested in keeping costs down, we recommend choosing an e-Transfer when sending less than CAD 1,000 abroad and a BMO wire transfer when sending more.
Other Fees to Anticipate
In addition to the base fees and exchange rate margins you'll pay when making a global transfer with BMO, there may be other expenses before the money arrives in your beneficiary's account.
If you're sending a wire transfer, the most likely additional fee you'll encounter is a correspondent bank fee. This will typically cost you anywhere between CAD 10 and CAD 100 and could be levied without warning if your bank transfer cannot be made directly to your beneficiary's bank.
BMO Exchange Rates
Over and above the fees highlighted above, BMO will also weave a hidden cost, known as an exchange rate margin, into every transfer you send abroad. This fee is less transparent than the standard fees and comes about when the bank offers you its exchange rate slightly poorer than the one you'll see on Google, for example.
These hidden exchange rate margin fees are very high at BMO, often more than 3% of the total transfer amount.
BMO Transfer Total Costs
As you can see in the chart above, while BMO's exchange rate margins are high in general, they are particularly high when it comes to Mexico.
In essence, an exchange rate margin of the size means that for every CAD 100 you send to Mexico, once all of the base fees (in this case CAD 6) have already been subtracted from the total amount, a further 8.11% (CAD 7.62) will then be subtracted from the amount that's left. This means that more than 13% of the transfer amount will be lost to fees, leaving your beneficiary with some 1,343 Mexican dollars at the time of writing.
Take a look at the examples in the graph below to get a better idea of how BMO's fees are broken up, and what you might expect to pay when you send money abroad:
| Amount Transferred | Transfer Type | Exchange Rate Margin Fee | Fees & Commissions | Total Cost | Total Cost (%) |
| --- | --- | --- | --- | --- | --- |
| C$250 | Interac | C$5.54 | C$7.50 | C$13.04 | 5.22% |
| C$1,000 | Interac | C$22.50 | C$15.00 | C$37.50 | 3.75% |
| C$5,000 | Wire Transfer | C$113.65 | C$25.00 | C$138.65 | 2.77% |
Contrast that to using Skrill, a UK-based global money transfer service, for the same transfer. With Skrill, you'd pay no base fees at all and just CAD 0.99 in exchange rate margin fees. Once you've made the transfer, your beneficiary would receive 1,557 Mexican dollars — nearly 16% more than they'd have received had you transferred with BMO.
Finding the Best BMO Alternatives
Due to the high fees and exchange rates that go along with making a BMO international wire transfer, there's a better deal to be found for pretty much all types of money transfers, needs, and preferences.
On Monito's comparison engine, for example, data from over 300 thousand real-time searches over the first half of 2021 show that Wise, on average, offered the cheapest international money transfers from Canada (40.03% of global comparisons and usually the cheapest to Europe and North America), closely followed by Remitly (39.7% of comparisons and usually the cheapest to Latin America, Africa, and Asia). Take a look at how BMO compared to Remitly and Wise on a CAD 5,000 transfer to the US, UK, and Mexico:
To find the best deal in real-time, compare the top money transfer providers from Canada on Monito below:
Find The Cheapest BMO Alternative
Is BMO Right for Your International Transfer?
All things considered, BMO is, without a doubt, a reputable and top-notch partner in taking care of your everyday banking needs. However, when it comes to BMO international wire transfers, the sheer expense of these services means that it could make much more sense for you to use a third-party money transfer service when sending abroad if you like to keep costs down. (This is especially pertinent if you're sending money to Mexico.)
In this case, we recommend searching Monito's real-time comparison engine to find the best rates for transfers abroad from Canada. You may also want to look at our in-depth reviews of Remitly and Wise, which are, on average, the cheapest three services for transfers abroad from Canada, according to data from our comparison.
FAQ About BMO Wire Transfers
Why Trust Monito?
You're probably all too familiar with the often outrageous cost of sending money abroad. After facing this frustration themselves back in 2013, co-founders François, Laurent, and Pascal launched a real-time comparison engine to compare the best money transfer services across the globe. Today, Monito's award-winning comparisons, reviews, and guides are trusted by around 8 million people each year and our recommendations are backed by millions of pricing data points and dozens of expert tests — all allowing you to make the savviest decisions with confidence.
Learn More About Monito
Monito is trusted by 15+ million users across the globe.

Monito's experts spend hours researching and testing services so that you don't have to.

Our recommendations are always unbiased and independent.