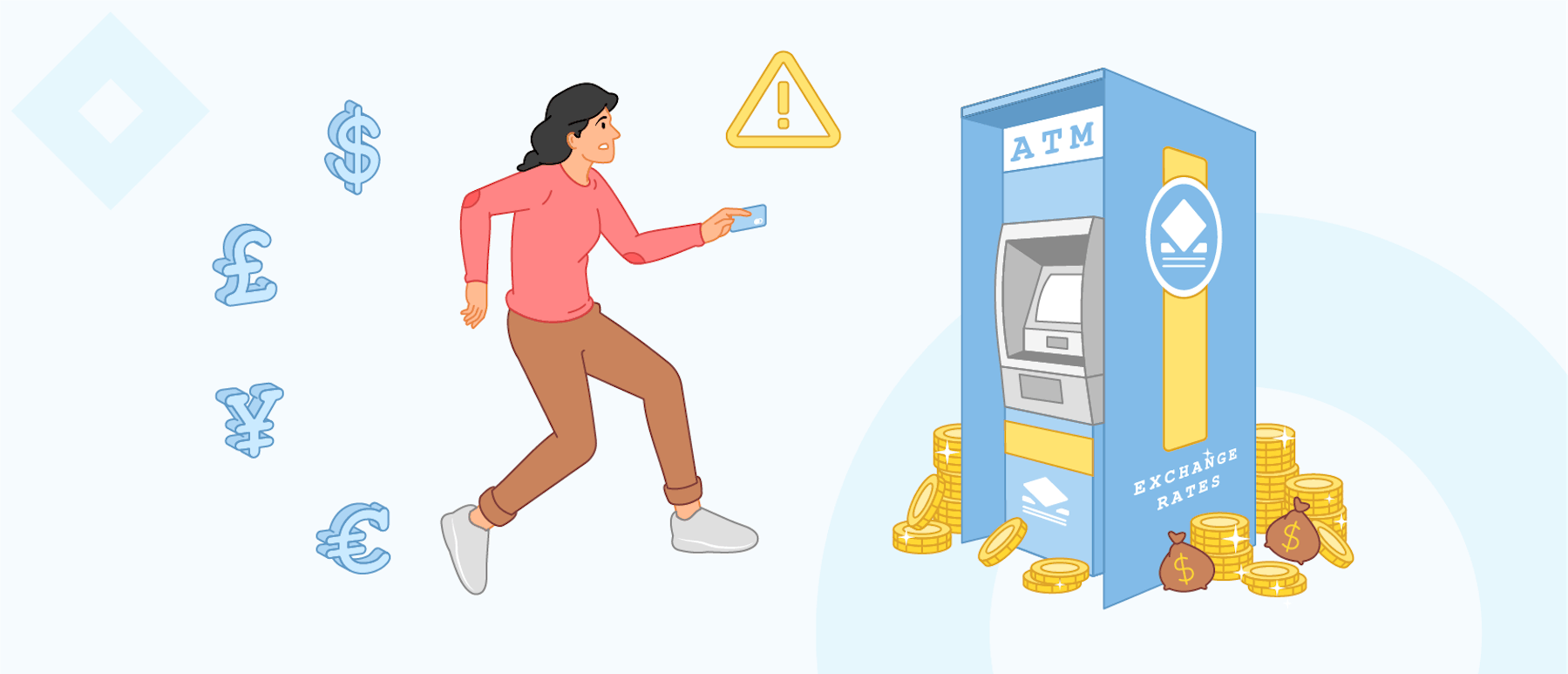 Euronet ATMs: Fees, Costs, and Alternatives
If you have ever visited a European city, it's possible that you'll have used a Euronet ATM. Often placed in convenient locations, including airports and busy streets, many travellers use them when they need to grab some essential cash for their trip.
However, while they might be convenient, Euronet ATMs charge high fees that can quickly catch you out. Here's what you need to know.
Euronet ATM Charges at a Glance
Euronet ATM withdrawal fees vary between €1.95 and €4.99
With dynamic currency conversions, you can pay up to 13.0% of the total amount
ATMs are often placed in tourist locations, including airports, shopping centres and busy streets
Monito recommends avoiding Euronet ATMs wherever possible
What is Euronet?
Euronet Worldwide is an American-headquartered worldwide provider of electronic payment services. It operates the largest independent ATM network in Europe and owns a total of almost 46,000 ATMs around the world.
Euronet's high ATM fees and exchange rates have regularly been criticised, but the company has frequently defended itself, saying that such fees are necessary to cover ATM running costs and the convenience that these machines provide.
However, when you consider that many of Euronet's ATMs can be found in locations such as airports and supermarkets – where if you need cash fast, there's little other choice – you could argue that Euronet has found an easy way to generate additional income.
The company Euronet Worldwide also owns Ria and XE Money Transfer, which are also known for high fees and poor exchange rates.  
Euronet ATMs: UK and Worldwide
Although Euronet ATMs can be found throughout Europe, they are no longer so common in the UK - at least, not under that brand name.
Back in 2003, Euronet Worldwide sold its UK subsidiary to private equity firm Bridgepoint Capital Limited. In conjunction with the sale of the UK ATM network, Euronet signed a five-year outsourcing agreement with Bank Machine Limited, the new name under which the former Euronet UK subsidiary operated.
Then, in 2005, Bank Machine became part of Cardtronics Inc which later acquired Cashzone in the UK and Cardpoint in Germany. As a result, Cardtronics has become the largest independent cash machine provider in the UK, with more than 17,000 cash machines. Cardtronics runs on the LINK ATM network which is the busiest ATM transaction switch in the world.
Since then, Euronet Worldwide has re-entered the UK market by acquiring UK based ATM operator YourCash Europe Limited in 2016. The acquisition included around 5,000 ATMs across the UK, Netherlands, Belgium and Ireland.
Here's a list of the top ten ATM operators in the UK*:
Cardtronics 17,564 ATMs
NoteMachine 10,506 ATMs
NatWest 6,966 ATMs
PayPoint 3,926 ATMs
Barclays Bank 3,488 ATMs
Bank of Ireland 2,267 ATMs
YourCash 2,204 ATMs
Santander 2,109 ATMs
Lloyds Bank 2,041 ATMs
Sainsbury's Bank 1,819 ATMs
Both Cardtronics and Euronet have also expanded into the Republic of Ireland. In 2020, Euronet bought 700 non-branch ATMs from Bank of Ireland, having acquired 400 ATMs from Ulster Bank two years earlier.
Cardtronics is also the largest ATM deployer in the USA.
Source: Statista, 2019
Euronet ATM Charges Abroad
If you're travelling from the UK or the US to Europe, chances are you'll come across at least one, if not several, Euronet ATMs. But before you consider withdrawing money from one of these machines in another currency, there are a number of charges you'll need to be aware of.
Firstly, there's the basic fee for withdrawing cash from the Euronet ATM which is usually around €1.95 to €4.99. Then there's the potential to get stung by poor currency exchange rates and expensive surcharges (often around 10.0% to 13.0%).
Euronet uses a process known as dynamic currency conversion (DCC) which gives ATM users the option of being charged in their home currency rather than the local currency. So, if you've travelled from the UK to Spain, for example, it'll ask if you want to be charged in GBP rather than euros.   
If you accept – and many people do because it's the more comfortable option – you're also accepting a much poorer exchange rate, plus fees, from Euronet than you'd get from your own bank. So you're effectively paying even more for your withdrawal.
For this reason, we recommend that when withdrawing money in a foreign currency, you always refuse currency conversion and stick to the local currency.
The example below shows you how high Euronet fees with DCC can be:
| Amount Withdrawn | Basic Charge | Exchange Rate Surcharge | Total |
| --- | --- | --- | --- |
| €100.00 | €4.99 | ~ €13.00 | ~ €17.99 |
| €300.00 | €4.99 | ~ €39.00 | ~ €43.99 |
| €400.00 | €4.99 | ~ €65.00 | ~ €69.99 |
On top of these charges, there's the fee that your own bank might charge you for a foreign transaction. If you have a UK bank account, for example, fees for withdrawing cash abroad are usually around 2.99%, and there may be a foreign transaction fee of a similar amount to pay too. So on a €100 withdrawal, you could be charged €17.99 by Euronet, plus €5.98 from your own bank.
When is it Worth Withdrawing Money From a Euronet ATM?
Wherever you can, we recommend you look for an alternative option to using a Euronet ATM. However, if you need cash fast and there is no alternative ATM nearby, it may be your only option.
In this case, providing you're withdrawing cash in the same currency, you'll only be charged the basic withdrawal fee which you may feel is worth paying. If you're withdrawing cash in another currency, however, there's the potential to be charged a lot more so you'll need to be careful.
Refusing dynamic currency conversion is one way to keep costs down, but it's also sensible to pick a bank card that won't charge you foreign transaction fees so that you don't get hit there either.
Further Criticism of Euronet ATMs
Over the years, Euronet has come under fire for its high fees and poor exchange rates. Most recently it has been criticised for setting up its ATMs almost exclusively in tourist locations. In particular, it has focused on tourist locations in countries that are not part of the eurozone and therefore offer a greater opportunity to earn money from exchange rate surcharges.
In addition, many of these ATMs are placed in historic buildings, landmarks and other popular locations rather than in a bank. Here, they are more likely to attract attention and more customers are likely to use them as a result.
ATMs to Avoid
Of course, Euronet is not the only company to make money on exchange rate surcharges and high cash withdrawal fees. It always pays to check carefully before using any ATM to make sure you won't be charged. In particular, you should be wary of using the following ATM brands:
Travelex
NoteMachine (some machines only)
Cardpoint
IC Cash Services
August Lenz banking house.
Alternatives to Euronet
Fortunately, if you need to withdraw cash in the UK, the majority of ATMs won't charge you. Those that do should always clearly state how much you'll be charged before you carry out a transaction.
Bank branch ATMs, in particular, are usually a safe bet. However, as a result of the Covid-19 pandemic and the decline of cash usage, more and more ATMs are now disappearing from the UK's high streets, so you may need to travel a bit further to find one.  
If you're travelling overseas, the best way to find a cheap ATM is to chat with locals or other tourists. In many countries, the fees charged at ATMs vary from operator to operator. Always remember to avoid dynamic currency conversion and stick to the local currency, wherever you are.
Save Money with the Wise Multi-Currency Account
If you want to withdraw money and spend abroad free of charge, another option is to consider Wise's multi-currency account. Although it won't protect you from fees charged by ATM operators, it does mean you'll always receive the mid-market rate without any exchange rate surcharges when withdrawing money.
When using your Wise debit card at an ATM, the first two withdrawals up to £200 per month are free of charge. Once you've used this allowance, you'll be charged 1.75% of the amount withdrawn plus 50p per withdrawal. 
This means that if you had used up your monthly allowance and withdrew £100, you would be charged £1.75 plus 50p – or £2.25 in total. 
In comparison, many UK high street bank debit cards will charge you around 2.75% to 2.99% for the foreign transaction, plus a further 2.99% for the withdrawal. On a £100 withdrawal, this could cost £5.98. 
If you use a standard credit card for your withdrawal, you'll also be charged interest on top – and this will be charged from the date of the transaction, even if you pay off your balance at the end of the month. 
Find out more about Wise in our review.
Frequently Asked Questions About Euronet
Are Euronet ATMs free? 🏧

No, Euronet ATMs are not free to use. Not only will you be charged a cash withdrawal fee each time you use a Euronet ATM, if you are withdrawing money in a foreign currency, you could get stung by dynamic currency conversion.

How much do Euronet ATMs charge? 🧾

For each cash withdrawal you make, you'll pay a fee of between €1.95 and €4.99. On top of this, if you are withdrawing money in a foreign currency, dynamic currency conversion could add surcharges of around 10.0% to 13.0%. To avoid this, always stick to the local currency.

Are Euronet ATMs safe? 🔒

Although there has been a lot of negative press surrounding Euronet ATMs, they are safe to use. The main issue with them is their cost, so it's always better to use an alternative, cheaper ATM if you can.

Are Euronet ATMs good? ✅

Because of the high fees they charge, we recommend using an alternative ATM for cash withdrawals wherever possible. If you must use one and you are withdrawing money in a foreign currency, always refuse dynamic currency conversion to keep charges as low as possible.

Who owns Euronet ATMs? 📝

Euronet is part of Euronet Worldwide, an American worldwide provider of electronic payment services. Euronet ATMs can be found across the globe.
Why Trust Monito?
You're probably all too familiar with the often outrageous cost of sending money abroad. After facing this frustration themselves back in 2013, co-founders François, Laurent, and Pascal launched a real-time comparison engine to compare the best money transfer services across the globe. Today, Monito's award-winning comparisons, reviews, and guides are trusted by around 8 million people each year and our recommendations are backed by millions of pricing data points and dozens of expert tests — all allowing you to make the savviest decisions with confidence.
Learn More About Monito
Monito is trusted by 15+ million users across the globe.

Monito's experts spend hours researching and testing services so that you don't have to.

Our recommendations are always unbiased and independent.