Using ATMs, credit & debit cards abroad: what you need to know?
Last updated
March 1, 2019
Traveling abroad with a credit or debit card? A few simple tricks--like pressing the right button--can help you save money while paying with a card in a foreign country. From choosing to pay in the local currency when the card machine prompts you in a shop to planning ahead or using the right card, these tips can equal more money in your pocket and save you hefty bank and transaction fees and avoid bad exchange rates.
Advance planning: Find the best credit or debit card to use abroad
Cards offered by TransferWise, Revolut and a variety of other online and globally-focused bank accounts offer heaps of benefits.
For example, with TransferWise, which stands out because they convert currency at the mid-market exchange rate, offers a borderless account (which includes five currencies (US dollars, Euros, Australian Dollars, New Zealand Dollars and Pound Sterling)  
offers a debit card, too. So you can hold money in any of those four currencies and convert to over 40 currencies using the standard, mid-market exchange rate.
Revolut offers a debit card and the chance to hold and exchange money in 24 currencies. Depending on what sort of account you have, you're also entitled to withdraw a certain amount per month for free when you use your ATM abroad.
Check out more international bank accounts that offer great cards that are some of the best debit cards to use abroad. These debit cards all have Visa or Mastercard logos, which essentially means operate as credit cards abroad, too.
Paying with a card the shop or restaurant: Which currency should I choose?
We've all  been there. You're in a foreign country and you're in a shop or a restaurant and the card machine asks you which currency you want to pay in: the local or home currency.
You always want to pay in the local currency when you are in a shop, versus accepting the conversion and paying in your home currency. This seems like a trick question--why not opt for your home currency? Plus, you automatically see the amount your are spending in your currency back home.
The thing is, when you choose your home currency instead of the local one, you're getting a dynamic currency conversion, which often incurs an additional fee (we've seen 4-8%!) which means you are not actually paying what you see on the card machine. Just don't do it. Go for the local currency, period.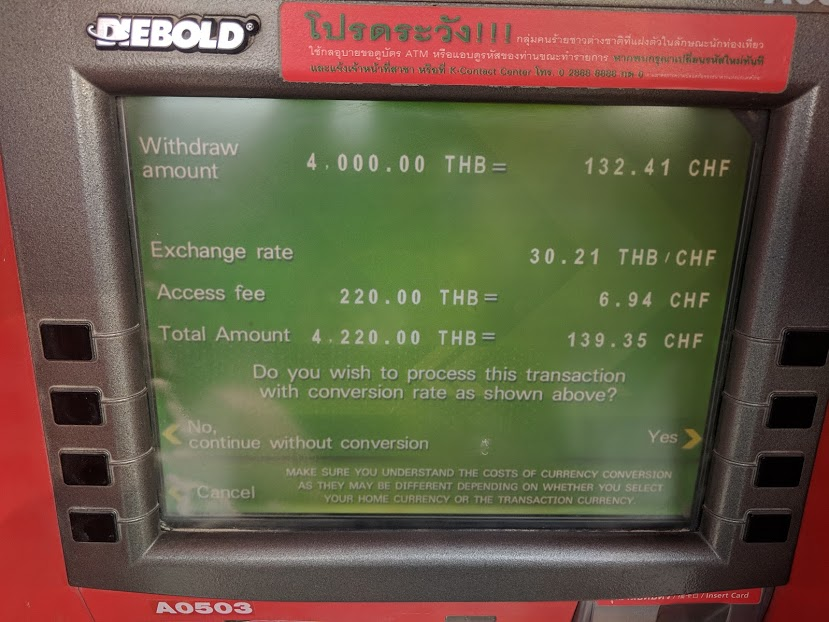 I want cash: Using an ATM abroad
You can also choose to withdraw at an ATM and pay in the local currency versus paying with a card. In this case, you'll have to accept the ATM's currency exchange rate. In most cases, the machine will tell you what the rate is and you have to accept it (but not always--the machine might just spit it out and you'll discover the rate when you check your account transactions).
Before you leave home
Find out if your bank offers fee-free withdrawals with certain banks abroad in certain countries. There is an Global ATM Alliance which means that your bank may have an agreement with  a foreign bank abroad, meaning when you use these ATMs abroad, you won't pay a fee for withdrawals. Your exchange rate may be poor, but at least your not paying a hefty fee [per withdrawal. In some cases you may also pay some sort of "international processing fee" for converting currencies and this fee may or may not be waived with the Global ATM Alliance, but in most cases, the withdrawal fee will be lifted.
For example, Bank of America has an alliance with Barclay's in the UK and Deutsche Bank in Germany and Spain, so if you withdraw money there, you don't pay a fee for withdrawing money at a foreign bank, but you will pay a 3% transaction fee for converting the money into the local currency.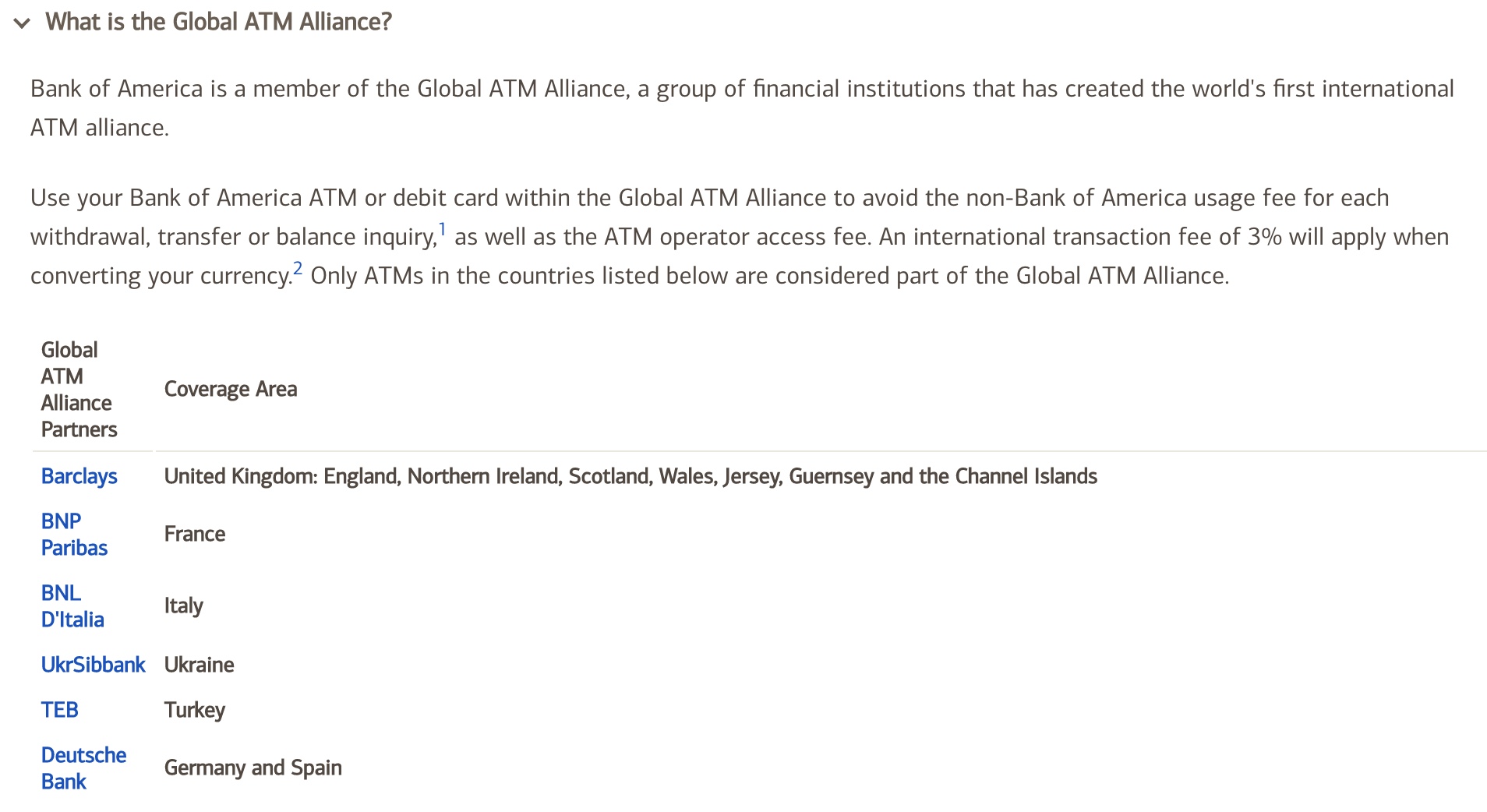 Even if your bank does not have an agreement, try to use an ATM that is part of a bank versus a machine in the wall, so you can be more confident that you'll be presented with the bank's exchange rate.

Overall, there is a lot of money to be gained by applying these simple tricks. Think of it this way: in the end, the amount you save can quickly add up to be the equivalent to a few drinks or a meal in your holiday destination! So essentially, a few tweaks equals a free meal or cocktail.
Best alternatives to your usual ATM card provider
Managing your finances across multiple countries and currencies is tricky, especially if you don't have a fixed abode, are traveling regularly or you're living abroad. But a variety of international, multi-currency accounts make banki…

TransferWise vs PayPal. Which one is the best for you and your needs, and which is the most affordable option if you need to send or receive money internationally? Check out our analysis and the pros and cons of each money transfer co…

We've all been there. You return from a holiday abroad, check your bank balance, see some surprisingly outrageous charges and go OUCH!  You're in pain because you've been slapped with inflated foreign transaction fees and obscene excha…