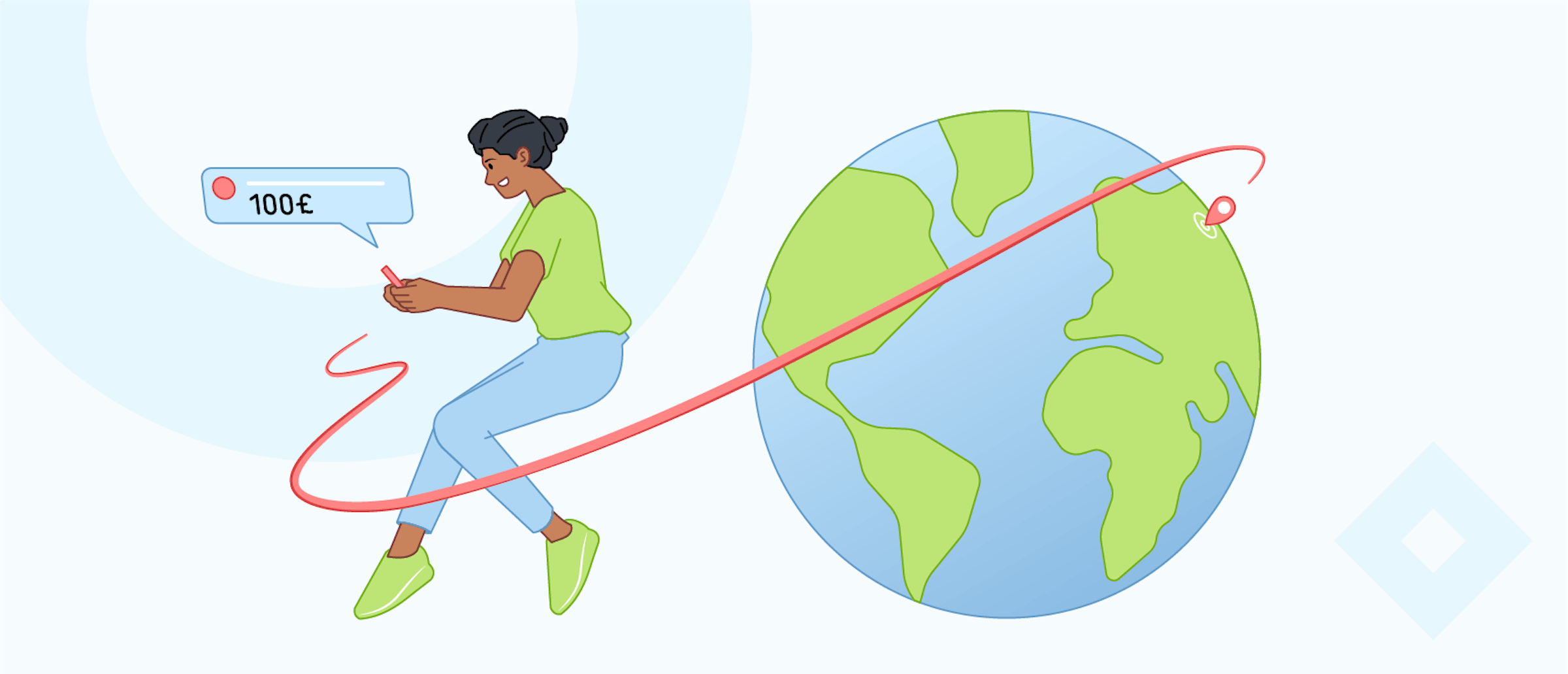 How To Instantly Send Money Internationally Online
Are you looking to send money overseas instantly online? Sadly, while "instant" international transfers are not possible, strictly speaking, some services get pretty close in terms of speed — transferring money abroad within just a few hours, minutes, or even seconds. However, while it isn't possible to send money internationally instantly, the internet allows you to get pretty close. These days, sending money online can be near-instantaneous, with some types of transfers being processed and delivered in only seconds.
Even when it comes to international money transfers (which involve currency exchange and traditionally take longer), transfer speeds can still be fast, with bank transfers executed in under 24 hours increasingly becoming the norm among online money transfer services.
Similarly, some forms of credit transfers can be near-instant too. For example, in the EU, credit transfers made via SEPA can arrive in the beneficiary's account within just seconds. What's more, if both your bank and the bank of your beneficiary use the same payment system, such as Faster Payment, SOFORT, or iDeal, then your transfer will also be nearly instant.
In this guide, we explore the options which could be fastest for you and what tricks you can take advantage of to speed up your transfer.
Monito's Recommendation
If you're looking for the fastest international money transfer on average, we recommend Remitly, which is on average one of the fastest services on Monito. Money usually takes between a few seconds and a few days to arrive, depending on the countries, payment methods, and transfer speed selected.
How To Send Money Internationally Fast
On Monito's comparison engine, money transfer services are ranked according to their cost (fixed fees, commissions, and exchange rate margins) per transfer. However, we also take careful note of how quickly each service sends money to its destination, regardless of the transfer and receipt method.
According to our data, the following services consistently performed highly in terms of speed on a global level:
1 — Remitly
Remitly is a high-speed money transfer service for sending funds internationally. For example, for bank transfers from the US to India, users can expect money to arrive in their recipient's bank account in just a matter of minutes.
Speed: Remitly 'Economy' bank transfers take between three and five business days to arrive, while 'Express' card transfers arrive within minutes. Overall, Remitly ranked as the second-fastest money transfer service on Monito's comparison engine.
Recommendation: Because of its speed and pricing for cash-related transfers in particular, we recommend Remitly for sending money for cash pick-up and cash home delivery services.
Skrill
A mobile wallet, Skrill is one of the fastest international money transfer services out there. However, payments are only possible via debit card.
Fastest: While transfers to bank accounts take quite long (usually two to five working days), international transfers to another Skrill wallet are nearly instant. For this reason, Skrill ranks as the fastest money transfer service of all on Monito's comparison engine.
Recommendation: We recommend Skrill for low-cost payments via debit card to other Skrill wallets. For bank transfers, the process can take quite long, however, and for these transfers, we don't recommend Skrill if you'd like to find the fastest deal.
2 — Wise
Wise has made leaps and bounds in reducing its transfer speeds to among the shortest in the industry, providing fast and efficient transfer service. According to their Q2 2021 Mission Update, 38% of transfers with Wise arrived within 20 just seconds. In 2020, Wise also announced that 53% of transfers arrived within one hour, and 81% within a day.
Fastest: In 2020, around 34% of Wise transfers arrived within 20 seconds, 53% within an hour, and 81% within a 24-hour period. Overall, Wise ranked as the fourth-fastest money transfer service on Monito's comparison engine between July 2020 and 2021.
Recommendation: We recommend Wise especially for small- to medium-sized bank transfers (up to US$10,000.00) destined for international bank accounts, as the platform is particularly well-priced for these transfers.
3 — WorldRemit
Another speedy money transfer option, especially for certain major remittance corridors such as the US to Mexico, WorldRemit offers money transfers that can take anywhere from a matter of minutes to be available for cash pickup to a matter of hours to arrive in your beneficiary's bank account, depending on which method you choose.
Speed: Depending on the pay-in methods, pay-out methods, and countries involved, WorldRemit transfers take anywhere between a few seconds and a few working days to arrive. Overall, WorldRemit ranked as the fifth-fastest money transfer service on Monito's comparison engine.
Recommendation: We recommend WorldRemit for mobile money transfers due to its industry-leading coverage among mobile wallets. These include Vodafone M-PESA, MTN Mobile Money, Airtel, Globe Cash, Tigo, and many others.
4 — MoneyGram
When it comes to cash pickup services, MoneyGram can be impressively fast. On many key money transfer corridors, including those between the US and both India and Mexico, MoneyGram's transfers for cash pickup take only a matter of minutes to be ready for collection.
Fastest: MoneyGram transfers take between a few minutes and a few days to arrive. All in all, MoneyGram was the tenth-fastest service on Monito's comparison engine.
Recommendation: While not always the cheapest way to send money internationally, MoneyGram is nonetheless a fast and reasonably-priced option that we recommend to users who're looking for a wide variety of pay-in and pay-out options and destination countries.
5 — PayPal
Transfers from one PayPal balance to another take just seconds to arrive. However, if you include the time it takes to move funds from your bank account to your PayPal account or vice versa, the process takes a lot longer — usually 3-5 days.
Beware that PayPal is an expensive choice for sending international transfers, which we generally don't recommend. If you do choose PayPal to change currencies anyway, here are some tricks you can take advantage of to keep the costs low:
The above services are by no means the only ones that offer fast online money transfers. Indeed, many others might offer you faster speeds for your desired transfer, depending on several key factors. These include:
The two countries between which you're sending money;
Which payment method you choose to send the money;
Which receipt method you choose to send the money;
To get an overview of how fast each service might be for your individual transfer, be sure to run a search on Monito's real-time comparison engine below. Look out for the little grey icon next to each provider's name that tells you how long you can expect your transfer to take:
Find the Fastest International Transfer
Top Tips For Transferring As Quickly As Possible
Once you've compared money transfer services and found the fastest provider (or providers) for your transfer, there are a number of other useful tips and tricks that you can consider to speed along the process.
The top five suggestions for helping your money transfer to arrive as close to instantly as possible are as follows:
Tip 1 — Register in Advance

To give yourself enough time to get verified before you transfer, we advise you to register for an account more than a week before you need to actually use it. You can also try setting up two or three accounts with different providers to give yourself more flexibility. Use Monito's comparison engine to discover which ones are most competitive for your transfer.
Tip 2 — Choose the Right Payment Method

Paying by debit or credit card is generally the fastest way to pay for a transfer, with bank transfers coming in second. In general, using cash to pay for your transfer is the slowest method of the three.
Tip 3 — Choose the Right Receipt Method

As a rule of thumb, cash pickup is normally the fastest receipt method and is usually nearly instant. Bank deposit speeds can vary significantly, on the other hand, with the funds taking anywhere between a few hours and a few days to arrive.
Tip 4 — Make Sure You Have the Funds Available

Double-check how much you have and what you can afford to send, taking into account the fees that your chosen money transfer service will charge you. Ensure that you have cleared funds available at the time you make your transfer.
Tip 5 — Confirm the Sender and Beneficiary Details

Make sure you have all the correct details, both to specify how you will send the money and how your beneficiary will receive the money. Getting these details wrong can mean your transfer service will need to follow up with you to confirm them, which can lead to the transfer taking much longer to arrive.
Speedy Transfers With Digital Banks
If you're looking to send money abroad quickly on a regular basis, we recommend that you explore your options among one of the many neobanks out there.
These banks, which function similarly to ordinary banks, are on the rise in Europe and North America, and often allow users to transfer money instantly between accounts in different foreign currencies — so long as those accounts are also part of the same bank.
For example, with the EU-wide neobank N26, you can make use of the MoneyBeam feature to send money instantly to other N26 users, even if they're based in a different country. And while SEPA transfers to other banks and foreign currency transfers take slightly longer at N26, even these are relatively quick and tend to be completed within only a 24-hour timeframe.
Aside from N26, some of the biggest names in the neobanking sector include Revolut, Monzo, and Monese, but there are many others out there. For the purposes of speedy international money transfers, in particular, we recommend the Wise Multi-Currency Account, which allows you to use one account make use of multiple bank accounts in several different currencies, namely in the British pound, the Euro, the Polish złoty, the Australian dollar, the New Zealand dollar, the Hungarian forint, the Singaporean dollar, and the US dollar.
Why Trust Monito?
You're probably all too familiar with the often outrageous cost of sending money abroad. After facing this frustration themselves back in 2013, co-founders François, Laurent, and Pascal launched a real-time comparison engine to compare the best money transfer services across the globe. Today, Monito's award-winning comparisons, reviews, and guides are trusted by around 8 million people each year and our recommendations are backed by millions of pricing data points and dozens of expert tests — all allowing you to make the savviest decisions with confidence.
Learn More About Monito
Monito is Trusted by 15+ Millions Users across the globe.

Monito's experts spend hours researching and testing services so that you don't have to.

Our recommendations are always unbiased and independent.