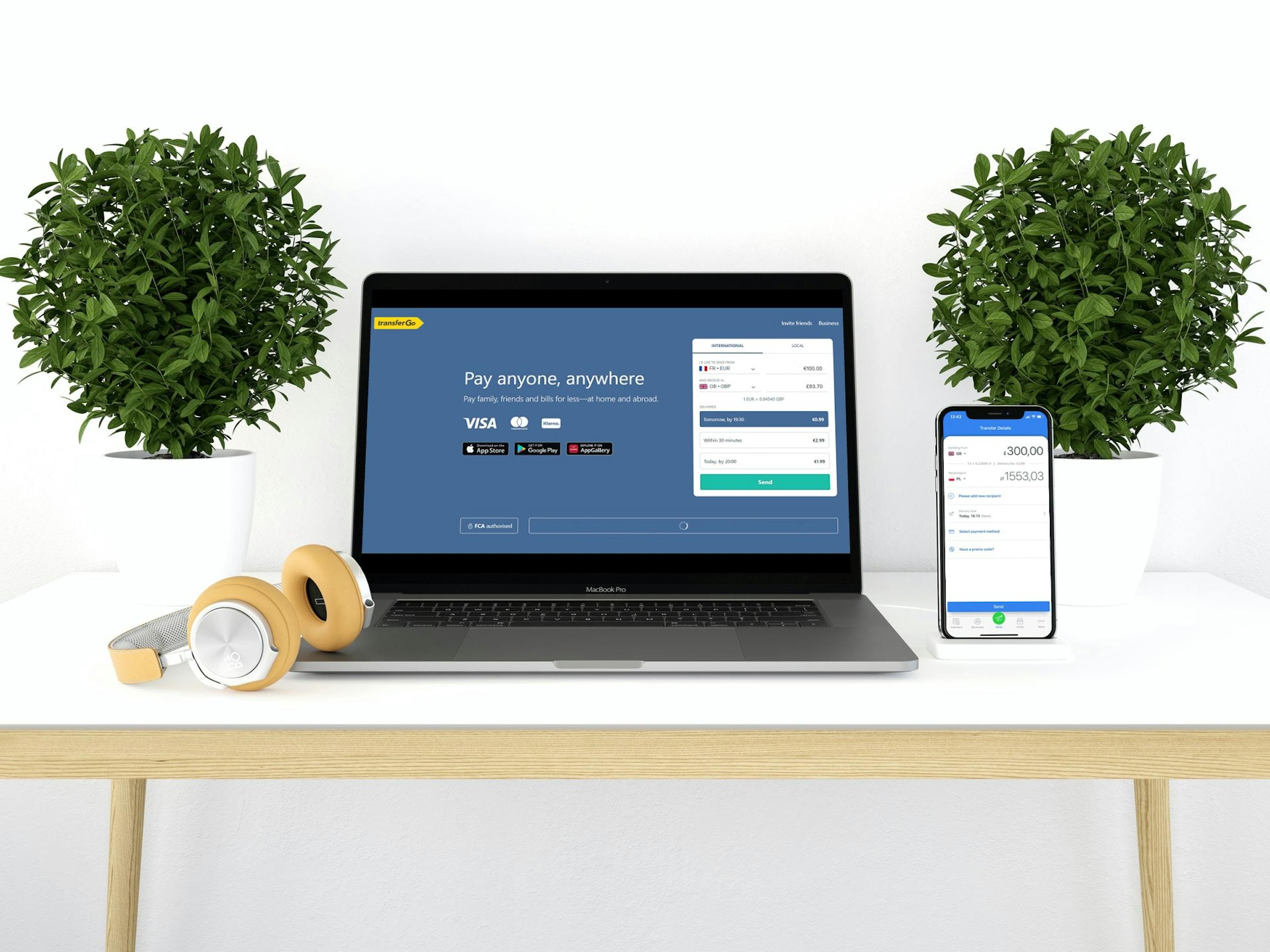 TransferGo Review: Money Transfer Fees, Safety, Usability, and Monito's Verdict
TransferGo is a great money transfer service (8.8/10) recommended by the experts at Monito. While TransferGo does charge exchange rate fees, the pricing is still very competitive when compared to competitors (9/10). As a bonus, TransferGo is highly trustworthy (8.6/10), its app is easy to navigate, its customer service is quick and easy to locate (8.3/10), and the provider is well-rated by customers (9.3/10).
What Monito Likes About TransferGo
Consistently offers the cheapest rates on international money transfers, especially to Europe;
Licensed, large company that has been trusted to move billions of dollars each year;
Offers a variety of pay-in and pay-out options.
What Monito Dislikes About TransferGo
100% of fees are hidden in the exchange rate margin;
Supports a limited number of origin countries.
TransferGo is a good option for sending money internationally, recommended by the experts at Monito. However, Monito always encourages users to regularly check our comparison engine to see how TransferGo ranks against other providers for their specific destination, as rankings and recommendations can change at any given time.
How We Review Money Transfer Providers
With more than 50 providers reviewed and 100 test transfers made over the past ten years, we pride ourselves on providing the best reviews of international money transfer services online. Curious how we make them and why you can trust us? Take a look at our process below:
🔎 See how our scoring methodology works

All international money transfer services we review are put through a comprehensive and rigorous scoring methodology, which involves the testing of the platform's functionalities, assessment of customer reviews, fees, pay-in options, customer service, and business metrics. The methodology is also powered by an analysis of millions of searches on Monito's comparison engine to determine each provider's competitiveness in terms of pricing. When the research is done, each Monito Score is then peer-reviewed by at least one Monito expert. Learn more about our scoring methodology here.

🤝 See why you can trust our recommendations

Reviews are written independently by Monito's editors, and the recommendations given are our own. We might make money from some links on our reviews to bring you premium content without pesky banner ads and paywalls. We promise you that this never impacts the independence of our recommendations. Learn more about our promise and our business model here.
Where Is TransferGo Available?
Background check
TransferGo is a registered money transfer provider that is supervised by HM Revenue & Customs (HMRC) and regulated by the UK Financial Conduct Authority (FCA), as well as by all relevant authorities in the countries in which it operates.
Security & reliability
TransferGo's platforms are fully secured through the use of top-notch security protocols, such as segregated user accounts and HTTPs.
Company size
Since its establishment in 2012, TransferGo has grown to serve 6 million customers and over 300 employees. TransferGo transfers approximately £1.4 billion around the world annually.
Transparent pricing
Not fully transparent in its pricing, collecting 100% of their fees from partially-disclosed exchange rate margins.
Can I Trust TransferGo?
Moving £1.4 billion globally annually for 6 million customers, TransferGo is a well-established and trustworthy money transfer provider. As a licensed Authorised Payment Institution (meaning it's duly authorized by the Financial Conduct Authority and Her Majesty's Revenue and Customs in the UK), TransferGo offers institutional-grade security for its service, including 256-bit SSL encryption with a 2048-bit signature. TransferGo's headquarters are located in London, and it employs over 300 people across its offices in the UK, Lithuania, Germany, Poland, and Turkey. Employees give the company a 4.7-star rating on the employer review site Glassdoor and describeTransferGo'ss as a place where you are "...surrounded by motivated professionals who are focused to deliver a great product" that the "team and management is dedicated to help customers".
Is TransferGo Safe?
As per FCA regulations, clients' funds are held in segregated accounts and are therefore kept completely separate from TransferGo's own business accounts. This means that your money is safe should the company face financial difficulties.
TransferGo has raised close to US$41 million dollars from various renowned investors and industry veterans as well as crowdfunding campaigns.
Opening an account
Opening an account with TransferGo is a straightforward experience, made all the easier by the provider's smooth and easy-to-use interface.
Making a transfer
Making a transfer with TransferGo is easy and stress-free. TransferGo clearly displays all the details and options for the transfer up front: rates, fees, payment and delivery options, and the provider even allows you to choose the delivery time for your transfer.
Contacting support
TransferGo is quick to respond to chat, email, and phone support, making dealing with customer service a pleasant experience.
TransferGo's Service Quality
Although it does not offer a wide variety of pay-out options, TransferGo provides excellent service on what it offers, with an easy-to-use interface, quick and easy transfers, and smooth customer service. TransferGo ranks high in terms of usability, scoring second place in Monito's benchmark study, which evaluated the user experience of sending money online with ten money transfer providers.
What Is TransferGo?
TransferGo is an online alternative to banks to make international money transfers. Founded in 2012, the company offers low-cost, fast, and secure global money transfers. You can pay for your international transfer with a local bank transfer. Payments can also be made with a debit or credit card if the card from 32 countries in nine currencies, namely the CZK, DKK, EUR, GBP, HUF, NOK, PLN, RON, SEK. These transfers pay-out to 104 different currencies across 163 countries, with the money delivered to the bank account of your choice.
With TransferGo, customers can make fast transfers and send money from a bank account or debit card to the recipient's bank account from over 30 countries to over 45 countries with low flat fees and transparent exchange rates.
TransferGo is also noteworthy for its flexible transfer options. Standard transfers generally arrive within one business day, depending on the country to which you're sending money. You can also pay more for fast delivery (as fast as 30 minutes) or pay zero fees for slower (up to three business days) transfers. Options and processing times vary by country.
TransferGo Mobile App
TransferGo offers mobile apps for both iOS and Android smartphones and tablets. They provide a solid user experience and are very convenient--you can send money and obtain immediate updates of the status of your transfer. The apps are rated 3.7 out of 5 in the Google Play Store and 4.6 out of 5 in the Apple App Store.
Fees & Exchange Rates
9.0
Transfers to a bank account
TransferGo is priced competitively in 80% of relevant Monito searches.
Transfers to a debit or credit card
TransferGo is priced competitively in 16% of relevant Monito searches.
TransferGo's Fees & Exchange Rates
TransferGo has overall good fees and exchange rates. TransferGo provides competitive rates in a very respectable 80% of cases for bank transfers. It's rates for cash pick ups, mobile wallets, and card transfers are generally not the most competitive.
Insofar as exchange rates go, TransferGo converts funds using a rate that is generally weaker than the mid-market exchange rates, with a margin of 0% to 2.2%. The exchange rate is locked in advance so that you know exactly how much money will arrive. Transfer costs depend heavily on the countries you are sending money from and to, and can generally be broken down into the following three types:
"Free (and cheap)": If speed is not an issue, standard transfers to Ukraine, Turkey, Poland, and India are completely free, with transfers to other countries being low-cost.
"Standard": For standard transfers (which guarantees next day delivery in most countries), TransferGo charges a flat fee of 0.99 EUR / 0.99 GBP / 10 SEK / 20 DKK / 20 NOK / 500 HUF / 9 PLN / 9 RON, depending on which currency you're sending your money from, with the exchange rate margin falling between 0% and 2.2%.
"Now/today": For time-sensitive transfers, go for this option. TransferGo Now means recipients will receive money in as little as 30 minutes after the transfer is made. TransferGo Today a same-day delivery option and guarantees money delivery by 5.30 pm (GMT) on the same day a booking is made (the transfer must be made by 12:30 pm GMT). The flat fee depends on the amount your sending, but the exchange rate margin is guaranteed to be 0% to 2.2%.
Compare TransferGo's fees in real time:
Customer Satisfaction
9.3
Trustpilot reviews
With a 4.7/5 star rating on Trustpilot from over 30,000 customers, there's no doubt that TransferGo has made an overwhelmingly positive impression on its customers.
Google Play reviews
TransferGo earns above 4.5/5 stars in most countries' Play Stores out of more than 27,000 reviews.
App Store reviews
TransferGo has earned an excellent 4.7/5 star rating, albeit from only a small number of reviews.
Customer Reviews of TransferGo
TransferGo is much-loved by its customers, receiving an overall 4.7 out of 5 stars on Trustpilot and a total of almost 30 thousand 4- and 5-star reviews. In general, TransferGo is also very good at responding to negative comments in an effort to resolve issues.
Here's a summary of what many TransferGo customers have had to say:
Positive
High-speed and low-cost transfers;
Customers liked how easy it is to use the service;
Customers feel very safe using TransferGo and describe them as trustworthy.
Negative
In some instances, standard transfers took more than one business day to arrive in countries where they normally should arrive within a day. However, this was due to issues related to security checks and cut-off times with the sending or receiving banks.
How TransferGo Works
Step 01

Check TransferGo's Rates

Use Monito's comparison engine to see how TransferGo's fees and exchange rates weigh up against the rest and make sure they are indeed the cheapest option for your international money transfer. There, you'll be able to discover both the cheapest ways to fund your transfer and have the money received.

Step 02

Open a TransferGo Account

To sign up to TransferGo, you'll need to provide your full name, email address, mobile phone number, date of birth, and nationality. In addition, you'll also need to enter your physical address.

Step 03

Set Up Your Transfer

Once you're signed up and ready to make your transfer, you can enter your sending and receiving countries and the amount you'd like sent on your dashboard. You'll also be able to choose whether or not you'd like to send your money faster with an additional fee.

Step 04

Verify Your Identity

If you plan on sending more than £900 (or an equivalent amount in another currency) on your first transfer, then you'll be required to verify your identity. Valid photo ID documents include a passport, a national ID card, a residence permit, or (for UK residents only) a driver's license. Your document will need to be scanned and submitted with a selfie. (Take note that you'll need to verify your identity on your second transfer with TransferGo even if the amount sent is under £900.)

Step 05

Add Your Beneficiary

On the next step, you'll need to add the details of your beneficiary, which includes their full name, their country, and their bank details or other details of receipt.

Final step

Review and Pay

In the next page, you'll be able to review all the details of the transfer, including the exchange rate and expected delivery time. If everything is in order, click through to the 'Pay In' tab and pay for your transfer using the payment method you chose.

Try TransferGo
FAQ About TransferGo
Can TransferGo send money to Nigeria? 🌍

Yes, TransferGo can send money to Nigeria! To find the best money transfer provider to Nigeria, we recommend searching on our real time comparison engine.

How long do TransferGo transfers take? ⏱

According to TransferGo, most international money transfers are processed and delivered within one business day and . However, with an additional fee, TransferGo will deliver payments to some countries in a matter of hours or even minutes.

Is TransferGo safe? 🔐

Yes, TransferGo is a perfectly safe and legitimate money transfer operator endorsed by Monito. In the UK, TransferGo is supervised by the HMRC and regulated by the FCA, and around the world, it serves around 6 million customers.

How do I delete my TransferGo account? ⛔

If you'd like to delete your TransferGo account, you can do so by contacting customer support directly via email. You can find out more information here.