Our methodology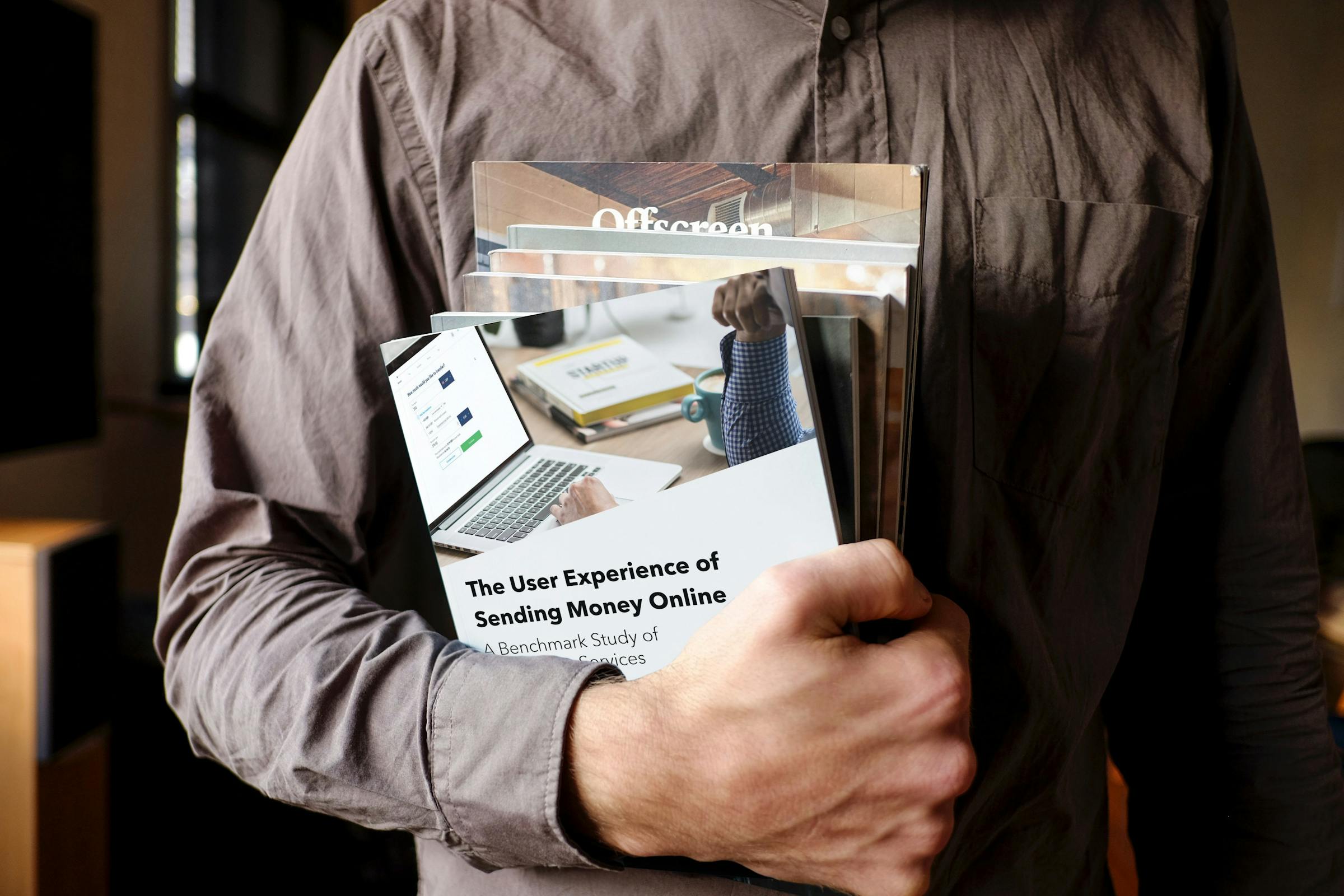 For this study, we focused on the process of sending money online from a computer (excluding mobile devices from our scope).
Testers were recruited randomly from a very diverse pool of more than 10,000 users via the user-testing platform Userbrain. They were asked to imagine that they live in the United Kingdom and need to make a £250 transfer to a friend's bank account in France using a provider assigned to them. Testers made the test with their computer, in their home, while their voices and screens were remotely recorded.
We ask our testers to provide dummy data for some of their personal information (such as a fake name and email address), but we provided them with fake phone numbers and bank details for the recipient.
For each of the 10 providers included in this study, we recruited five random testers, according to industry standards "the best results come from testing no more than five users" and this amount enables discovering most of the usability issues of a website.
All user tests were carried out between March and June 2018.
10 criteria for a great user experience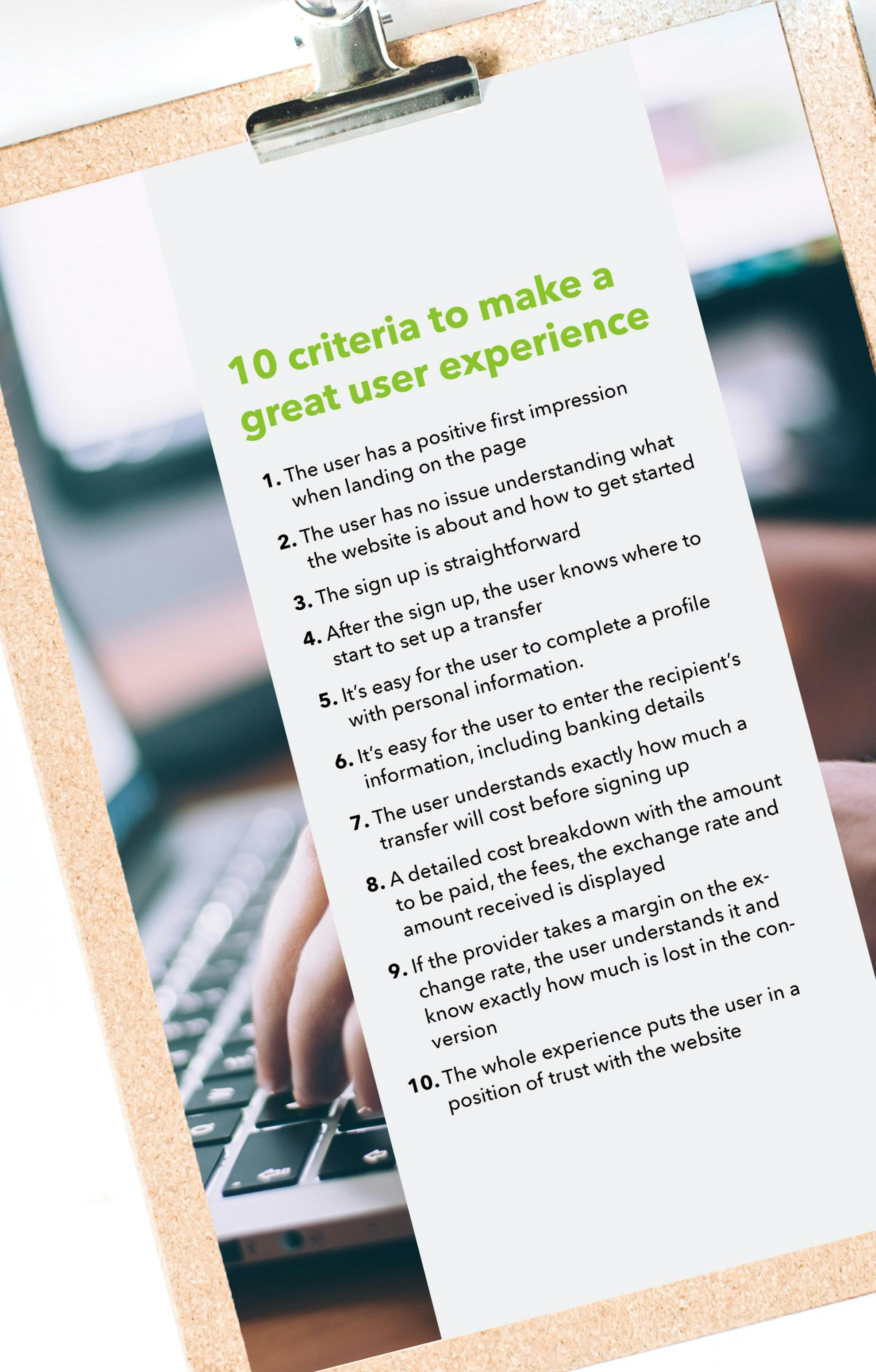 The user has a positive first impression when landing on the page
The user has no issue understanding what the website is about and how to get started
The sign up is straightforward
After the sign up, the user knows where to start to set up a transfer
It's easy for the user to complete a profile with personal information.
It's easy for the user to enter the recipient's information, including banking details
The user understands exactly how much a transfer will cost before signing up
A detailed cost breakdown with the amount to be paid, the fees, the exchange rate and amount received is displayed
If the provider takes a margin on the exchange rate, the user understands it and know exactly how much is lost in the conversion ​​
The whole experience puts the user in a position of trust with the website
Results overview

Overall, this study shows that sending money online is a relatively good experience. With the exception of MoneyGram, all money transfer providers obtain a score above 7/10.
However, only three providers (TransferWise, TransferGo and CurrencyFair) scored 9.0 or above, which is the threshold needed to obtain the "Excellent User Experience" label. These providers are extremely close to each other in terms of their scores and our ranking, but TransferWise officially takes the number one spot thanks to their excellent results around cost transparency (the fact that they apply the mid-market rate without any margin is significant and really differentiates them from other providers).
Providers such as Azimo or Remitly (and to some extent Western Union), are also very easy-to-use but lose some points on cost transparency because users weren't able to understand how much they were losing on the exchange rate.
On the other hand, InstaRem performs very well when it comes to cost transparency, but our users encountered quite a few issues during the sign-up process.
Toward the end of our ranking, we find WorldRemit, a provider who is primarily focused on offering the best possible experience to send money from a mobile device; Xendpay, whose user interface could be more modern and less confusing; and finally MoneyGram.
MoneyGram is first and foremost a cash-based money transfer provider and seems to have more difficulties than Western Union when it comes to offering a good user experience for users who would prefer to send money online.
In order to evaluate the user experience of the providers we analyzed for this study, let's start by describing what an ideal user experience would be.
Based on the reactions, feedbacks, and expectations collected from our 50 testers, we selected 10 criteria that are necessary to have a great experience when sending money online.
The criteria we used for this ranking are listed in on the previous page of this section, and each one of them is explored in detail in the next section of this report.
Key takeaways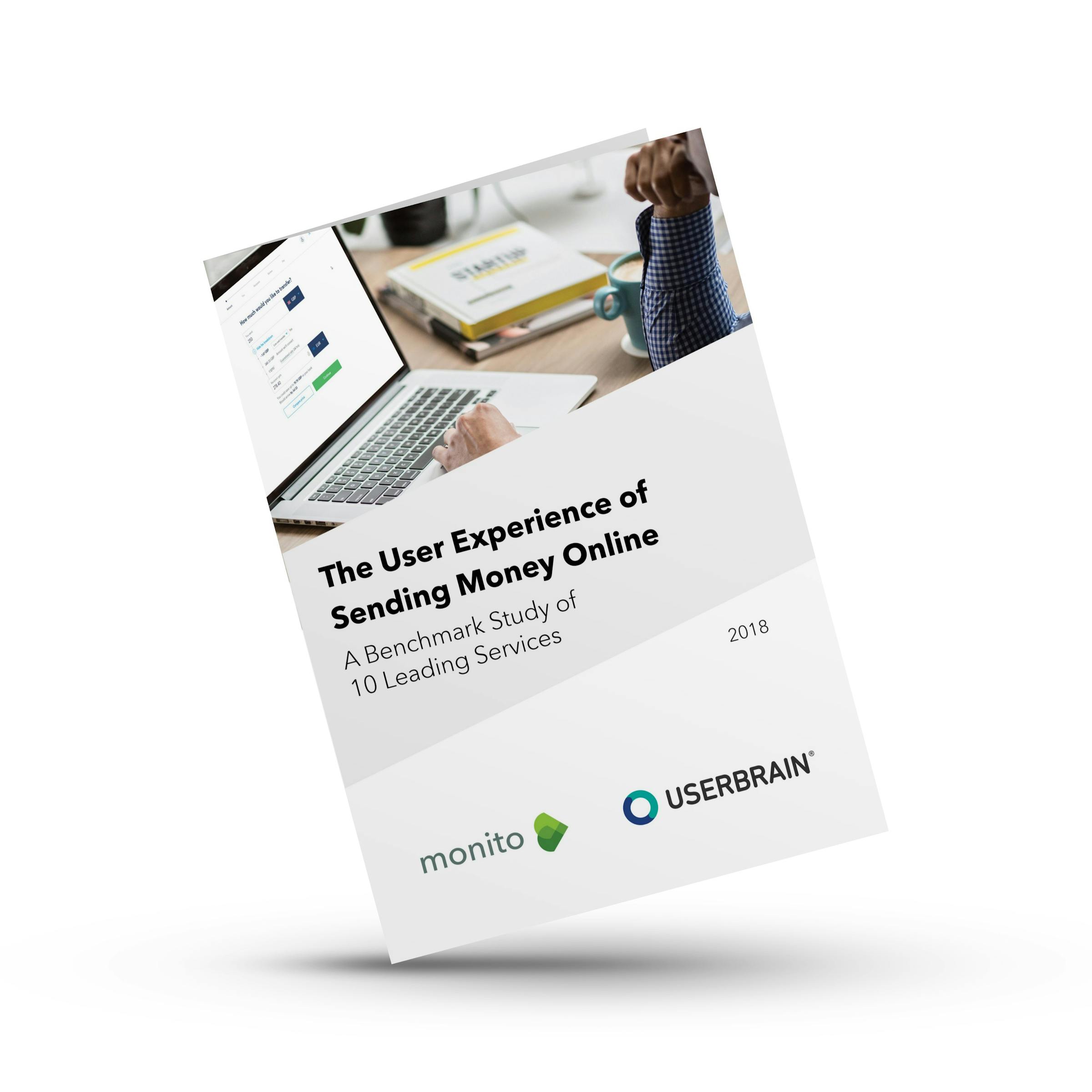 This report is the one of the most extensive studies ever published on the user experience of sending money online.
By rigorously analyzing the experience that ten providers (all representative of the industry) currently offer first-time users, this benchmark analysis provides a lot of insights into what makes a great or poor user experience.
The key ingredients of a good experience we identified within this report include a clear cost-calculator on the homepage, a well organized and linear transfer set up that leads the user through the process, forms that are well-thought through and easy to fill out and total transparency on the cost of the transfer.
The common pitfalls and missteps we highlighted throughout the report were mostly found in the tedious forms the users need to fill out and how input errors are handled, or in situations where the next step wasn't clear for our users. The lack of transparency concerning the margin providers take on the exchange rate was, in many cases, where companies lost points and where there is the most room for improvement.
At Monito, we believe transparency in the money transfer industry is crucial in providing a good user experience for people sending money abroad and enabling them to make informed decisions about the providers they want to use. This is why those factors were weighted quite strongly in our analysis.
Overall though, we found that the quality of the websites we analyzed is good. Companies listed at the top of our ranking truly offer top-notch user experiences, making sending money online an easy task for everyone.