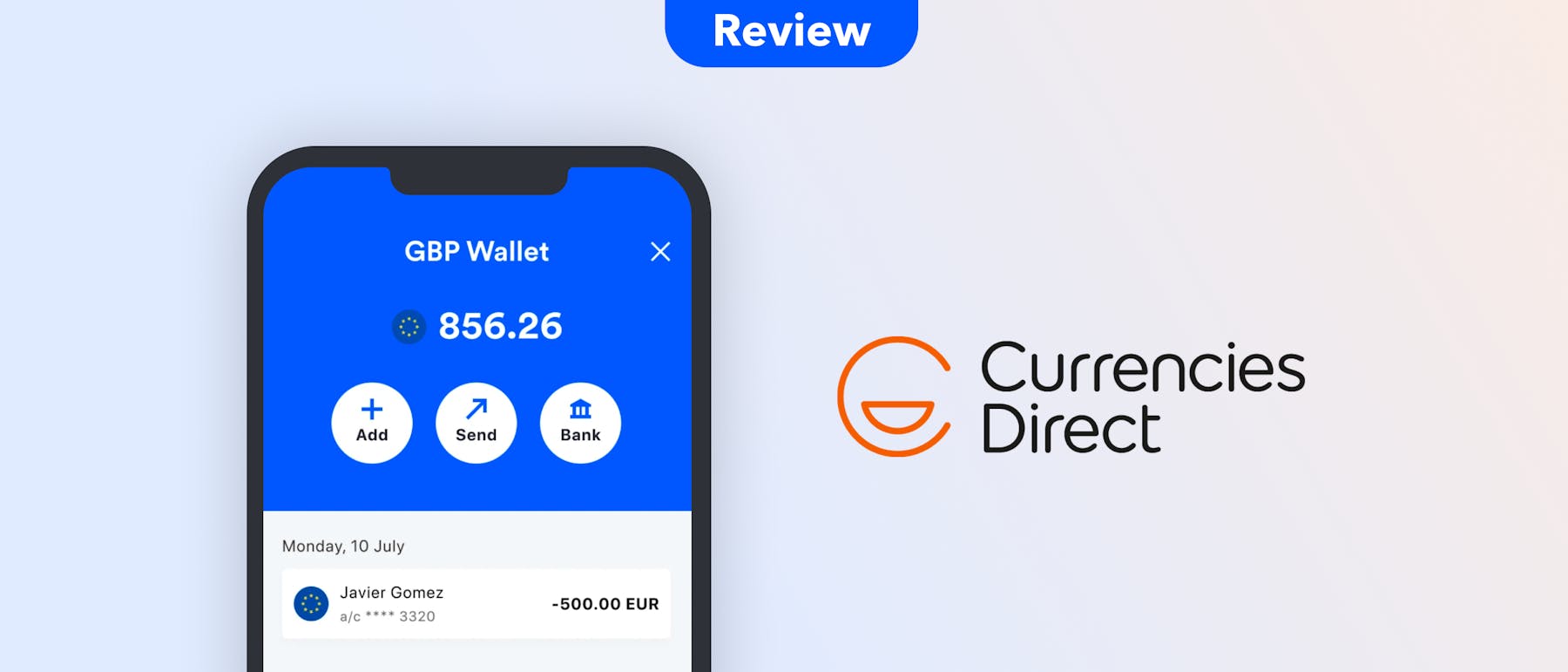 Monito's Definitive Currencies Direct Review of 2023
Currencies Direct is an excellent foreign exchange broker (9/10) that our experts roundly recommend for low-cost, high-volume transfers worldwide. Not only are its exchange rates very competitive on our comparison (10/10), but Currencies Direct also consistently impresses its users by earning high rankings on Trustpilot (9.4/10). It also offers a high-quality platform (8.2/10) with all the bells and whistles and is a trustworthy company (8.3/10) with a long service record.
What Monito Likes About Currencies Direct
Dedicated account manager to make transferring money easier,
Specialized expertise in multiple locales and countries,
Comprehensive online platform with a wide variety of services,
Multiple specialised money transfer services.
What Monito Dislikes About Currencies Direct
No options for recipients to pick up money in cash,
Exchange rates on lower amounts are not competitive.
Compare Currencies Direct to dozens of top providers in real time:
Key Facts About Currencies Direct
| | |
| --- | --- |
| 📍 Headquarters | |
| 📃 Founded | |
| 👥 Employees | |
| 📜 Full Company Name | |
| 💳 Pay-in Methods | Bank transfer, debit card |
| 🏧 Pay-out Methods | |
| ⬇ Min. Transfer Amount | |
| ⬆ Max. Transfer Amount | |
| 💱 Currencies | |
| 💬 Languages | English, French, and 8 others |
How We Review Money Transfer Providers
With more than 50 providers reviewed and 100 test transfers made over the past ten years, we pride ourselves on providing the best reviews of international money transfer services online. Curious how we make them and why you can trust us? Take a look at our process below:
🔎 See how our scoring methodology works

All international money transfer services we review are put through a comprehensive and rigorous scoring methodology, which involves the testing of the platform's functionalities, assessment of customer reviews, fees, pay-in options, customer service, and business metrics. The methodology is also powered by an analysis of millions of searches on Monito's comparison engine to determine each provider's competitiveness in terms of pricing. When the research is done, each Monito Score is then peer-reviewed by at least one Monito expert. Learn more about our scoring methodology here.

🤝 See why you can trust our recommendations

Reviews are written independently by Monito's editors, and the recommendations given are our own. We might make money from some links on our reviews to bring you premium content without pesky banner ads and paywalls. We promise you that this never impacts the independence of our recommendations. Learn more about our promise and our business model here.
Is Currencies Direct Available in Your Country?
You can use Currencies Direct to transfer money from many countries around the world. To double-check if the service works in your country, take a look at the dropdown list below:
Background check
Validly authorised by the FCA as an Electronic Money Institution (EMI) in the UK.
Security & reliability
Secure web infrastructure, HTTPS, segregated user accounts, etc.
Company size
Large, established company with a service record since 1996.
Transparent pricing
Fees are made in the exchange rates, which is only disclosed in the T&Cs.
Is Currencies Direct Safe?
Yes, Currencies Direct is indeed a safe and secure foreign exchange broker for sending funds overseas. Not only has the company been in business since 1996, during which time it has helped over 375 thousand customers transfer over £7.5 billion worth of funds, but it is also authorised by the Financial Conduct Authority (FCA) as an Electronic Money Institution (with the Firm Reference number 900669). Currencies Direct also has the highest possible rating with Dun & Bradstreet (a renowned credit agency), meaning it is considered a low-risk organisation.
Currencies Direct has undergone the highest level of regulation to ensure its practices are to the best standards in terms of safety and security. It is registered with Her Majesty's Revenue and Customs (HMRC) as a money service business and processes customer funds through a segregated bank account to keep it completely safe.
As of 2023, Currencies Direct trades in more than 40 currencies and employs some 550 people in seven countries across Europe, North America, Asia and Africa. As per FCA regulations, client funds are entirely separate from Currencies Direct's business accounts in so-called segregated accounts. Should the company have any financial difficulties, your money will remain safe. In addition, Currencies Direct subscribes to the Non-Investment Products Code, which regulates companies involved in foreign exchange transactions such as spot and forward contracts.
Opening an account
Account activation involves a few steps, including ID verification, and takes 15 to 30 minutes.
Making a transfer
Sending money to a new or existing beneficiary is fast, seamless, and smooth.
Contacting support
Reachable by phone, email, or live chat (24/7 in some countries).
What Is Currencies Direct? Is It Any Good?
Currencies Direct is a UK-based currency exchange and money transfer provider offering services to individuals, businesses, and online sellers. It prides itself on local expertise — with 21 offices worldwide, it can provide expert local help on currency markets, local regulations, and compliance. In addition, it also has specialised knowledge for transferring to Spain, France, the USA, the UK, Portugal, and South Africa.
Currencies Direct offers tailored solutions depending on your individual money transfer needs, frequency and value of transfers, and several other factors. It provides a wide range of currency exchange and money transfer services, many of which aren't readily available from other providers.
It does not typically charge transfer fees and offers competitive exchange rates. Currency exchange can be done over the phone, online, or via their dedicated mobile app. Most transfers between frequently traded currencies occur the same or the next working day.
Currencies Direct has a comprehensive online platform that provides fast and secure transfers 24/7. You can use the platform to send up to £25,000, get live quotes, pay for transfers, buy currency now and transfer it later, pay for offline transfers, add and manage payees, and send money to more than one payee at a time. It provides competitive exchange rates on higher amounts.
Currencies Direct Mobile App
Currencies Direct offers a complete mobile application available for Android and Apple phones. The app allows users to:
transfer money quickly and easily,
stay up-to-date with currency trends using rate alerts,
check live exchange rates and costs,
view online, offline, and historic activity.
Additional Services From Currencies Direct
Currencies Direct offers the following additional specialised services to individual and business clients:
Contracts, Forward, Limit, and Stop-Loss Orders
Forward Contracts: You can set an exchange rate now and then pay for the transfer and get that exchange rate at some point in the future. Forward contracts can be purchased up to a year before making the transfer.
Limit Orders: A limit order lets you only transfer money (and fund the transfer) when the exchange rate meets a threshold that you've previously defined. This enables you to take advantage of changing rates without watching them like a hawk.
Stop-Loss Orders: A stop-loss order lets you define a threshold, the minimum currency exchange rate you will accept. Your currency exchange will then be made if this threshold is breached. It's a helpful way to manage your exchange rate risk.
Combining Orders: You can combine the above orders to hedge against exchange rate movements and take advantage of favourable exchange rates.
Business Currency Exchange Services
Multiple & Batch Payments: Currencies Direct lets you create and upload information, allowing you to make various payments to employees and suppliers worldwide.
Smart Currency Conversion: Designed for online sellers, smart currency conversion lets business owners manage their international collections and payments more efficiently, optimising cash flow.
Multiple Collection Accounts: You can access Currencies Direct collection accounts in various currencies and countries, allowing you to take payments worldwide. You can then convert money when you need to or do it automatically.
Manage Outgoing Payments: a service designed to help online sellers who source inventory and stock from suppliers in other countries.
Risk Management: Expertise and straightforward advice from currency specialists to help manage risk and reduce the impact of exchange rate fluctuations.
Other Currency Exchange and Money Transfer Services
Regular, Fee-Free Transfers: Currencies Direct allows you to make regular transfers via direct debit. This is fee-free; you can choose weekly, monthly, or quarterly schedules. You can also lock in future transfers at a guaranteed rate.
Travel Money: Currencies Direct has partnered with a service called WeSwap to provide low-cost travel money for international travellers.
Daily News on Market Movements: Currencies Direct provides information and live exchange rates on their website.
Currency Converter: You can quickly determine how much money is worth in a different currency via their online tool.
Currency Charts: see how currency pairings have performed historically.
Rate Alerts: get alerts automatically when currency exchange rates hit a certain threshold.
How Does Currencies Direct Work?
Step 01

Sign up

Set up an account with Currencies Direct — you will need to provide your name, address, contact details, bank details, and proof of identification such as a passport.

Step 02

Choose the amount and currency

Decide the currencies that you want to exchange money between.

Step 03

Book your rate

Book a rate through the Currencies Direct website, by calling a customer service centre, or through a mobile app.

Step 04

Add your beneficiary

Provide details of the sender and receiver of the funds.

Step 05

Pay for the transfer

Send money to Currencies Direct through bank transfer or by paying with a debit card. Debit card payments are available for GBP, EUR, or USD currency cards.
Transfers to a bank account
Very cheap and competitive compared to other similar providers on Monito.
What Are Currencies Direct's Fees and Exchange Rates?
Currencies Direct is a very affordable money transfer provider and offers some of the best fees and exchange rates on Monito, especially for larger transfer amounts. Below, we've summarised Currencies Direct pricing as an overview:
Currencies Direct Fees
Currencies Direct doesn't typically charge any transfer fees. If it does charge a fee, you'll be notified before you make your transfer.
The bank receiving your funds or an intermediary bank may deduct fees when crediting the payment. You should always check with the receiving bank to understand any fees that may be charged.
Currencies Direct Exchange Rates
Currencies Direct's international payment exchange rates tend to be low (under 1.5%) and tend to vary based on a few factors like:
the currency you're converting to,
the currency you're converting from,
the total amount you're sending (larger amounts have better exchange rates).
Here are two examples of how the exchange rates would look when converting British pounds sterling to South African rands:
E.g. 1: Sending GBP 1,000 to ZAR
Mid-Market Rate: 16.9826 ZAR per 1 GBP (or R16,983 received)
Currencies Direct's Rate: 16.7482 ZAR per 1 GBP (or R16,748 received)
Exchange Rate Margin: 1.4%
No additional fee is levied by Currencies Direct, so the total amount received would be R16,748.
E.g. 2: Sending GBP 10,000 to ZAR
Mid-Market Rate: 16.9814 ZAR per 1 GBP (or 169,814 received)
Currencies Direct's Rate: 16.9154 ZAR per 1 GBP (or 169,154 received)
Exchange Rate Margin: 0.39%
No additional fee is levied by Currencies Direct, so the total amount received would be R169,154.
Bear in mind that we chose an example of a currency with a higher conversion cost to start off with. When converting to a more frequently-traded currency like the US dollar or euro, the margins would generally be even lower.
Customer Satisfaction
9.4
Trustpilot reviews
Excellent 4.9 out of 5 from nearly 10,000 reviews.
What Do Customers Think About Currencies Direct?
Currencies Direct does well in customer reviews. It scores an excellent 4.9 out of 5 stars on Trustpilot, with a very impressive 91% of reviewers rating it at five stars and an additional 5% rating it at four stars. Only fewer than 3% of reviewers rated Currencies Direct at one or two stars.
Reviews typically include positive comments about customer support and ease of use. For example:
"Excellent professional clear advice from my first enquiry to the final transfer. Secure informed updates of each stage of the transaction."
and
"Had a great experience with Jade my account manager. This was my first time using a service like Currencies Direct and they were helpful, upfront and available to answer all of my many questions. Once I initiated my transfers the process was smooth and efficient and my funds arrived on time. Overall a good experience that gave me peace of mind throughout, would certainly recommend to a first-timer!"
The negative reviews were mainly due to misunderstanding the timing of transfers or transfers taking too long. There were also complaints about the need for documentation to set up accounts and the view this was an invasion of privacy. Currencies Direct replied to all negative comments either explaining the situation or offering to resolve any issues.
Overall though, customers are extremely pleased with Currencies Direct's exchange rates, speed, efficiency, convenience, and customer service.
See How Currencies Direct Compares to Top Competitors