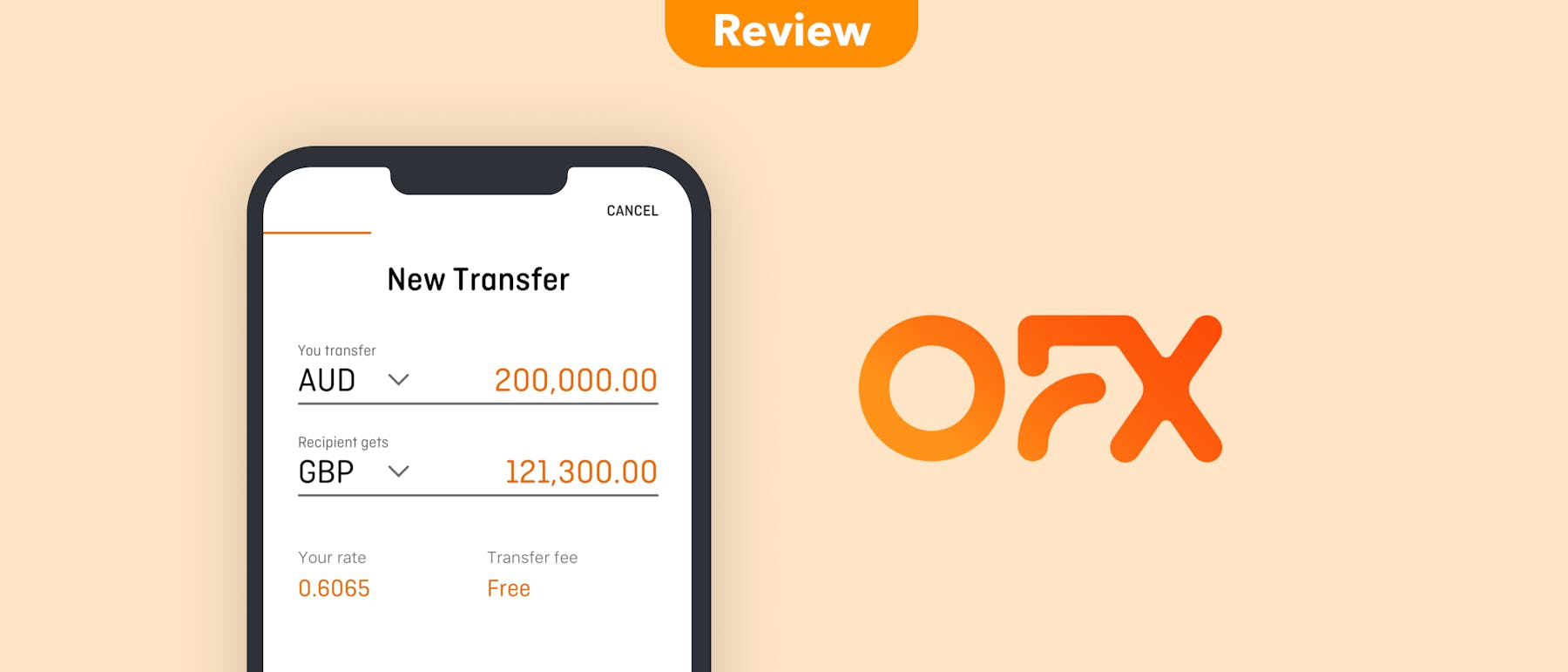 OFX Review: Security, Exchange Rates, and More in 2023
OFX is an excellent foreign exchange broker (8.8/10) and one of the best ways to send large sums of money online. It's a trustworthy company (8.8/10), and while transfers are fast and easy, setting up a new account can take time (7.8/10) due to OFX's verification process. Its fees and exchange rates are extremely low (10/10), and it has high customer satisfaction (8.5/10).
What Monito Likes About OFX
Available 24/7 over the phone or online with teams worldwide,
Long history and good reputation,
Extensive banking network,
Outstanding customer service and expertise.
What Monito Dislikes About OFX
More expensive to send small amounts,
Only available in English.
| Category | Monito Score | Highlight |
| --- | --- | --- |
| | 8.8/10 | Established company with a long history |
| | 7.8/10 | Easy to use, but registration takes time |
| | 10/10 | Market-leading exchange rates |
| | 9.3/10 | Excellent Trustpilot and Google Play reviews |
How We Review Money Transfer Providers
With more than 50 providers reviewed and 100 test transfers made over the past ten years, we pride ourselves on providing the best reviews of international money transfer services online. Curious how we make them and why you can trust us? Take a look at our process below:
🔎 See how our scoring methodology works

All international money transfer services we review are put through a comprehensive and rigorous scoring methodology, which involves the testing of the platform's functionalities, assessment of customer reviews, fees, pay-in options, customer service, and business metrics. The methodology is also powered by an analysis of millions of searches on Monito's comparison engine to determine each provider's competitiveness in terms of pricing. When the research is done, each Monito Score is then peer-reviewed by at least one Monito expert. Learn more about our scoring methodology here.

🤝 See why you can trust our recommendations

Reviews are written independently by Monito's editors, and the recommendations given are our own. We might make money from some links on our reviews to bring you premium content without pesky banner ads and paywalls. We promise you that this never impacts the independence of our recommendations. Learn more about our promise and our business model here.
Is OFX Available in Your Country?
Background check
Licensed and authorised in the UK, US, Europe, and other countries.
Security & reliability
HTTPS, segregated client accounts, secure data storage and network.
Company size
300,000 customers, 500 employees, and $7.1 billion in annual volumes.
Transparent pricing
Exchange rate margin isn't plainly disclosed.
Is OFX Safe?
OFX (the trading name of OzForex Group Ltd) operates and is regulated in multiple jurisdictions, including Australia where it is headquartered (regulated by ASIC under an Australian Financial Services Licence), the UK (Authorised Payment Institution regulated by the FCA), the US (registered with FinCEN as a Money Services Business on a federal level, and licensed as a Money Transmitter in 49 states), and Canada (Money Service Business registered with FINTRAC federally, and with AMF in Quebec). The company is listed on the Australian Stock Exchange, which requires OFX to respect strict rules, including transparent disclosure of certain information.
As per regulations, OFX holds clients' funds separate from its business accounts in so-called segregated accounts, which it owns with highly rated financial institutions. Should the company have any financial difficulties, your money would be safe. OFX must also meet strict capital requirements and employ various internal procedures, including staff training, risk management, audit and accounting.
OFX has been operating since 1988 and has transacted over $100 billion since then, making it one of the world's most experienced and significant foreign exchange businesses. With over 270 employees across six offices, OFX has a global footprint.
Overall, OFX is probably one of the most trustworthy companies in the world's foreign exchange and international payments business.
Opening an account
Easy, but verification can take some time.
Making a transfer
Making a transfer is simple and speedy.
Contacting support
Phone support is available 24/7.
OFX's Money Transfer Service
OFX (previously known as OzForex, NZForex, UKForex, CanadianForex, ClearFX, USForex and Transfers) is one of the world's largest foreign exchange companies and Australia's largest non-banking FX provider. The company was established in 1998 to provide individuals and companies with a faster & cost-effective alternative to existing foreign exchange services. OFX has helped over 1 million customers transfer $150 billion to 197 countries across 55 currencies. Headquartered in Sydney, with offices in Canada, New Zealand, Singapore, Hong Kong, the United Kingdom, and the United States, OFX enables 24/7 trading facilities over the phone or online.
Through OFX's global banking network, they can provide reasonable pricing and service, generally reserved for institutional customers. Their better exchange rates will save you plenty of money compared to using traditional solutions such as banks, while their foreign exchange experts will answer all your questions and guide you throughout the entire process.
OFX was launched in 1988 by Matt Gilmour and Gary Lord. It was initially set up as a website providing information on foreign exchange under the name OzForex. When Gilmour lost his job at the foreign exchange department of a bank, he saw the potential to help people get better exchange rates and superior customer service when making their international money transfers.
The goal was to bring the entire process of exchanging currencies online to allow significant cost savings. Initially focussing on the Australian market, the company quickly expanded to New Zealand in 2001 under the name NZForex, the UK in 2005 under the name UKForex, Canada in 2007 under the name CanadianForex, Hong Kong in 2011 under the name ClearFX, and the US in 2012 under the name USForex. OzForex became a publicly traded company on the Australian Securities Exchange under the code "OFX" in 2013 and began a brand consolidation in 2015 under the single brand name "OFX".
Recurring Transfers With OFX
Suppose you have everyday needs to transfer money internationally, e.g. to pay for an overseas mortgage, receive your pension abroad, repatriate a foreign salary, or pay for overseas tuition. In that case, you can automate your transfers over 12 months with OFX. By setting up a direct debit or a regular transfer from your bank account, OFX shall automatically receive your funds, convert them at the agreed-upon rate, and transfer your money to the chosen beneficiary account. You can even set up a fixed payment plan, which locks in the exchange rate so that it remains the same for each transfer throughout the plan.
Forward Contracts
A forward exchange contract allows you to lock in an exchange rate today for a future transaction up to 12 months later. This is particularly interesting if you believe the current exchange rate is favourable or would rather not be exposed to foreign exchange fluctuations to manage your cash flow and risk better. When setting up the forward contract, you only pay a small deposit and the rest when you transfer.
Limit and Stop Loss Orders
A limit order allows you to choose an exchange rate that, when reached by the foreign exchange markets, will automatically trigger a transfer. That way, you don't need to monitor the exchange rate constantly and can set a target level you won't miss.
OFX FX Options
Currency options (also known as FX options) give the right (but not the obligation) to exchange money at a predetermined rate at a future date. They allow you to guarantee a worst-case scenario while potentially benefiting from fluctuations in the exchange rate in your favour.
Business Customers
OFX works with many companies worldwide and across industries - from mining to e-commerce - to help them meet their foreign exchange needs. Examples include paying suppliers in China, outsourcing costs to the Philippines, global payroll through bulk payment uploads or Xero integration, international investments, acquisitions of other companies, processing receivables through local collection accounts, and their new online seller solution (e.g. receiving Amazon payments).
Daily Market News
Every day, the experts at OFX publish an analysis of how different currencies have been trading. This allows you to keep up to speed on the evolving market and decide when is the best time to make your international money transfer with OFX.
How OFX Works
Here's how you can send money with OFX:
Register by filling in your details online.
After your registration, OFX will call you to complete the account setup and answer any questions you may have.
If additional verification is required, which happens in a minority of cases, OFX will ask you to submit other documentation.
Login on the OFX platform and get a live exchange rate quote.
Enter your recipient's bank account details and book your deal.
Send your funds to OFX via bank transfer within 48 hours, and OFX will take care of the rest!
If you prefer, you can set up your transaction with an OFX dealer over the phone or through the OFX mobile app which is available on Android and iOS. The OFX app allows you to check live market exchange rates, initiate an international money transfer, and track your money while it's being transferred, anytime and from anywhere.
Which Documents Will OFX Require To Verify My Identity?
To comply with anti-money laundering (AML) and know-your-customer (KYC) regulations, OFX must verify your identity and address. If you reside in the UK, the US, Australia, New Zealand or Western Europe and have not recently moved, they may be able to do this electronically. If not, you will be required to provide verification documents.
Contact OFX
Here are OFX's contact details in a few of its biggest countries:
Australia: Personal 1300 300 424 (Local call) // +61 2 8667 8090 (International) // Business 1300 300 524 (Local call) // +61 2 8667 8091 (International)
United States: Personal 1-888-288-7354 (Free call) // Business 1-888-966-6888 (Free call)
Canada: Personal 1-800-680-0750 (Free call) // Business 1-855-680-0745 (Free call)
New Zealand: Personal 0800 161 868 (Free call) // Business 0800 161 898 (Free call)
United Kingdom: Personal +44 207 614 4194 // Business +44 207 614 4195
Hong Kong: Hong Kong 9AM to 7PM (+852) 2777 7147 (Free Call) // Hong Kong After Hours 800 969 599 (Free Call)
Transfers to a bank account
Extremely cheap and competitive on Monito.
OFX Fees and Exchange Rates
There's no escaping the fact that OFX offers some of the industry's best pricing for international money transfers. Let's go over them below:
OFX Transfer Fees
OFX charges no transfer fees for Monito users on all their transactions. With no deductions, this means the entire amount is converted at the agreed-upon exchange rate.
OFX Exchange Rates
OFX has among some of the best exchange rates in the market. Their exchange rates get even better the more you send, with margins as low as 0.40% above the mid-market exchange rate. After you agree on an exchange rate with OFX, the rate will be locked so that you know exactly what amount your beneficiary shall receive, regardless of how the exchange rate evolves.
Other Fees
In 85% of cases, payments are settled via domestic bank accounts without any intermediary or receiving bank fees. In other instances, OFX guarantees there won't be any deductions from intermediary and receiving banks when transferring your money to the beneficiary account. The only exceptions are JPY and ZAR, which may attract additional fees due to local regulations (this applies to all providers).
Customer Satisfaction
8.5
Trustpilot reviews
Outstanding reviews on Trustpilot.
Google Play reviews
Very good reviews on Google Play.
OFX Customer Reviews
OFX are well reviewed on Trustpilot, with an average rating of 9.2 stars out of 10. Here's a summary of what OFX customers have to say:
Positive OFX Reviews
The exchange rates are much better than the banks and "the best around", according to certain customers,
Customers were very happy with the quick process, with the money being delivered on the same day in some instances,
Using OFX is straightforward,
OFX's customer service is top-notch, friendly and professional.
Negative OFX Reviews
A few customers had isolated incidents with OFX, such as the money taking an extra day to arrive due to banking holidays, additional compliance checks, or falsely entered beneficiary account details.