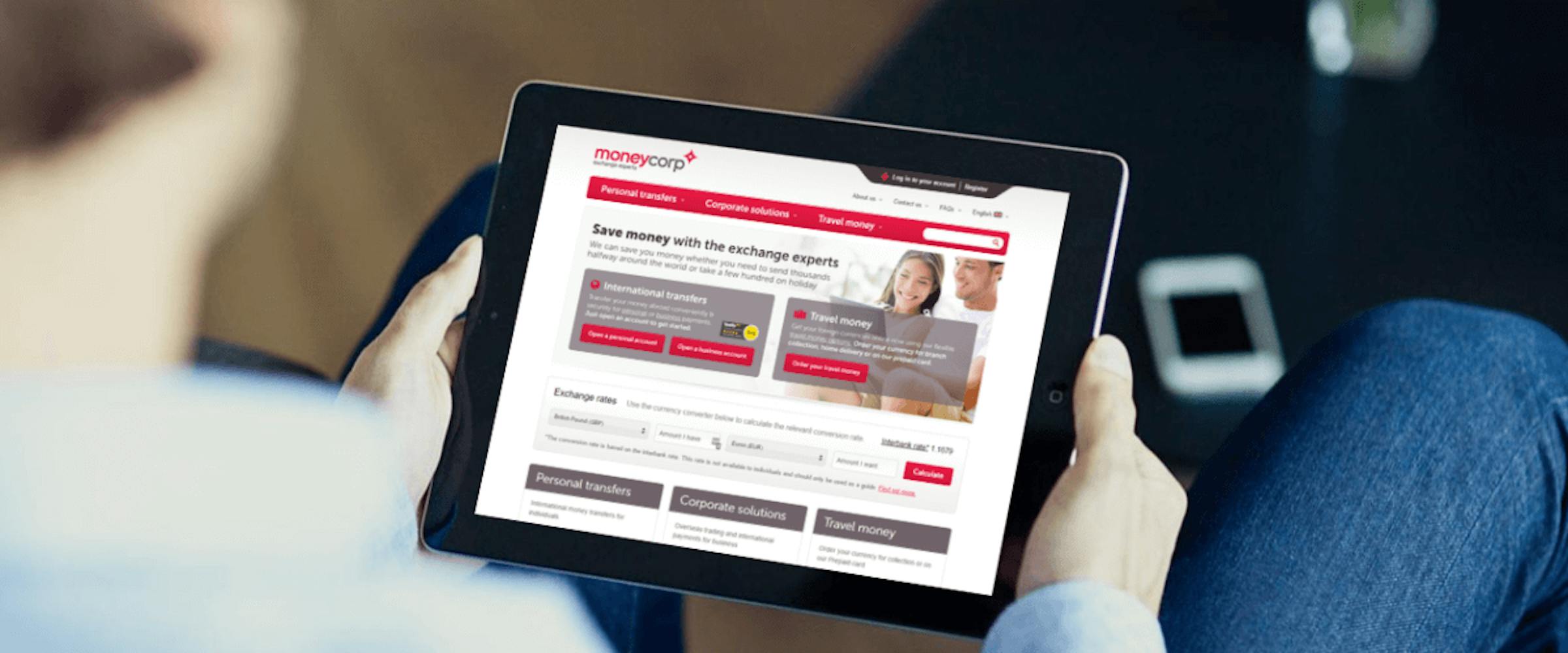 Moneycorp Review: Is it safe? How does it work? What are the rates?
How can you use Moneycorp to send money abroad? Is their service reliable? Can you trust Moneycorp with your money? How good are their fees and exchange rates?
Our independent review of Moneycorp
Moneycorp is the second largest foreign exchange broker in the United Kingdom, helping individuals and SMEs around the world save on their international transactions. The company was founded in 1962, and has been dealing in foreign exchange since 1979. In 2015, Moneycorp traded over £22bn in 90 different currencies. This definitely makes Moneycorp one of the largest and most experienced companies around for international payments.
Moneycorp charges no fees for Monito customers, and their exchange rates beat what most banks offer. You can transact over the phone with your personal account manager, or trade online or through the Moneycorp smartphone app, making Moneycorp's service highly convenient in addition to cost-effective. Moneycorp is headquartered in London, and has several other offices across Europe and the Americas. 
What Monito Likes About Moneycorp
One of the largest and most experienced foreign exchange businesses
Very highly rated by its customers
You can trade over the phone, online, or through a smartphone app
No fees for Monito customers and bank-beating exchange rates
What Monito Dislikes About Moneycorp
Not always the cheapest solution
The online platform works well but is not as user friendly as some of its competitors
The sign-up process is a bit cumbersome
Alternatives to Moneycorp
How Moneycorp works
Step 01

Open an account

Visit Moneycorp's website and open a free account

Step 02

Enter the details about your recipient

Tell Moneycorp where you need to send money and to whom.

Step 03

Set-up your transfer with Moneycorp

Enter how much money you want to send and how you want to pay for your transfer.

Step 04

Pay for your transfer

Fund your transfer by making a local bank transfer or pay by debit or credit card

Final step

Let Moneycorp do the rest

Moneycorp will convert your money in the recipient's currency and send it to him through the selected pay-out option.

Get started with your transfer
Moneycorp fees & exchange rate
Moneycorp fees
Monito has negotiated a special deal for you: Monito users pay zero transfer fees on all their transfers!
Moneycorp's transfer fees depend on the transfer speed and channel. When sending online or through the Moneycorp app, the transfer fee is £9 for express transfers which are delivered in 0-2 days, and £5 for standard transfers which are delivered in 2-4 days. Transfers set up over the phone incur a £15 fee.
In addition to transfer fees, you may incur additional banking fees when sending your money to Moneycorp, or receiving your money from them. Moneycorp has local collection capabilities in the UK, the Eurozone (through SEPA), the US, Australia, Switzerland, Brazil, Sweden and Denmark. When transferring the local currency from these countries to Moneycorp's accounts, you shouldn't pay any additional banking fees. Moneycorp sends out all its payments from its London-based bank accounts, and if your recipient is not in the UK, you should be aware that additional charges may be applied by the receiving bank for processing an incoming international transfer.
Moneycorp Exchange rates :
Moneycorp's main business is foreign exchange, i.e. buying and selling different currencies. It does this much better than banks, which have poor exchange rates. Since Moneycorp trades huge amounts of currencies every year, they are able to offer much more attractive exchange rates.
Moneycorp calculates its exchange rates by applying a margin to the prevailing mid-market rate. This margin is determined by your currency pair (which currencies you are selling and buying) and your transfer amount, and should be no more than 1 or 2% for most large value transfers (compared to up to 5% or more for certain banks!).
Credibility security
Moneycorp is the trading name of TTT Moneycorp Limited, a company registered in England. Moneycorp is fully authorised and regulated in the UK as an Authorised Payment Institution by the FCA, as a Money Service Business in 49 states and the District of Columbia in the US (in addition to being registered with FinCEN on a federal level), and as a bank in Gibraltar by the Financial Services Commission.
Moneycorp takes regulatory compliance and risk management very seriously. Maintaining the highest levels of compliance is a strategic priority for Moneycorp, and the company continues to invest in both people and technology to enhance its compliance capabilities. As per regulations, all client funds are held in segregated client accounts, meaning that Moneycorp cannot use these funds for anything else than carrying out your transaction.
The company has been around since 1962 and has over 35 years' experience in foreign exchange. Over the years, the company has transacted hundreds of billions of pounds in currencies all over the world. Over 760 devoted employees work for Moneycorp, providing an outstanding level of customer service. Over 4800 customers have reviewed Moneycorp on Feefo, giving the company an average rating of 4.6 out of 5. The company is therefore very highly rated, with 94% of customers being very satisfied with Moneycorp's service (4 or 5 stars).
Overall, there is no doubt that Moneycorp is among the safest foreign exchange and international payment companies around.
Service & Coverage
Additional services offered by Moneycorp
Explorer MasterCard
Moneycorp's explorer MasterCard is a prepaid multi-currency card. You load some currency onto the card, and can then use the card abroad to pay or withdraw cash in foreign currency without fees. Moneycorp's prevailing exchange rate is used for each currency conversion.
Forward contracts
Forward contracts allow you to lock in an exchange rate now, but carry out your transaction later. During a period of up to two years, this can protect you from an unfavorable evolution of exchange rates. This is also important if you need specific amounts of a foreign currency (e.g. to pay rent, tuition, etc.), and need to know how much this will cost you for budget planification purposes.
Businesses
Moneycorp also caters to businesses needing to exchange currencies and make international payments. This can be used to pay employees or freelancers abroad, settle invoices from international suppliers, etc. In addition to spot transactions, Moneycorp can help businesses in setting up FX hedging solutions.
Bureaux de change
Moneycorp operates over 40 bureaux de change and 115 ATMs in the UK, allowing customers to buy and sell banknotes in different currencies. Moneycorp's bureaux de change are located in 5 airports and in 6 locations in central London.
Wholesale
Moneycorp's wholesale division provides foreign currency banknotes to bureaux de change, money transfer companies, central banks, private banks, FX brokers, and other businesses, both in the UK and globally.
Customer Satisfaction
Moneycorp has great reviews on Feefo from almost five thousand customers sharing their opinion. 95% of Moneycorp customers rate the company four or five stars out of five, giving them an average rating of 4.6 / 5. Here are customer opinions about Moneycorp:
Positive
Customers praised the quality of the customer service that helped them navigate through the process with their first transfer.
The service was found to be quick, easy, without fuss, and hassle free. "A couple of clicks and it's done".
Bank-beating exchange rates were appreciated.
Negative
Some customers complained about the time it took to complete their transfer.
A minority of customers thought they could get a better exchange rate elsewhere.
The story behind MoneyCorp
Moneycorp was founded in 1962 in London, and started dealing in foreign exchange in 1979. The company was initially called "Town Tickets and Tours Limited", and later changed its name to TTT Moneycorp Limited. It later dropped the "TTT" and rebranded to Moneycorp in 2008. Moneycorp is privately owned by Bridgepoint, a pan-European private equity firm which also owns the famous restaurant chain "Pret a manger" in the UK amongst other shareholdings. In August 2015, Moneycorp acquired a 45% stake in Novo Mundo Corretora de Câmbio, a Brazilian foreign exchange company, as part of its international expansion strategy. This move solidifies Moneycorp's presence in South America and in particular in Brazil.