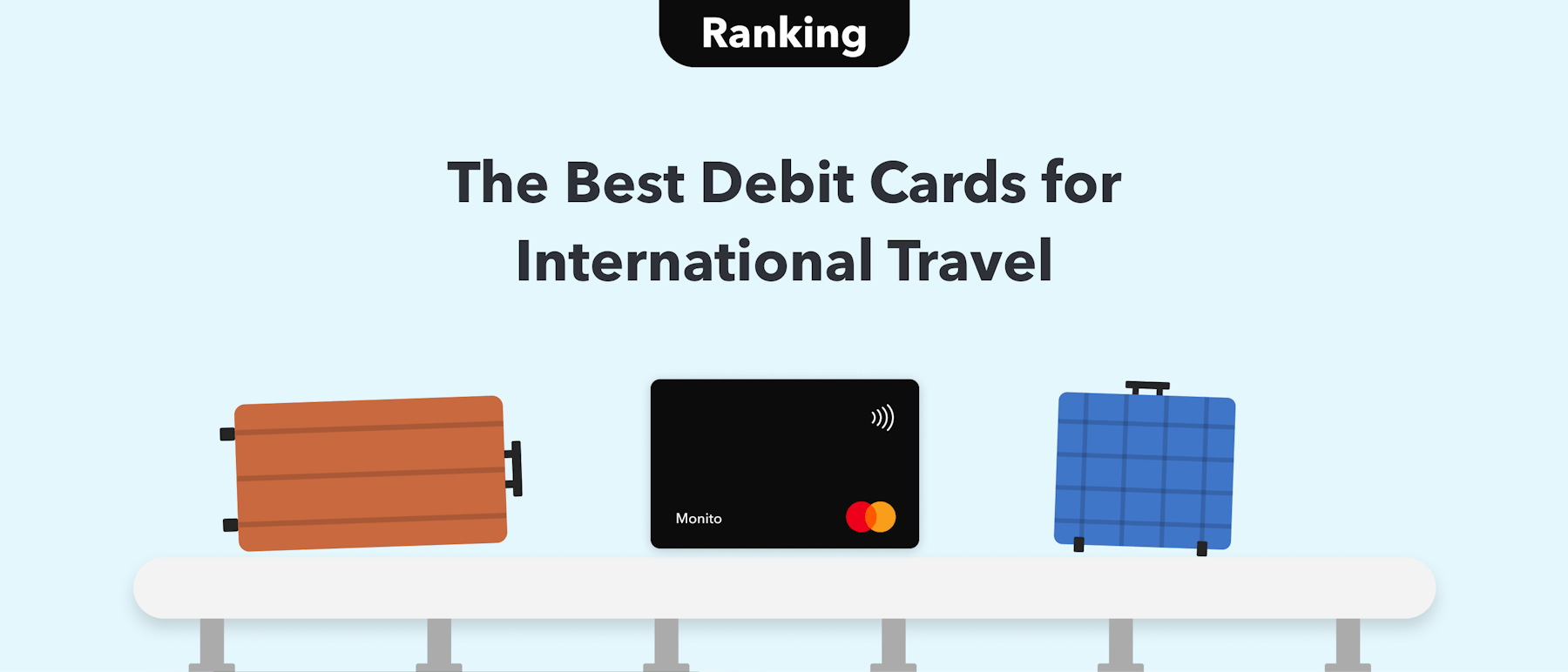 5 Best Debit Cards for International Travel With No Foreign Transaction Fee in 2023
As an American traveler with experience exploring both Eurozone and non-Euro countries, as well as East and Southeast Asia, I've felt the frustration of dealing with high fees and inconveniences when using traditional bank debit cards for international travel. Having personally relied on Revolut and Wise during my own journeys, I've been able to avoid foreign transaction fees and charges for local ATM withdrawals.
Debit cards with no international transaction fees are solid options because you'll get the low currency conversion rates from Visa and Mastercard, without the markup. But for an even better experience, multi-currency accounts like Revolut allow you to hold local currency and be treated as a local cardholder.
In addition, the ideal debit card should offer additional features like virtual cards for added safety, instant card freezing, and travel benefits. This guide will present five top-notch no foreign transaction fee debit cards, including Revolut, Wise, Chime, and more, designed to meet your needs while traveling internationally.
In general, we consider Revolut the best international travel debit card. It has a generous fee-free ATM withdrawal allowance of $1,200/mo and you can hold balances of 30+ foreign currencies. ✨ Get 3 months of free Revolut Premium as a Monito reader with our exclusive link.
However, if you're from the UK or Canada, here are a few more recommendations to explore:
The 5 Best Debit Cards for International Travel in 2023
Consider These Factors When Choosing a Debit Card for International Travel
When it comes to selecting a debit card for your international adventures, there are a few key factors that can ease your travel experience:
No foreign transaction fees: Look for a debit card that eliminates foreign transaction fees, which often come as a percentage of the purchase total. Make purchases abroad without incurring unnecessary charges, saving your money for more enjoyable experiences.
Fee-free or low fee ATM withdrawals: Find a debit card that offers fee-free or low fee ATM withdrawals. While not all banks will reimburse fees from ATM machines, many will at least not charge you for taking out cash abroad.
Travel perks: Consider debit cards that come with additional travel perks. These can range from discounts on accommodations and transportation to access to airport lounges or travel insurance.
In-app security: Opt for a debit card that provides virtual card options for enhanced security from pickpockets. Many apps also allow you to freeze your cards instantly, in case the physical debit card gets lost or stolen.
Backed by a major issuer: Ensure that your chosen debit card is backed by a major issuer such as Visa, Mastercard, or other reputable companies. This ensures wider acceptance and reliability, giving you peace of mind during your travels.
Using the Global ATM Alliance
If you plan to withdraw cash while abroad, we suggest looking for a partner within the Global ATM Alliance network and planning your ATM visit in advance. The Global ATM Alliance consists of banks worldwide that waive international ATM access fees:
In case you don't have access to a Global ATM Alliance bank, always try to use an ATM that belongs to a local bank rather than a generic cash machine, like Euronet. By doing so, you can have greater confidence that you will receive the mid-market exchange rate.
Revolut
Revolut offers an excellent debit card to use abroad because it allows you to hold over 30 currencies and spend money in over 150 currencies. Revolut charges an industry low 0.2%-0.4% fee on weekdays to convert your home currency to the local currency of your travel destination. Then, when you use the local currency with your Revolut card, you'll avoid both typical foreign transaction fees and dynamic currency conversions.
You will also be able to withdraw cash from ATMs around the world without incurring any fees (up to a $1,200 limit per month depending on the type of account you have), although third-party ATM fees may still apply. After that $1,200 limit, each withdrawal will incur a 2% fee. This is quite generous when compared to its competitor Wise, which has a $250 per month limit.
With their paid plans, you can even get discounted airport lounge access for you and a friend, travel insurance for delays and baggage, and medical insurance coverage.
Chime
Chime is a good debit card for international travel thanks to its no foreign transaction fees. Unlike multi-currency accounts like Revolut (which let you hold local currency), Chime uses the live exchange rate applied by Visa. This rate is close to the mid-market rate, and Chime does not add any extra markup to your purchases.
While Chime waives ATM fees at all MoneyPass, AllPoint, and Visa Plus Alliance ATMs within the United States, this fee waiver does not extend to withdrawals made outside the country. For withdrawals abroad, Chime applies a $2.50 fee per transaction, with a daily withdrawal limit of $515 or its equivalent. This is addition to any fees charged by the ATM owner. Therefore, we recommend Chime primarily for card purchases rather than relying on it for withdrawing cash while traveling internationally.
Wise
Wise Multi-Currency Account is an exceptional debit card option for international travel, particularly for customers in Canada where Revolut is not available. With the app, you'll be able to hold and spend money in over 50 currencies. When converting your home currency to the local currency of your travel destination, Wise charges a minimal fee, often ranging from as low as 0.35% to slightly above 2% for less common currency corridors. By paying with the local currency on your Wise card, you'll be treated as a local cardholder, bypassing both the typical foreign transaction fees and dynamic currency conversions.
Furthermore, Wise enables you to withdraw cash from ATMs worldwide without incurring any fees, up to a monthly limit of $250. However, make sure to note that third-party ATM fees may still apply. And once the $250 limit is exceeded, each withdrawal will be subject to a 1.75% fee.
Fixed fee ranging from 0.35% to 2% for currency exchange;
Fee-free ATM withdrawals of up to $250 per month;
More info: Read our Wise review or visit their website.
Capital One
Capital One's 360 debit cards are much more transparent about waiving international transaction fees than other big American banks. When you use the card abroad, Capital One applies the live exchange rate provided by the card issuer (they have a wide range of card options, and they partner with Visa, MasterCard, American Express, and others). Capital One does not impose any additional markups when you spend your USD in foreign countries. However, make sure to enroll in their 360 accounts to avoid potential fees because they may charge a fee of $2, plus 3% of the total transaction amount, for non-360 products.
Capital One is part of an alliance that includes AllPoint, MoneyPass, and other partners, giving you access to over 70,000 ATMs throughout the United States. However, this coverage is limited to the US, so when making international ATM withdrawals, Capital One may charge a fee of $2 per transaction in addition to potential fees imposed by the ATM owner.
Starling Bank
Starling Bank stands out as one of the premier debit cards for international travel for customers in the UK, thanks to its absence of foreign transaction fees. If you solely have their GBP account, your Starling Bank card will apply the live exchange rate used by MasterCard, which closely aligns with the mid-market exchange rate. Moreover, Starling Bank provides EUR and USD accounts for an additional fee, making it an ideal choice for traveling to countries that accept these currencies. In such instances, your Starling Bank debit card will access these account balances, allowing it to be recognised as a local card.
One of the most compelling features of Starling Bank is its complete exemption from ATM fees, both domestically and internationally. Irrespective of the amount of cash withdrawn or the frequency of withdrawals, Starling Bank never imposes any fees for ATM transactions. While third-party fees may still apply, as determined by the ATM owner, this travel benefit solidifies Starling Bank's position as the top debit card for international travel for UK residents and citizens.
Bottom Line: The Best Debit Cards for International Travel in 2023
Now is the perfect time to plan your next trip and ensure you have the right debit cards for seamless international travel. With these cards, you can store local currency, avoid pesky international transaction fees, or reduce international ATM fees when you need local cash.
Best of all, they all offer virtual cards that can be instantly added to your digital wallet for convenient contactless payments while adding an extra layer of security. With their smartphone apps, you'll have complete control, allowing you to freeze the card instantly in case of loss or theft.
Take a look at the summary below for the best debit cards for international travel:
Disclaimers
Chime is a financial technology company, not a bank. Banking services and debit card provided by The Bancorp Bank, N.A. or Stride Bank, N.A.; Members FDIC. Credit Builder card issued by Stride Bank, N.A.
¹ Out-of-network ATM withdrawal fees apply except at MoneyPass ATMs in a 7-Eleven location or any Allpoint or Visa Plus Alliance ATM.
² To apply for Credit Builder, you must have received a single qualifying direct deposit of $200 or more to your Checking Account. The qualifying direct deposit must be from your employer, payroll provider, gig economy payer, or benefits payer by Automated Clearing House (ACH) deposit OR Original Credit Transaction (OCT). Bank ACH transfers, Pay Anyone transfers, verification or trial deposits from financial institutions, peer to peer transfers from services such as PayPal, Cash App, or Venmo, mobile check deposits, cash loads or deposits, one-time direct deposits, such as tax refunds and other similar transactions, and any deposit to which Chime deems to not be a qualifying direct deposit are not qualifying direct deposits.
³ The Annual Percentage Yield ("APY") for the Chime Savings Account is variable and may change at any time. The disclosed APY is accurate as of November 17, 2022. No minimum balance required. Must have $0.01 in savings to earn interest. The average national savings account interest rate of 0.21% is determined by FDIC as of November 17, 2022 based on a simple average of rates paid (uses annual percentage yield) by all insured depository institutions and branches for which data are available. Visit National Rates and Rate Caps to learn more.
⁴ On-time payment history can have a positive impact on your credit score. Late payment may negatively impact your credit score. Results may vary.
⁵ Chime SpotMe is an optional, no fee service that requires a single deposit of $200 or more in qualifying direct deposits to the Chime Checking Account each month. All qualifying members will be allowed to overdraw their account up to $20 on debit card purchases and cash withdrawals initially, but may be later eligible for a higher limit of up to $200 or more based on member's Chime Account history, direct deposit frequency and amount, spending activity and other risk-based factors. Your limit will be displayed to you within the Chime mobile app. You will receive notice of any changes to your limit. Your limit may change at any time, at Chime's discretion. Although there are no overdraft fees, there may be out-of-network or third party fees associated with ATM transactions. SpotMe won't cover non-debit card transactions, including ACH transfers, Pay Anyone transfers, or Chime Checkbook transactions. See Terms and Conditions.
Why Trust Monito?
You're probably all too familiar with the often outrageous cost of sending money abroad. After facing this frustration themselves back in 2013, co-founders François, Laurent, and Pascal launched a real-time comparison engine to compare the best money transfer services across the globe. Today, Monito's award-winning comparisons, reviews, and guides are trusted by around 8 million people each year and our recommendations are backed by millions of pricing data points and dozens of expert tests — all allowing you to make the savviest decisions with confidence.
Learn More About Monito
Monito is trusted by 15+ million users across the globe.

Monito's experts spend hours researching and testing services so that you don't have to.

Our recommendations are always unbiased and independent.