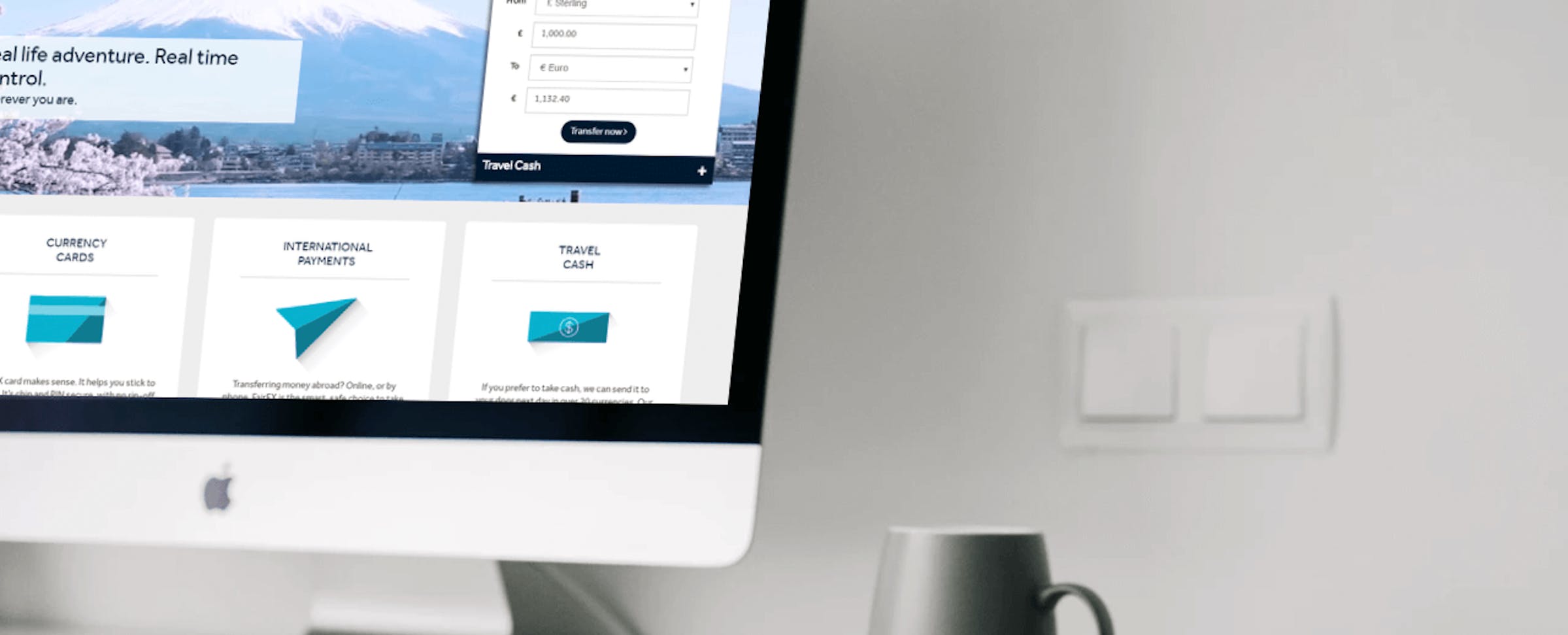 FairFX Review: Is it safe? How does it work? What are the rates?
How can you use FairFX to send money abroad? Is their service reliable? Can you trust FairFX with your money? How good are their fees and exchange rates?
Our independent review of FairFX
FairFX is a specialized, UK-based money transfer and currency exchange provider that offers three main services — currency cards, international payments, and travel cash. They have been in business since 2007 and provide currency exchange and money transfer services for people funding transactions in pounds sterling.
Their extensive range of services makes them very popular with customers, with over 90% of their reviews being extremely positive. They provide both an online transfer service and a currency exchange call center for money transfer needs. They also have a price promise for their currency exchange, offering to refund the difference if you find a better deal elsewhere.
FairFX do not charge any extra fees for their FairPay international currency exchange service. Their exchange rates are competitive if you are transferring higher amounts, but for lower amounts another currency provider could get you a slightly better deal.
We recommend FairFX for convenience, speed, and excellent customer service. Although you may pay slightly more in exchange rates, their lack of fees combined with their range of services make them an excellent choice for your currency transfer needs.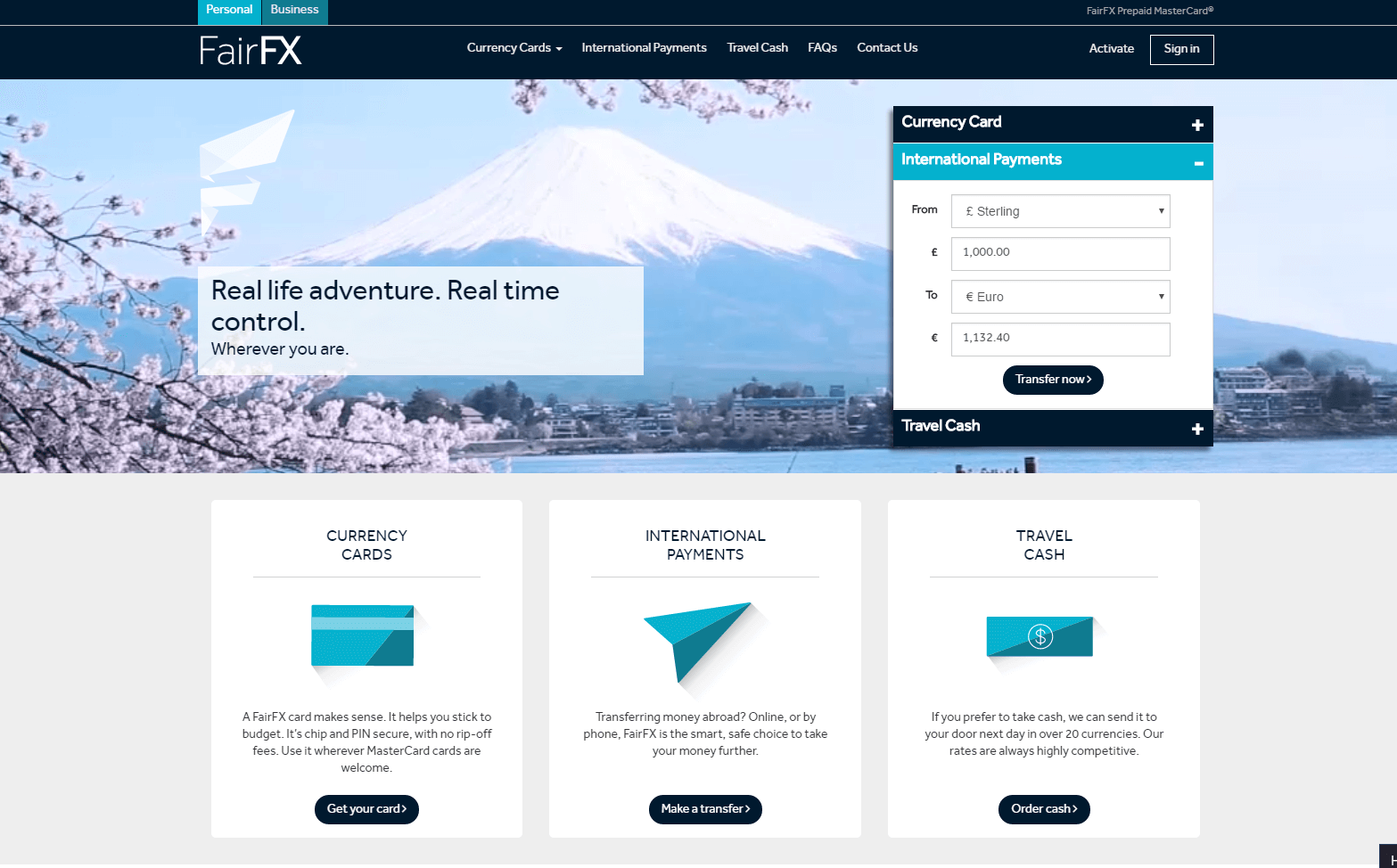 What we like about FairFX
A larger range of services than most other currency providers — currency cards, international payments, and travel cash.

Easy to use online service for international payments, travel cash, and currency cards.

Currency exchange service center available by phone, good for reassurance when transferring larger amounts.

Currency cards can be preloaded in the local currency and used like credit or debit cards anywhere that takes Mastercard.
What we dislike about FairFX
There are a limited number of countries you can transfer money to.

The lowest amount you can send is £100

Sending lower amounts means exchange rates are less competitive.
Alternatives to FairFX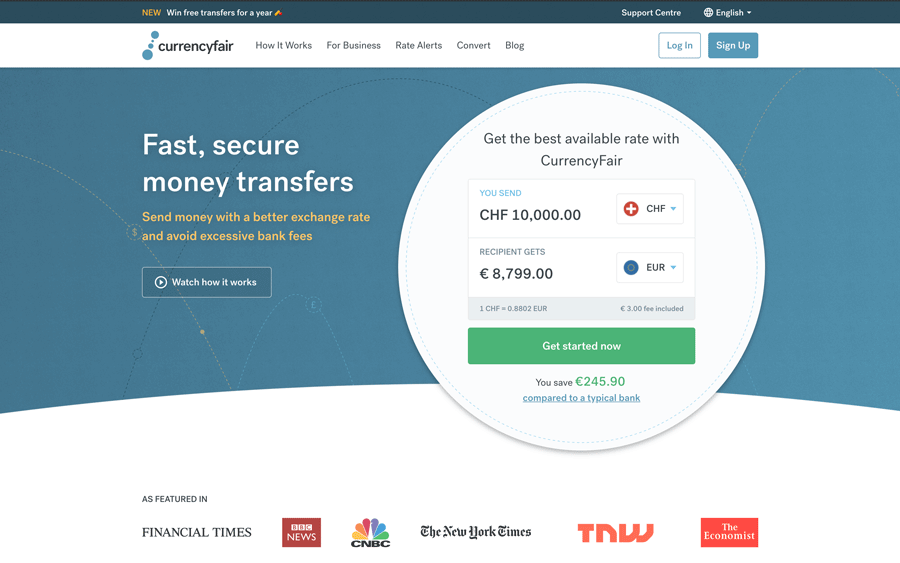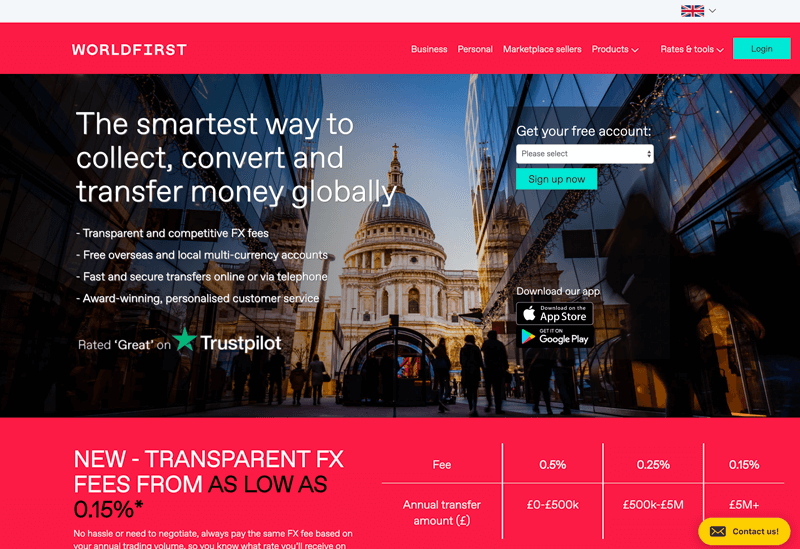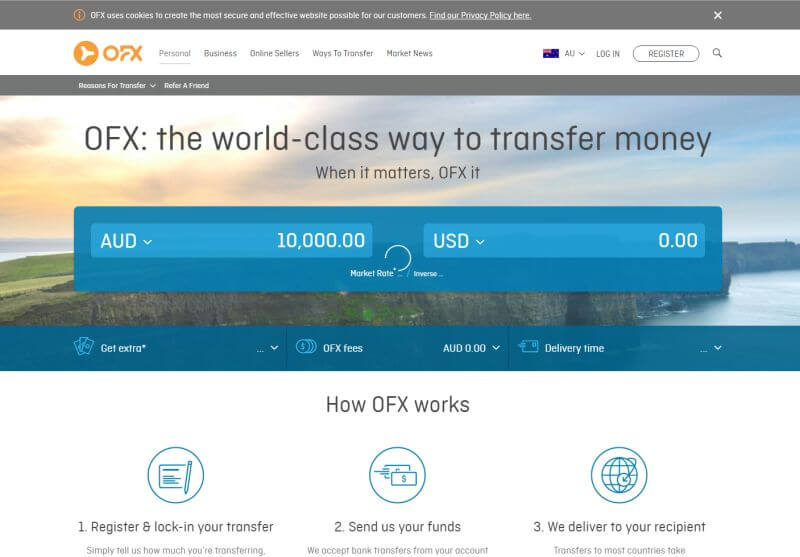 FairFX fees & exchange rate
FairFX FairPay Fees
FairFX does not charge fixed fees or commission fees for sending money using FairPay.
Please note that using a credit card to fund a transfer may attract cash advance and additional fees from the credit card provider.
Please note that the receiving bank may charge account fees for receiving an international money transfer.
Check with your credit card provider and the receiving bank to understand the fees they may charge.
FairFX FairPay Exchange Rates
FairFX's international payment exchange rates do vary based on a few factors:
The currency you are converting to.
The amount you are sending (larger amounts have better exchange rates).
Here's a comparison of converting British pounds sterling to US dollars (exchange rates are correct as at 27th March 2017).
Converting £1,000 to US dollars
Mid-market exchange rate (baseline) — 1.254 USD per GBP — $1,254.
Exchange rate offered by FairFX — 1.229 USD per GBP — $1,229.
Difference between baseline and FairFX rate for £1,000 — $25.
Percentage in extra costs for using FairFX compared to baseline — 2%.
Converting £10,000 to US dollars
Mid-market exchange rate (baseline) — 1.254 USD per GBP — $12,536.
Exchange rate offered by FairFX — 1.248 USD per GBP — $12,483.
Difference between baseline and FairFX rate for £10,000 — $53.
Percentage in extra costs for using FairFX compared to baseline — 0.45%.
Credibility security
Yes. FairFX has been in business since 2007 and provides comprehensive currency exchange, money transfer, and other services to UK residents. They have a complete privacy policy and comprehensive terms and conditions. Customer reviews across multiple websites indicate that they are a trustworthy provider of international currency transfers.
They are regulated by the Financial Conduct Authority and use a secure online platform for money transfers. FairFX uses sophisticated security techniques and encryption software to protect customer data and transaction details. FairFX processes over £10 million worth of business currency card funding transactions every month with overall turnover of over £700 million a year. Their turnover is currently increasing by 45% year on year, so they are well funded, successful, and profitable.
FairFX also provides a "FairPay Price Guarantee." They say that if you can find a cheaper online transfer (including the other provider's fees) they will refund the difference. There are some terms and conditions for this price guarantee.
FairFX won the award for the "Best Corporate Prepaid Travel Card 2015" by Prepaid365 for their integrated Corporate Prepaid MasterCard and integrated expense platform.
Service & Coverage
Currency Cards from FairFX
FairFX provides currency cards in euros, dollars, and pounds sterling. Customers can fund and preload the cards with one of these three currencies and then use the card anywhere that takes Mastercard payments. Mastercard is accepted in around 30 million locations and over 200 countries.
Here's how the FairFX currency card works:
You fund your card in pounds sterling.
FairFX keeps those funds as pounds sterling or converts them to euros or dollars.
Those funds are loaded on the card.
You can use the card at any merchant who accepts Mastercard.
Funds are deducted in euros, dollars, or are converted to pounds sterling and deducted.
You can check your balance and top up your card at any time via FairFX's website.
FairFX Currency Card Exchange Rates
FairFX's currency card exchange rates do vary based on the currency you are converting to. Here's a comparison of converting British pounds sterling to US dollars (exchange rates are correct as at 27th March 2017)..
Converting £1,000 to US dollars
Mid-market exchange rate (baseline) — 1.254 USD per GBP — $1,254
Exchange rate offered by FairFX — 1.226 USD per GBP — $1,226.
Difference between baseline and FairFX rate for £1,000 — $28.
Percentage in extra costs for using FairFX compared to baseline — 2.3%.
FairFX Currency Card Fees
There are a number of fees associated with using FairFX's currency cards. You can find a full breakdown of fees here.
FairFX Travel Money Services
FairFX also provides travel money which they will convert and deliver to you. The exchange rates for their travel money are the same as charged for their currency cards. You can fund your travel money purchase online or over the phone and they will then send the money to you.
If you order before 1PM, you can have your money delivered the next working day. The fees associated with ordering travel money are:
Free delivery on orders over £750.
£5 fee for orders between £500 & £750.
£7.50 fee for orders below £500.
Additional Services from FairFX
In addition to providing international currency transfers, currency cards, and travel money, FairFX also offers the following services:
Forward contracts to "fix" today's exchange rate for up to a year in advance. A deposit payment is needed.
Limit orders so you can set a "target" exchange rate — your transfer will only be processed if that exchange rate is met.
Stop loss contracts to minimize risk if the market goes against you.
Rate alert emails so you'll be notified when the exchange rate meets a particular target.
Daily snapshots of news and economic events impacting exchange rates.
Customer Satisfaction
FairFX is viewed very favorably by its users, achieving a rating of 9.1 out of 10 (excellent) over 4,300 reviews on Trustpilot. 91% of reviewers rated FairFX at either four or five stars, one of the highest ratings we've seen for any currency exchange provider.
Users particularly enjoyed the convenience of the international currency cards and the speed and convenience of making international money transfers with FairFX. Typical comments included, "Website is refreshingly uncomplicated and works without hitch. Payments are credited to my account immediately and seem to become available to spend immediately" and "Using this card correctly has saved me from poor FX rates, commissions, fees, currency surcharges and "admin" fees - for several years now. Which would be enough, but the customer service is excellent and in every case where there has been a usage or logistical hiccup they have been there to sort it out. Rapidly, efficiently and without fuss. Problem seen. problem reported. Problem fixed."
Of the very few negative reviews, a couple of examples are, "Exchange rates offered are usually competitive with those available locally, although for some minor currencies the rate seems disappointing." and "The account balance is not viewable in local currency, so it is not possible to know how much is available to spend or withdraw."
Overall though, customers are extremely pleased with FairFX's exchange rates, speed, efficiency, convenience, and customer service.
Customer support
General enquiries — email enquiries@fairfx.com
Customers abroad — email abroad@fairfx.com
International payment enquiries — call +44 (0)20 7778 9350
Lost or stolen currency cards — +44(0) 1753 775 961
Currency card PIN services — +44 (0)1244 779 900
How FairFX works
FairFX provides currency exchange under their "FairPay International Money Transfer" service. They allow you to fund your transfer online or over the phone and make international payments without fixed fees or commission fees.
Here's how their currency exchange service works:
Register and open an account with FairFX.
Login to their online platform or call their service center.
Choose where you want to send money and how much you want to send.
FairFX provides an exchange rate.
You fund the transfer.
You can fund by bank transfer, debit card, or credit card.
FairFX converts your money into the other currency.
The money is deposited into the recipient's bank account.
The recipient details that FairFX needs include:
Euros — an IBAN and a BIC code.
Dollars — an account number and either a SWIFT code or the ABA routing number, including full bank address.
Why you can trust Monito's reviews

Monito's mission is to help you (and thousands of others each day) find the best providers for your money transfers.

We do that by providing real-time comparison of exchange rates and fees (you can use the form below to make a comparison) and by writting in-depth reviews about money transfer providers.

We have partnerships with many money transfer providers (FairFX included), which help us get access to their exchange rate and fees information (which we always check for accuracy). Those partnerships help us support our activity and offer our service for free.

We put a lot of efforts to review money transfer providers like FairFX in details and based on objective and verifiable criteria. A good example of that is the in-depth User Experience Benchmark Study we conducted in August 2018.
Why Trust Monito?
You're probably all too familiar with the often outrageous cost of sending money abroad. After facing this frustration themselves back in 2013, co-founders François, Laurent, and Pascal launched a real-time comparison engine to compare the best money transfer services across the globe. Today, Monito's award-winning comparisons, reviews, and guides are trusted by around 8 million people each year and our recommendations are backed by millions of pricing data points and dozens of expert tests — all allowing you to make the savviest decisions with confidence.
Advertiser Disclosure
Instead of banner ads and paywalls, Monito makes money through affiliate links to the various payment service providers featured on our website. While we work hard to scout the market for the best deals, we're unable to consider every possible product available to you. Our extensive range of trusted affiliate partners enables us to make detailed, unbiased, and solution-driven recommendations for all types of consumer questions and problems. This allows us to match our users with the right providers to suit their needs and, in doing so, match our providers with new customers, creating a win-win for everybody involved. However, while some links on Monito may indeed earn us a commission, this fact never impacts the independence and integrity of our opinions, recommendations, and evaluations.