Tangerine No-Fee Daily Chequing Account Review: Fees, Card, Usability, and Monito's Recommendation
Tangerine Bank's No-Fee Daily Chequing Account is an excellent chequing account (8.2/10), roundly recommended by Monito's experts for use as a primary or secondary account in Canada (although not so much for travelling abroad). Not only does the account come packed with valuable features accessible via convenient internet and mobile banking platforms (8.1/10), but it's a secure service backed by Scotiabank (9.4/10) and trusted by many customers nationwide (8.1/10). However, Tangerine doesn't live up to its "no-fee" promise (7.1/10), as the account is quite expensive when used outside of Canada.
What Monito Likes About Tangerine
Very low fees for day-to-day use (card purchases, bills, Interac, etc.);
Integrated with Apple Pay, Google Pay, and Samsung Pay;
A subsidiary of Scotiabank;
Cash deposits and cheques are offered;
Highly-rated mobile app.
What Monito Dislikes About Tangerine
Hefty fees for ABM withdrawals outside of Canada;
A 2.50% currency conversion fee (far higher than many alternatives);
Credit and debit card deposits aren't possible;
The card can take up to two weeks to arrive.
Monito's Recommendation
Tangerine Bank is one of Canada's most savvy online banks, and its No-Fee Daily Chequing Account — with its low day-to-day fees, friendly user interface, and access to capable services — is no exception. Because of this, we recommend the account as a primary (or secondary) bank account in Canada. However, if you plan to use your card abroad, then we recommend looking into a third-party solution in addition, such as the Wise Multi-Currency Account, which is practically free for cross-border spending.
Where Is Tangerine Bank Available?
Tangerine Bank is currently only available to residents of Canada.
How Monito Reviewed Tangerine's Services
As with all services reviewed by Monito, Tangerine Bank underwent a rigorous evaluation to assess the quality of its service. To begin with, our experts analysed several key criteria, including customer reviews, the percentage cost of various transaction types, top-up options, access to customer service, as well as business and legal metrics such as revenue, appropriate authorisation, and company size. As with all Monito Scores, Tangerine's score was peer-reviewed by at least one Monito expert.
Reviews are written independently by Monito's editors and recommendations given are our own. Services you sign up with using our links may earn us a commission. Learn more.
Background check
Provides statutory deposit insurance in cooperation with the Bank of Nova Scotia.
Security & reliability
Segregated user accounts and HTTPS. Debit cards are 3-D Secure.
Company size
Long history in the industry with around 2 million customers.
Transparent pricing
The fee overview is understandable, transparent, and user-friendly.
Is Tangerine Bank Safe?
Yes, Tangerine is as safe and secure as any other Canadian bank. Not only is the bank a wholly-owned subsidiary of Scotiabank, but it also offers deposit protection to clients via the Canada Deposit Insurance Corporation (CDIC). This ensures that customer money is guaranteed up to $100,000 per person, meaning you can rest assured that any money you deposit into a Tangerine account will be secure.
Since its acquisition by Scotiabank in 2012 (where it was formerly called ING Bank of Canada), Tangerine has grown to become Canada's leading online bank with an extensive range of financial services at no or low cost to the customer. What's more, Tangerine Bank's web security practices are top-notch (including HTTPS and segregated user accounts), and its bank cards are protected against fraud through Visa's 'Zero liability' and 'Advanced Authorization' programs.
Using the mobile app
Slick mobile app packed with interesting features.
Managing the account
Solid chequing account, although lacking card deposits and international money transfers.
Contacting support
Round-the-clock support via live chat and over the telephone.
Making card payments
Offers contactless payments, online payments, and mobile wallet integrations, but lacks bill-splitting functionality.
How Good Is Tangerine's Account and Card?
Tangerine's standard chequing account package is called the No-Fee Daily Chequing Account and is a capable personal bank account that comes packed with features. Better yet, the account is free of monthly fees and is a fully-fledged chequing account held in deposit by Scotiabank. This means that the accounts are functionally the same as chequing accounts at traditional banks but for a fraction of the price.
In short, Tangerine Chequing gives you access to the following:
Deposit processing: Deposit money into your bank account electronically or via cheque.
Withdrawals: Withdraw cash at ABMs.
Direct debits: Set up bill or pre-authorized payments where money is automatically deducted from (or deposited into) your account.
Debit card: Use a Visa debit card to make cashless payments and withdraw money (more on this later).
Bank transfers: Send and receive wires and Interac e-Transfers;
Interest: Annual rate of between 0.01% and 0.10%;
Drafts & cheques: Make use of draft delivery and chequebooks.
Overdraft protection: Avoid declined transactions or Non-Sufficient Funds (NSF) fees if there's a shortfall in your account balance.
However, while Tangerine Chequing will probably suit you just fine if you're looking for banking core functionality and have minimal banking needs, the account doesn't yet support deposits made via debit and credit cards, which means you'll not be able to receive card payments into your account at all.
Tangerine customers can stop by the Tangerine Café in North Toronto to enjoy a coffee and ask questions to staff. This is Tangerine's version of a bank branch — only with a laid-back café atmosphere!
What's more, Tangerine doesn't support international money transfers. While this may sound limiting, if you're looking to save money and don't mind using Tangerine in conjunction with a third-party money transfer app, then you can always use an alternative provider to send money internationally much more cheaply than you would with a traditional Canadian bank. We personally recommend Wise for this, which was the cheapest money transfer service from Canada on average on 40% of searches on Monito.com in 2021. You'd only need to wire money from your Tangerine account, via Wise, to your beneficiary abroad.
Tangerine Debit Card
The card that comes along with Tangerine Chequing is a Visa debit card. This is what Tangerine call the "Client Card," and it comes integrated with Google Pay, Apple Pay, and Samsung Pay for easy contactless spending. Tangerine also gives chequing account holders the opportunity to apply for a Money-Back Credit Card.
Tangerine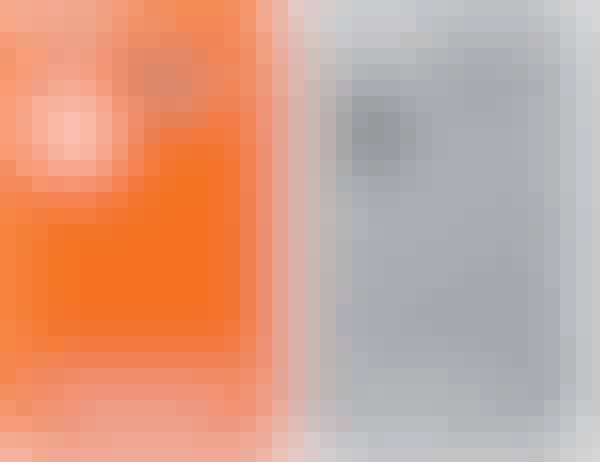 While both the debit card and the credit card can be used in foreign currencies (both online and at foreign ABMs and points of sales), they are relatively expensive for this purpose as a 2.5% exchange rate surcharge is applied to all foreign currency transactions.
Tangerine Mobile App
Tangerine's mobile app, Tangerine Mobile Banking, is available on both the App Store and Google Play. It has generally earned very positive ratings from customers so far, scoring 4.6 and 4.2 out of 5 stars from the two review platforms respectively.
The app comes packed with all the features and functionality we touched on earlier from the convenience of your smartphone. A few features that are unique to the app that we found particularly interesting were the push notifications, the ability to freeze your cards, automatic spending categorization, and savings and tax calculators.
Tangerine Customer Support
Customer support at Tangerine is very accessible and responsive all-around and is the reason for many of the positive reviews that the bank gets. As a customer, you can have your questions answered by any of the following means:
Chatbot: An automated bot with easy links to the FAQ.
FAQ: An extensive hub of easy-to-navigate questions and answers.
Phone: You can call Tangerine from Canada at 1‑888‑826‑4374
In addition, you can also mail Tangerine at their address in Toronto or stop by the Tangerine Café there to ask a question to the staff.
Fees & Exchange Rates
7.1
Everyday use
No monthly fee or costs for everyday payments; only cash withdrawals out of network cost.
ATM withdrawals
Out-of-network ABM withdrawals cost $1.50 in Canada and $3 abroad.
Online spending
Online spending is free in CAD, but costs 2.5% per foreign currency transaction.
International spending
A 2.5% currency conversion applies to all non-CAD transactions and a $3 fee for out-of-network ABM withdrawals globally.
What Are Tangerine's Fees and Exchange Rates?
Tangerine Chequing is without a doubt a very cheap banking option as far as comparable accounts go at Canadian banks. It charges no fees for day-to-day transactions, including debit purchases, bill payments, in-network ABM withdrawals, pre-authorized payments, and Interac e-Transfers. However, while cheap, Tangerine is not entirely free. If you happen to use any of the services below, these are the fees you'll meet:
Canadian draft: $10
Non-sufficient funds: $45
Returned funds: $7
Out-of-network¹ ABM withdrawals (Canada): $1.50 per withdrawal
Out-of-network ABM withdrawals (overseas): $3 per withdrawal
Inactivity fee: $10 per year
Currency conversion: 2.5% per foreign currency transaction
In addition, Tangerine charges the following for overdraft:
Overdraft fee: $5 per use
Overdraft interest: 19% annually
¹ Scotiabank or Global ATM Alliance ABMs
How Does Tangerine Compare?
To wrap things up, let's take a look at how Tangerine's fees compare to those of other similar account offerings in Canada. As we mentioned above, Tangerine is a very cheap banking option compared to Canadian banks, and this is demonstrated in the following table. Here, we compare Tangerine to KOHO (a bank-like fintech), as well as RBC and TD Bank (two major brick-and-mortar banks):
| | | | | |
| --- | --- | --- | --- | --- |
| | | | | |
| | | | | |
| Account | No-Fee Daily Chequing Account | KOHO | RBC Day to Day Banking | TD Minimum Chequing Account |
| Monthly Fee | $0.00 | $0.00 | $4.00 | $3.95 |
| Min. Deposit | $0.00 | $0.00 | $0.00 | $0.00 |
| Overdraft | $5.00 | - | $5.00 | $5.00 |
| Interac e-Transfer | $0.00 | - | $0.00 | $0.50 or $1.00¹ |
| Currency Conversion | 2.5% | 1.5% | 2.5% | 2.5% |
| | Try Tangerine | Try KOHO | Try RBC | Try TD |
Customer Satisfaction
8.1
Customer review score
Excellent rating on Trustpilot, the App Store and the Play Store with an average of 3.6 out of 5 stars.
Number of positive reviews
A total of around 7,500 four- and five-star reviews.
What Experiences Have Tangerine Customers Had?
Tangerine, as a bank, and Tangerine Chequing, as an account, have both earned lukewarm to favourable ratings from customers.
Based on an average of reviews on Trustpilot, the App Store, and Google Play, Tangerine scored 3.6 out of 5 stars. Some of the most frequent sentiments we found among the reviews included the following:
Positive Tangerine Reviews
Capable and easy-to-use mobile app;
High savings from the low chequing fees;
No Interac e-Transfer fees.
Negative Tangerine Reviews
Reports of the customer service being slow or unhelpful;
Low interest rates;
Reports of overseas ABMs not reading Tangerine debit cards.
Frequently Asked Questions About Tangerine
How do I open a Tangerine Chequing Account? 💻

To open a Tangerine Chequing Account, download the mobile app or visit the Tangerine website to get started. You'll need to register and apply for an account, which should be a relatively quick process. After that, you'll have to wait for your debit card to arrive, which can take up to two weeks (14 days).

How do I use my Tangerine debit card online? 💳

Because the Tangerine debit card is an Interac card, you can use it at Canadian online stores using Interac Debit, which is usually one of the payment options at checkout. You can also choose to pay via Apple Pay or Google Pay.

Does Tangerine have US accounts?🗽