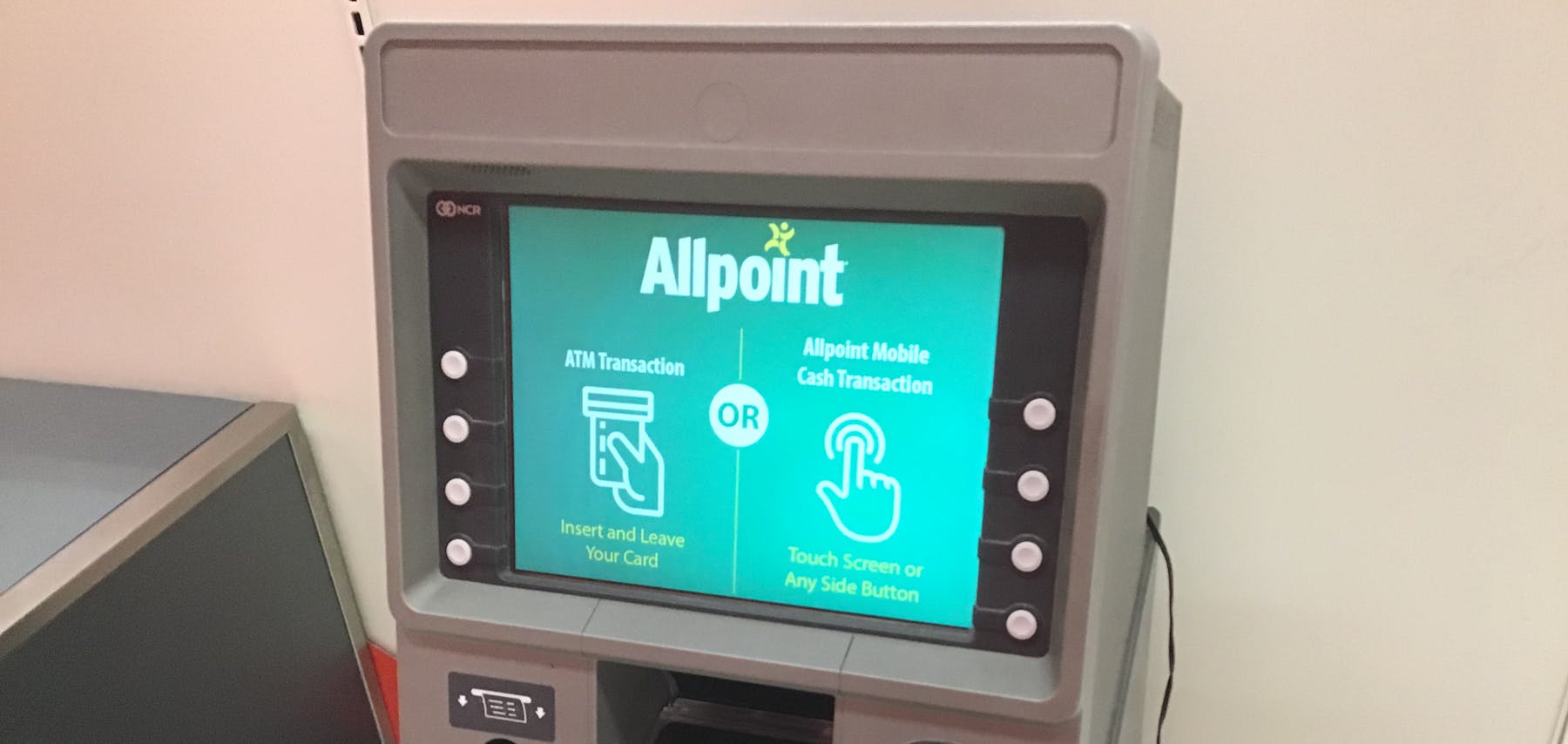 Allpoint ATM Fees: Costs, Alternatives, and More
If you live in the US, UK, Australia, Mexico, or Canada and frequently withdraw cash, you'll have probably used an Allpoint ATM at one point or another. While not always recognisable, there are currently around 230 thousand Allpoint ATMs worldwide, often found in convenient locations such as malls and busy streets.
However, while Allpoint ATMs charge no fees of their own (making them an excellent choice to withdraw cash cheaply), this doesn't mean you won't pay any fees to your card issuer or bank. In this guide, we explore the main costs you could still encounter when withdrawing money from Allpoint ATMs and the best ways to avoid them entirely.
Allpoint ATM Fees at a Glance
Allpoint ATMs charge no fees for cash withdrawals.
Allpoint makes its money via participating networks and not through customers.
You may still incur costs from your bank or card issuer, especially when converting currency.
Monito recommends Allpoint ATMs, especially when used with a card that charges no withdrawal fees of its own.
What is Allpoint?
Allpoint is a US-based ATM network (officially an "interbank network") that operates ATMs in four countries. As of 2021, it is the largest ATM network globally, with over 230 thousand machines and 1,000 participating financial institutions, including banks, card programs, and credit unions.
Allpoint's business model is built on allowing smaller partners to access their customers via ATMs when building dedicated ATM networks of their own is not viable for their business.
Allpoint ATMs: US, UK, and Worldwide
Allpoint ATMs are available in the United States (including Puerto Rico), the United Kingdom, Australia, Mexico, and Canada.
Being the largest ATM network globally, it should come as no surprise that Allpoint ATMs can be found pretty much everywhere. In central London alone, around 200 Allpoint ATMs are scattered around the city's supermarkets, malls, kiosks, tourist locations, street corners, and other prominent locations. However, the machines themselves aren't always recognizable, as many use their partner's branding.
What's more, Allpoint is frequently expanding its network, with new major partners such as the US convenience store Speedway and the commercial bank Five Star Bank having joined Allpoint in the recent past.
Allpoint ATM Fees at Home and Abroad
Simply put, Allpoint charges no fees whatsoever on all types of ATM withdrawals. This means that, as a consumer, you won't have to worry about being charged by Allpoint for withdrawing any amount of cash at any frequency ⁠— even if it's in a foreign currency.
What's more, Allpoint also does not use a process known as dynamic currency conversion (DCC), which gives ATM users the option of being charged in their home currency rather than the local currency. This means that you will only withdraw money from Allpoint ATMs in the local currency, e.g. US dollars in the United States or British pounds in the United Kingdom, and avoid the high fees that come along with this conversion.
However, it's still possible that withdrawing from an Allpoint ATM can result in a small fee reflecting on your card or bank statement. This can occur for the following reasons:
Your bank charges for out-of-network withdrawals;
Your bank or card issuer (e.g. Visa or Mastercard) charges a small exchange rate margin;
Your bank charges a currency conversion fee.
As you can see, most of these fees only apply to international travel. For example, foreign banks (especially those from countries where Allpoint doesn't operate) may charge an out-of-network ATM fee for all withdrawals outside of their own network. Similarly, even in cases where Allpoint withdrawals would ordinarily be free, card issuers and some banks can still charge their own fees or exchange rates for converting currency.
Take a look at the table below to see how these currency conversion fees can play out at the two extremes:
| Amount Withdrawn | Withdrawal Fee | Currency Conversion* | Total |
| --- | --- | --- | --- |
| $100.00 | $0.00 | $0.3 - $4.00 | $0.00 - $4.00 |
| $250.00 | $0.00 | $0.75 - $10.00 | $0.00 - $10.00 |
| $1,000.00 | $0.00 | $3.00 - $40.00 | $0.00 - $40.00 |
The good news is that when they apply, these fees will be very low in most instances. For example, Visa and Mastercard exchange rates usually don't constitute more than 1.00% of the transaction value, and the cost of an Allpoint withdrawal can only get pricey if the card product your bank offers you charges high fees for currency conversion.
Is it Worth Withdrawing Money From Allpoint ATMs?
Everything considered, yes, Allpoint ATMs are worth it and we recommend using them wherever possible because of their zero-surcharge promise and widespread availability. However, if you're travelling overseas and withdrawing cash in a foreign currency, we particularly recommend withdrawing from Allpoint ATMs with a prepaid debit card like Wise (more on this below).
ATM Networks to Avoid
Of course, Allpoint is not the only company to make money on exchange rate surcharges and high cash withdrawal fees. It always pays to check carefully before using any ATM to make sure you won't be charged. In particular, you should be wary of using the following ATM brands:
Travelex
NoteMachine (some machines only)
Cardpoint
IC Cash Services
August Lenz banking house.
Fortunately, if you need to withdraw cash in the US, Canada, Mexico, Australia, or the UK, the majority of ATMs won't charge you. Those that do should always clearly state how much you'll be charged before you carry out a transaction.
Bank branch ATMs, in particular, are usually a safe bet. However, as a result of the Covid-19 pandemic and the decline of cash usage, more and more ATMs are now disappearing from the UK's high streets, so you may need to travel a bit further to find one.  
If you're travelling overseas, the best way to find a cheap ATM is to chat with locals or other tourists. In many countries, the fees charged at ATMs vary from operator to operator. Always remember to avoid dynamic currency conversion and stick to the local currency, wherever you are.
Save Money with the Wise Multi-Currency Account
If you want to withdraw money and spend abroad free of charge, another option is to consider Wise's Multi-Currency Account. Although it won't protect you from fees charged by ATM operators, it does mean you'll always receive the mid-market rate without any exchange rate surcharges when withdrawing money.
When using your Wise debit card at an Allpoint ATM, the first two withdrawals up to £200 (or Euros) per month are free of charge. Once you've used this allowance, you'll be charged 1.75% of the amount withdrawn plus £0.50 (or Euros) per withdrawal. In the US, this maximum amount is $100 with a subsequent $1.50 fixed fee and 2% commission per withdrawal (which can become quite steep).
This means that if you lived in the UK and used up your monthly allowance and withdrew £100, you would be charged £1.75 plus 50p – or £2.25 in total. 
In comparison, many UK high street bank debit cards will charge you around 2.75% to 2.99% for the foreign transaction, plus a further 2.99% for the withdrawal. On a £100 withdrawal, this could cost £5.98. 
If you use a standard credit card for your withdrawal, you'll also be charged interest on top – and this will be charged from the date of the transaction, even if you pay off your balance at the end of the month. 
Find out more about Wise in our review.
Frequently Asked Questions About Allpoint
Why Trust Monito?
You're probably all too familiar with the often outrageous cost of sending money abroad. After facing this frustration themselves back in 2013, co-founders François, Laurent, and Pascal launched a real-time comparison engine to compare the best money transfer services across the globe. Today, Monito's award-winning comparisons, reviews, and guides are trusted by around 8 million people each year and our recommendations are backed by millions of pricing data points and dozens of expert tests — all allowing you to make the savviest decisions with confidence.
Learn More About Monito
Monito is trusted by 15+ million users across the globe.

Monito's experts spend hours researching and testing services so that you don't have to.

Our recommendations are always unbiased and independent.