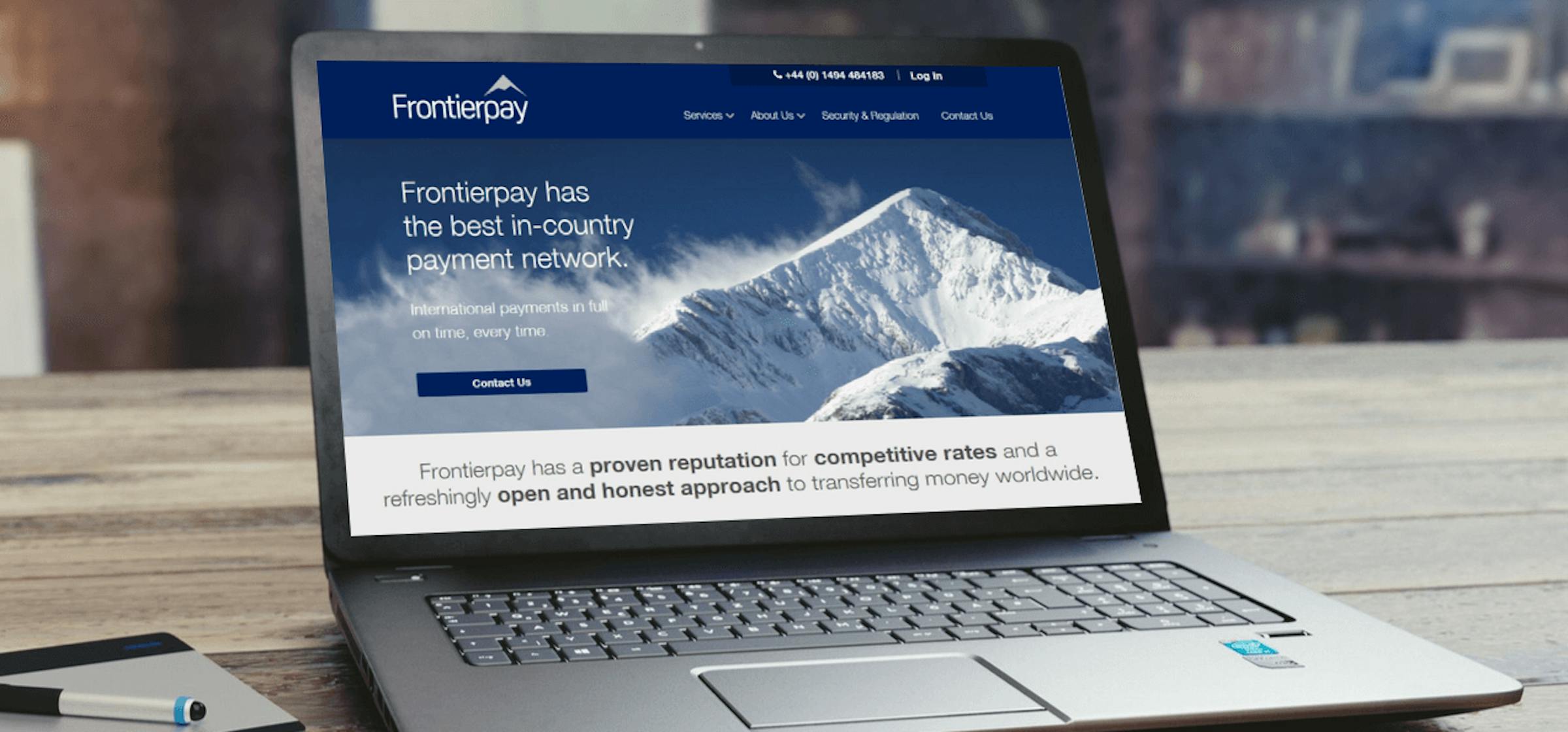 Frontierpay Review: Is it safe? How does it work? What are the rates?
Is Frontierpay the best option for sending money abroad? Compare your options to make sure you get the best exchange rate and lowest fees for your transfer.
Our independent review of Frontierpay
Frontierpay is a UK-based, specialized currency exchange provider offering foreign exchange services to medium and large businesses, non-governmental organizations (NGOs), government agencies, and other large concerns. They provide specialized currency exchange services not typically available from other providers including mass payments, payroll, multiple contracts, and expense management.
Their services provide currency exchange in 140 currencies, allow payments to 180 countries, let people collect money locally in over 100 countries, and make settlement in nearly 40 countries. Frontierpay was formed in 2009 and they provide currency exchange services to a diverse client base, specializing in international businesses with significant and complex foreign currency exchange needs.
Although they specialize in helping out larger organizations, they also offer currency exchange services for individuals. They have extremely competitive money transfer rates, among the best in the industry.
What Monito Likes About Frontierpay
Some of the best currency exchange rates available anywhere.
Specialized in providing currency transfers for large, international organizations.
A very broad range of services, currencies, and countries.
Many specialized currency exchange services not available elsewhere.
What Monito Dislikes About Frontierpay
Not specialized at providing personal money transfer services.
They can still be used for personal transfers, but another provider might be better if you're transferring smaller amounts.
How Frontierpay works
Step 01

Open an account

Visit Frontierpay's website and open a free account

Step 02

Enter the details about your recipient

Tell Frontierpay where you need to send money and to whom.

Step 03

Set-up your transfer with Frontierpay

Enter how much money you want to send and how you want to pay for your transfer.

Step 04

Pay for your transfer

Fund your transfer by making a local bank transfer or pay by debit or credit card

Final step

Let Frontierpay do the rest

Frontierpay will convert your money in the recipient's currency and send it to him through the selected pay-out option.

Get started with your transfer
Frontierpay fees & exchange rate
Fees
Frontierpay does not charge transfer fees or make additional charges for its currency exchange services.
Please note that sending or receiving banks may charge additional fees for international currency exchange.
FrontierPay Exchange Rates
Here's a comparison of converting British pounds sterling to Japanese yen.
Converting £1,000 to Japanese yen
Mid-market exchange rate (baseline) — 145.040 JPY per GBP — ¥145,040 JPY.
Exchange rate offered by Frontierpay — 144.175 JPY per GBP — ¥144,175 JPY.
Difference between baseline and Frontierpay rate for £1,000 — ¥865.
Percentage in extra costs for using Frontierpay compared to baseline — 0.6%.
There are no additional Frontierpay fees.
Converting £10,000 to Japanese yen
Mid-market exchange rate (baseline) — 145.089 JPY per GBP — ¥1,450,983 JPY.
Exchange rate offered by Frontierpay — 144.425 JPY per GBP — ¥1,445,257 JPY.
Difference between baseline and Frontierpay rate for £10,000 — ¥4,568.
Percentage in extra costs for using Frontierpay compared to baseline — 0.39%.
There are no additional Frontierpay fees.
Credibility security
Due to their positioning as a provider of currency exchange services to large organizations, Frontierpay relies on providing excellent service and compliance. They are fully authorized and regulated by the Financial Conduct Authority (FCA) and they are a regulated global payments specialist.
They state that they are the leading provider of non-bank, high volume currency exchange payments. They also have extensive knowledge of global compliance regulations and have a dedicated professional services team. Each year they transfer over $1 billion in currency exchange. All client money is kept separate from the business's operational bank accounts. They also maintain high levels of capital and have an "ontime" payment success rate of over 99.9%.
They provide services to many different types of organizations including global payroll providers, outsource providers (especially employment and expense management), international law firms, publishers, travel businesses, maritime security providers, the aviation industry, import / export companies, management consultants, and international moving and relocation companies.
Frontierpay has been around since 2009 and state the following on their website, "Frontierpay is a trading name of The FX Firm. The FX Firm is authorised by the Financial Conduct Authority under the Payment Service Regulations 2009, for the provision of payment services (Firm Reference Number 577057). The FX Firm is also a registered money services business with HM Revenue and Customs (Money Laundering Reference Number 12572236)."
Service & Coverage
Frontierpay is unusual among currency exchange providers for the wide range of additional, specialized currency services they offer.
Specialized services for organizations
Bulk payment file uploads — provide information on multiple currency transactions quickly and easily.
Payroll services — paying individuals in countries around the world including payroll and compliance requirements.
Support for charities and NGOs — fast, effective transfers, live bookings, and local settlement services.
Multiple types of currency exchange contracts
Fixed forward contracts — make a currency transfer at some time in future for a price agreed upon now.
Option dated and multi forward contracts — similar to a fixed forward contract, but with more options.
Market and spot orders — periodic and instant contracts allowing you to exchange currency now or at regular points in the future.
Convenience in transferring and settling payments
Multiples ways to exchange currency — via phone, email, or through their online platform.
SWIFT and ACH settlements into business and personal bank accounts.
Rate watch — alerts when the exchange rate reaches a certain threshold.
Daily comments — daily news and information on exchange rate changes and economic factors.
These services are designed to reduce the impact of exchange rate fluctuations on people and institutions transferring money overseas.
Customer Satisfaction
Frontierpay has excellent reviews on Trustpilot. With over 200 reviews, over 90% of people rated their services at five stars, and over 98% of people rated their services at four stars or better. Their overall rating is an amazing 9.6 out of ten — that's one of the best customer review ratings we've ever seen.
Here's a selection of comments, "I recently setup an account with these guys and I am very pleased with the service so far. Very easy setup and to add beneficiaries, and make bank transfers... (It's) all done very efficiently and (it) clearly display(s) rate(s) with auto timed refresh. I also rate the clean and clear portal and dashboard."
Other reviewers praised the speed of transfers, the responsiveness of the support team, the wide range of currency options available, and the ease of transferring money. "Knowledgeable, polite, friendly people who provide a first class and very quick currency transfer service. Would not hesitate to recommend!"
There were only two one star reviews, one relating to difficulties opening an account, and one about a dispute. Frontierpay responded completely to both reviews, offering an explanation.