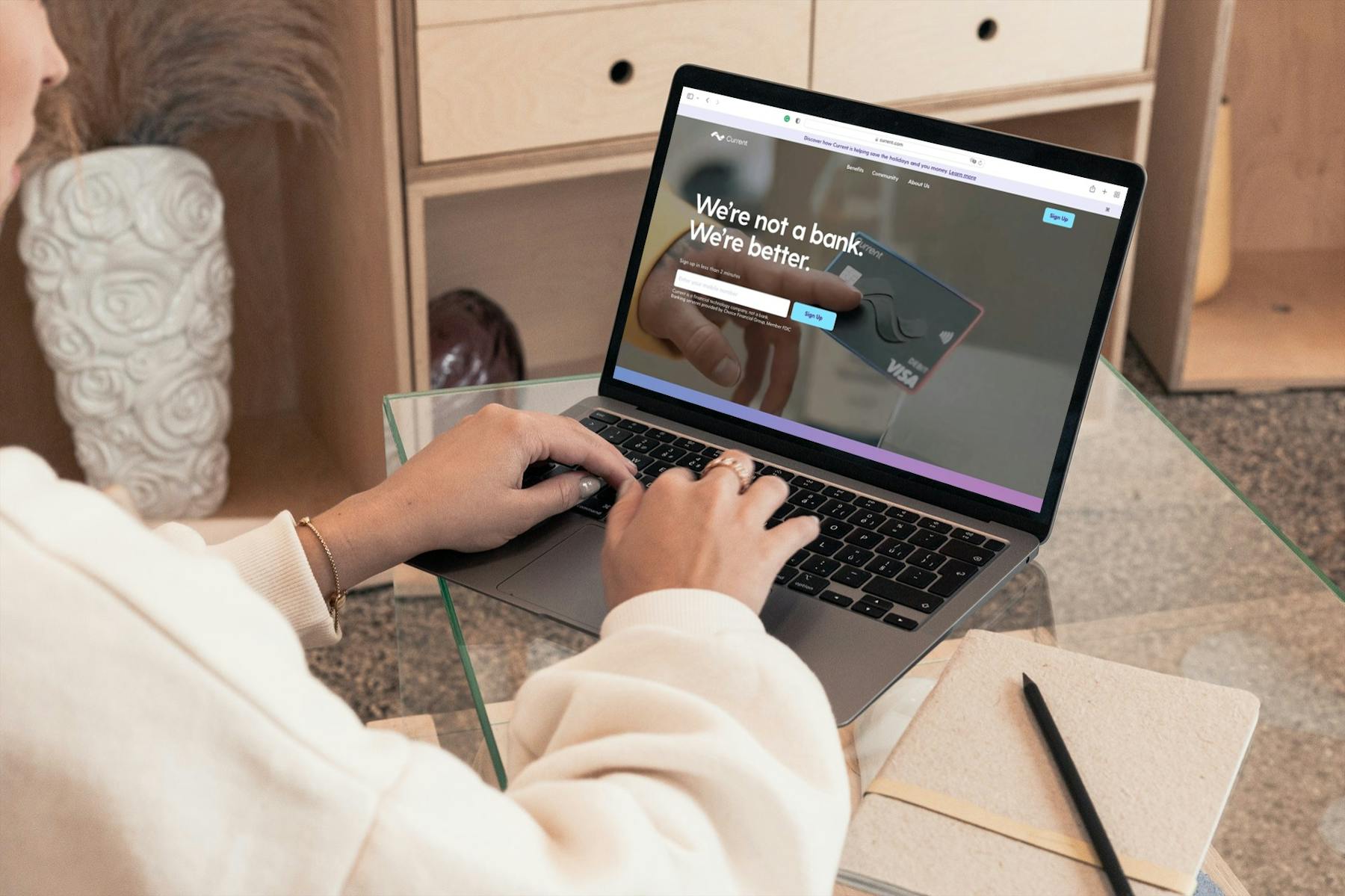 Current Review: Fees, Card, Usability, and Monito's Verdict
Current is a good option if you're looking for a current account paired with a debit card. (7.7/10) Our Monito experts recommend it due to its low fees (8/10), its good quality of service, and the fact that it is trustworthy (8.1/10), backed by brick and mortar US banks, and liked by its customers (7.2/10)
What Monito Likes About Current
Very low fees for domestic use;
Free ATM withdrawals;
Easy-to-use and intuitive app;
Fee-free overdraft up to $100 for qualifying accounts;
Teen accounts for your children (for a fee).
What Monito Dislikes About Current
Expensive international fees when abroad;
No wire or international transfers;
No joint accounts;
Impossible to fund your account by card.
Monito's Recommendation
Since it is pretty cheap if not outright free to use domestically, as it includes free in-network ATM withdrawals, Current is a good option for US residents looking for a reliable online checking account and debit card with convenient features. Aside from free ATM withdrawals, it also stands apart thanks to its offering for teens, which allows them to have their own debit cards managed by their parents, and is thus also a good offering for families. However, Current charges expensive fees when using the card abroad, so we recommend that you check out different travel cards recommended by Monito if you are a frequent traveler. 
Where Is Current Available?
Current is available to all US citizens or residents above the age of 18, as well as to teens aged 13-17 as long as their account is set up and managed by a parent.
How Monito Reviewed Current's Services
As with all services reviewed by Monito, Current underwent a rigorous evaluation to assess the quality of its service. To begin with, our experts analysed several key criteria, including customer reviews, the percentage cost of various transaction types, top-up options, access to customer service, as well as business and legal metrics such as revenue, appropriate authorisation, and company size. As with all Monito Scores, Current's score was peer-reviewed by at least one Monito expert.
Reviews are written independently by Monito's editors and recommendations given are our own. Services you sign up with using our links may earn us a commission. Learn more.
Background check
Current's banking services are provided by Choice Financial Group and Metropolitan Commercial Bank, both of which are regulated by the FDIC.
Security & reliability
Accounts are fully secured using segregated user accounts and HTTPS and cards are 3-D Secure.
Company size
Over 3 million customers and $9.65 million in annual revenue.
Transparent pricing
Pricing is mostly transparent and very easy to find, but Current does not provide a fee schedule. 
Is Current Safe?
Yes. Current itself is not an actual bank and is not a household name in the online banking world yet, but it is fully regulated, and its banking and card services are provided by well-established banks. Your funds, through Choice Financial Group, are FDIC-insured up to $250,000, as with any brick and mortar bank, and your debit card, issued either by Choice or by Metropolitan Commerce Bank, benefits from Visa's Zero Liability policy in case of unauthorized transactions. Your money is thus as safe with Current as it would be with any other bank!
Using the mobile app
A well-designed app that's intuitive and easy to use, with standard features like instant notifications, card management, and saving pots.
Managing the account
A solid checking account for domestic uses, with several helpful features, but without support for card top-ups nor international transfers, and offering no interest on balance.
Contacting support
FAQ and live chat are available 24/7 to all users, but phone support is not offered.
Making card payments
Online payments, Apple Pay, Google Pay, and social payments are all supported, but contactless is reserved to the Premium card.
How Good Are Current's Account and Card?
Current's free offering is simple, but effective: it comprises a checking account and a Visa debit card, offering all of the essential features you need to get paid, make your purchases and pay your bills. If you want a few more bells and whistles, Current also offers a Premium account with a few more features for $4.99 a month.
Basic account
Current's Basic offering is already a solid account if you're just looking for the essentials - unlike a traditional bank, it won't offer you personal loans, traditional joint accounts or investing accounts, but you'll get all you need to get paid and spend your money.
Checking account: set up standard direct deposits to get your salary or tax refund, and debits to pay your bills;
Debit card: Current's basic Visa card comes with a secured chip but no contactless functionality. You also get a virtual card to pay over the internet;
Deposit checks and cash: although you cannot top up your account by card, Current lets you deposit checks using its app for free, and, for a fee, you can even deposit cash at participating retailers;
Free ATM withdrawals: Your ATM withdrawals are completely free within the Allpoint network;
Instant notifications: get a push notification or a text for every transaction you make; Spending Insights: Get insights based on your spending habits;
Budgeting: You can set up a budget for one spending category;
Saving pod: You get access to one saving pot, which Current calls a "pod", with features like automated savings and rounding up;
Instant money transfers within Current: If your family or friends are using Current, you can send money instantly using their username.
Teen accounts: You can open and manage accounts for your under-18 teens, for a yearly fee of $36 per account. They essentially work like their own Basic accounts, with extra features for parents, like automated allowance, chores setting, spending limits or blocked merchants.
Rewards program: Current's rewards program allows you to earn a point per dollar spent at participating retailers, though you have to activate the offer before each purchase. Since you can then exchange these points for cash or rewards at the ratio of 100 for $1, you essentially get a 1% cashback on some of your purchases.
As you can see, the Basic account is already a solid offering, with its free ATM withdrawals being a particularly attractive perk, so it's definitely worth looking into if you need to open a cheap secondary account, and/or if you're planning to take advantage of their teen accounts for your children. And as long as you don't need features like a joint account and you're not planning to make wire transfers, it could even be a good option if you don't want to pay much for your main bank account, but be careful if you want to make large purchases: Current has a spending limit in place at $2000 a day! 
Premium Account
Priced at $4.99 a month – which you can pay using your reward points – Current's Premium account adds a few features to make it worth your while. A few of them are exactly what you'd expect from this kind of offering, but some are a bit more interesting: 
Premium Debit Card: Current's premium card is black, and has contactless functionality;
Budgeting: You can set up a budget for all spending categories;
Savings Pods: You get access to two more saving pods, for a total of three;
Overdraft: Fee-free Overdrive overdraft protection for up to $100 as long as you receive at least $500 in direct deposit every month;
Early access to direct deposit: Depending on who's sending you the money and on your account activity, you can access money from direct deposits up to 2 days early;
Immediate release of gas station holds: When paying for gas with your Current Premium debit card, the hold gas stations put on your card will be immediately lifted, keeping your money readily available;
Rewards Program: As a Premium subscriber, you get up to 13 times the amount of points from your purchases at select retailers.
All in all, Current's Premium account offers a solid mix of attractive features, especially if you're intending to turn . But since it doesn't really reduce any fees, it can be pretty tough to calculate its actual value: you'll have to decide if it's a good option for you based on your need for features like faster deposits or overdraft protection. A Premium account could also be worth it depending on the availability of the bonus reward points at retailers in your area, which might allow it to pay for itself pretty quickly.
Fees & Exchange Rates
7.0
Everyday use
The Basic account comes with no monthly fees or costs for everyday use, with no minimum balance - though depositing cash incurs a $3.50 fee. 
ATM withdrawals
No ATM fees within the Allpoints network — 40,000 ATMs in the US, mostly in stores like Walgreens, Target, or Kroger. Out-of-network withdrawals cost $2.50, plus any third-party fees.
Online spending
Ordinary online spending comes at no cost, but international transactions incur a 3% conversion fee.
International spending
Card payments made abroad are subject to a 3% foreign conversion fee. ATM withdrawals abroad are also subject to this 3% fee, with an added $3 per withdrawal.
What Are Current's Fees and Exchange Rates?
Current brands itself as a no-hidden fees service, listing, amongst other fee exemptions: 
No minimum balance fees;
No overdraft fees;
No bank transfer fees;
No in-network ATM withdrawal fees.
All of this makes it very cheap, if not outright free to use within the US: you should only ever have to pay when depositing cash ($3.50 per deposit) or using out-of-network ATMs ($2.50 per withdrawal, plus third party fees). The latter can even easily be avoided if you happen to be near one of the many stores where Allpoint ATMs are available: free ATM
However, since Current doesn't readily disclose its fee schedule, there are still a few fees you might miss, though they're not exactly hidden. As their FAQ warns, there are fees for international transactions, including a 3% fee on purchases made with your debit card abroad whether in person or online, and a 3,3% + $3 fee on withdrawals from foreign ATMs. This will of course be charged on top of Visa's exchange rate margin, but that is usually a pretty small percentage, normally around 0.5% or lower.
If you intend to use your card abroad regularly, then it probably makes sense to find a bank account better suited to that purpose, whether as a secondary card or as a main account.
Customer Satisfaction
7.2
Customer review score
Average Trustpilot rating of 4.1 out of 5 stars.
Number of positive reviews
Nearly 1,200 four- and five- star reviews.
What Experiences Have Current Customers Had?
Current customers share mostly positive reviews on the various sites Monito takes into consideration, with an average rating of 4.1 on Trustpilot and great 4.6 and 4.7s on Google Play and the App Store. 
Most customers praise Current's easy-to-use app and great features, such as the ability to receive your paycheck faster than with a direct deposit at a standard bank. Most revolve around the fact that Current does not have a dedicated phone number for live customer support.
How does Current compare?
To get a better idea of how Current's pricing compares to other providers for managing a checking account and processing everyday spending, take a look at the table below, which compares Current with Juno wand Bank of America (one of the US's most prominent banks):
| | | | |
| --- | --- | --- | --- |
| | | | |
| | | | |
| Account Name | Current | Juno | Advantage Plus |
| Monthly Fees | $0.00 | $0.00 | $12.00 |
| Minimum Deposit | $0.00 | $0.00 | $100.00 |
| Overdraft Fees | $0.00 | $0.00 | $35.00 |
| Outgoing Domestic Wire Fees | $0.00 | $0.00 | $30 |
| Currency Conversion | 3.00% | 0.00%¹ | 3.00% |
| | Try Current | | Try BoA |
Frequently Asked Questions about Current
Does Current offer direct deposit early? ⏲

Yes, but only to Premium subscribers ($4.99 a month) with qualifying account.

Does Current accept ATM deposits? 🏧

Although Current currently does not accept ATM deposits, you can deposit cash at participating retailers, with a $3.50 per deposit.

Is Current legit? 🤝

Yes, Current is legit. It's a registered financial technology company with accounts held by Choice Financial Group and debit cards issued either by Choice or by Metropolitan Commerce Bank, both of whom are FDIC members.