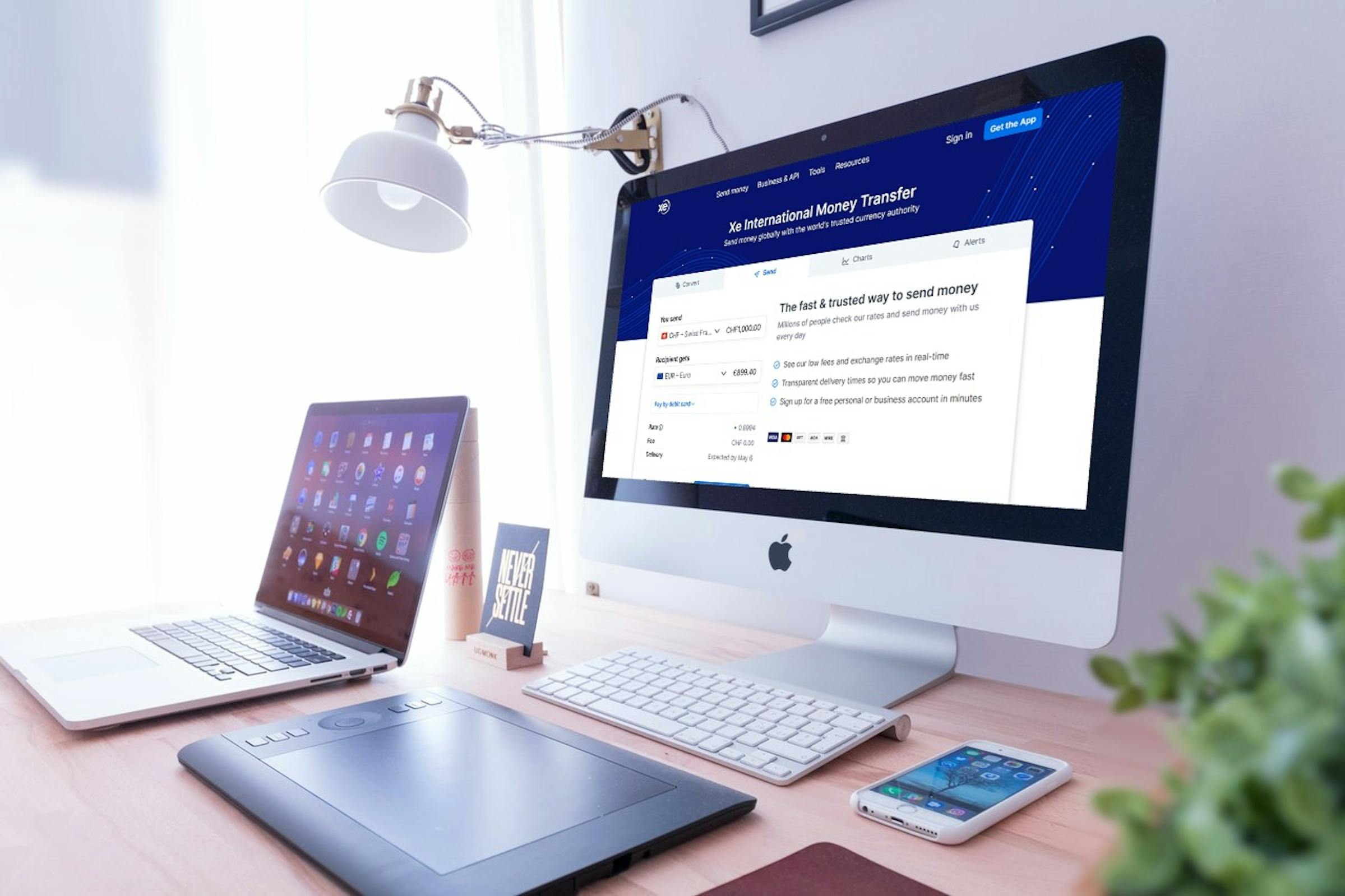 XE Money Transfer Review: Safety, Transfer Fees, Rates, Limits, and Monito's 2022 Verdict
XE Money Transfer is a good money transfer service (7.7/10) sometimes recommended by Monito's experts, usually for larger transfers abroad. While opening an account and sending money with XE Money Transfer can be fairly laborious (6.5/10), the company itself offers a fully secure and highly credible specialist service (7/10) that does not disappoint. And while XE Money Transfer's fees and exchange rates are not the cheapest out there, particularly for smaller transfers (7.5/10), the service enjoys excellent feedback from its customers (9.6/10), who praise the service's security and professionalism.
What Monito Likes About XE
Vast scope, supporting 130 countries and around 100 currencies;
Backed by Euronet Worldwide;
Most transfers are completed within one working day;
A much-loved platform with glowing customer reviews.
What Monito Dislikes About XE
Exchange rates are competitive but often not the best you'll find;
Fees are buried away in nontransparent exchange rate margins;
Bank transfers and deposits are the only way to fund and receive.
XE Money Transfer is a top-notch money transfer service for US, Canada, and UK-based users.
From June 2021 to June 2022, the service ranked on Monito's comparison engine as one of the cheapest providers for transfers from the United States to India, Mexico, or Canada. XE Money Transfer services from Canada to the US and from the UK to Pakistan, Poland, and India are also highly recommended.
While we recommend XE for these corridors, we also advise running a search on Monito's comparison engine to take advantage of the best rates in real-time.
Who Is XE Money Transfer For?
XE Money Transfer is available to residents of the US, UK, Australia, Canada, New Zealand, Switzerland, as well as the EU (except for Bulgaria, Croatia, Cyprus, Czech Republic, Estonia, Greece, Hungary, Latvia, Lithuania, Malta, Poland, Romania, Slovakia, and Slovenia.) Residents of Guernsey, Jersey, and the Isle of Man are eligible too.
To improve readability, we use XE and XE Money Transfer interchangeably in this review.
How Monito Reviewed XE's Services
As with all services reviewed by Monito, XE Money Transfer underwent a rigorous evaluation to assess the quality of its service. To begin with, our experts opened an XE account to test out its functionalities, including the ease of registration and speed of transferring money, which provided a well-rounded overview of the platform's strengths and limitations. Next, we weighed this score against several other key criteria, including customer reviews, percentage of fees constituted by exchange rate margins, pay-in options, access to customer service, and business and legal metrics such as volume transferred, appropriate authorization, and company size. Finally, we analyzed tens of thousands of searches on Monito's comparison engine to determine how often XE Money Transfer was the cheapest service and how often it was competitive against its rivals over the past three months, giving a reliable overview of the service's pricing in relation to the market. As with all Monito Scores, XE's score was peer-reviewed by at least one Monito expert.
Reviews are written independently by Monito's editors and recommendations given are our own. Services you sign up with using our links may earn us a commission.
Background check
Owned by Euronet Worldwide Inc, XE Money Transfer is regulated by the FCA in the UK and is duly authorized in every region in which it does operates.
Security & reliability
XE's platforms are fully secured and use top-notch security protocols, including segregated user accounts and HTTPS.
Company size
Founded in 1993, XE Money Transfer is a fast-growing money transfer company handling around US$10 billion in transactions each year for some 500 thousand personal customers and 6 thousand businesses.
Transparent pricing
XE Money Transfer is not transparent in its pricing, failing to disclose that all (100%) of its fees are hidden in the exchange rate margin.
Can I Trust XE Money Transfer?
Moving more than US$10 billion on an annual basis for around 500 thousand users, XE Money Transfer is indeed a prominent and trustworthy money transfer service.
XE Money Transfer is a large and well-known international foreign exchange provider offering services around the world. They're a part of Euronet Inc, a publicly-traded money transfer company that employs over 4,500 people worldwide and has partnerships with hundreds of companies, including Amazon, Visa, MasterCard, PayPal, Apple, and Google. A world leader in ATM services, Euronet also processes over US$70 billion in ATM withdrawals, money transfers, and prepaid products every year.
As a matter of fact, Euronet also owns Ria, the third-largest money transfer company on the globe after Western Union and MoneyGram.
Is XE Money Transfer Safe?
Yes, XE Money Transfer is most certainly a safe and secure company. Founded in 1993 at the very beginning of the internet era, XE Money Transfer is one of the oldest and most distinguished online money transfer operators on the market. Today, the company services over six thousand businesses and half a million personal customers by moving some US$10 billion in annual transfer volume around the globe.
Authorization: Is XE Money Transfer Legit?
Fully authorised and licensed by the Federal Conduct Authority (FCA) and HMRC in the UK, XE Money Transfer is recognised worldwide as one of the market leaders in international money transfers. To top things off, the company also uses industry-standard encryption technology to protect clients' funds, and in line with regulatory requirements, they also hold all client money in segregated user accounts.
Opening an account
Opening an account with XE Money Transfer is easy enough to do, but it can take some time to complete.
Making a transfer
With an XE account open and ready to go, making a new money transfer is a fast and simple process.
Contacting support
Getting help when needed is possible with XE, but live chat features and around-the-clock support are lacking.
XE Money Transfer's Service Quality
Although opening a new account with XE Money Transfer can take some time, in general, making a transfer and using the service is easy, with card and bank pay-in options available to choose from.
What Is XE Money Transfer?
XE Money Transfer is a large and trusted international foreign exchange service that offers international money transfers between almost all currencies worldwide. Much-loved by its customer base, XE has been exchanging currency for over 25 years and are today part of the Euronet Worldwide Group, a prominent player in cross-border financial services.
As an XE customer, you can set up an account online and make currency exchange transactions on their secure online platform using your online banking, debit card, or credit card. (Be aware that using a credit card will incur an additional fee, however.)
When sending money abroad, all customers have access to customer support and even to a personal account manager if the transfer is large enough. XE also offers tailored advice for those who'd like to send at a specific spot exchange rate, make multiple payments, or have complex requests. In addition to standard foreign exchange, the service also provides forward contracts and other currency transfer services and offers several business-specific services for international commerce.
XE Money Transfer Limits
XE Money Transfer offers an impressive scope of service, allowing customers to send money to 130 countries and around 100 currencies worldwide. More impressively still is that most of these transactions are completed within a single working day, with SMS status updates being provided along the way.
XE Money Transfer sets no minimum transfer limit on their customers. However, they do have a $500,000 USD maximum limit (or equivalent in another currency) for online transactions.
Overall, all of this means XE's service is a trusted, reliable, fast, and secure option to send money abroad.
Monito's Impressions During Our Test
While we found registration at XE Money Transfer to be a fairly straightforward process, we disliked the fact that it took a long time to complete due to the obligatory validation period. What's more, we also found customer service to be less accessible than with most other services. It wasn't obvious how to navigate to find help on the dashboard and no live chat features were available — only phone and email support were available within working hours.
XE Mobile App Review
XE Money Transfer's mobile app, which allows users to send money from their smartphone in a few taps and receive exchange rate alerts, has garnered good ratings on iOS and Android. For example, on the App Store, the XE app earned a 4.5 out of 5-star rating from around 4,900 reviews. Meanwhile, on Google Play Store, reviewers were more lukewarm about the app, giving it 3.7 out of 5 stars on average across more than 100 thousand reviews.
Additional Services From XE Money Transfer
In addition to standard currency exchange, XE also offers several additional services for clients of all kinds who have more complex currency transfer needs. These include:
Forward contracts: Customers can lock-in in an exchange rate for a future date, up to two years in the future;
Regular payments: Customers can set up regular payment agreements with XE Money Transfer and locked-in exchange rates for transfers between currencies;
Rate alerts: Users can sign up to receive rate alerts by email if a currency pair reaches a certain exchange rate;
Business services: XE provides several dedicated services for businesses, including automatic notifications, international payment options, account control, multiple payments, forward orders, credit terms, three-year hedging, and early drawdown.
In addition, XE Money Transfer is also available to developers to "white label" either as a standalone platform, managed service, or fully integrated API.
Fees & Exchange Rates
7.5
Transfers to a bank account
XE was the cheapest option in a minority (16.1%) of available Monito bank transfer searches over the first three months of 2021, and competitive on over half (59%) of them.
XE Money Transfer's Fees & Exchange Rates
Despite its reasonably competitive pricing, XE Money Transfer is seldom the cheapest money transfer service of all for bank transfers. Fees and exchange rates can broadly be broken down as follows:
XE Money Transfer Fees
XE Money Transfer charges a fixed fee on smaller transfers sent abroad under a certain amount, usually up to US$500 or the currency equivalent. This fee is US$3.00 or equivalent (e.g. €2.00, AU$4.00, or HUF 850.00), quickly making the service very expensive for smaller transfers.
However, all transfers above the threshold do not incur a fixed fee.
In addition, there may be other situations in which you can be charged a fee, although these are typically not levied by XE Money Transfer itself but rather passed on by them and levied by the bank receiving your funds or an intermediary bank for example. Where possible, we always recommend checking with the receiving bank to understand any fees that may be charged.
Finally, if you fund your transaction with a credit card, you'll be charged a surcharge of around 1.6% of the transfer value.
XE Money Transfer Exchange Rates
Overall, XE Money Transfer's exchange rates are competitive, but they are not the best you will find on the market. These costs can be accounted for as the difference between XE's exchange rate and the mid-market exchange rate (i.e. the one you'd find on Google) and are expressed as a percentage fee called an exchange rate margin.
At XE, these exchange rate margins typically hover between 0.4% and 1.6% of the transfer value, making them much more attractive than those you'd find at the high-street banks, but still not the most attractive of all. Moreover, these exchange rate margins are higher for smaller transfer amounts and more favourable for larger ones ⁠— another reason why XE Money Transfer is a poor choice for smaller transfers.
In Practice: The XE Exchange Rate
To find out how these fees and exchange rates can impact the total cost of a transfer, take a look at the example below comparing a British pound to Australian dollar currency conversion* using XE's Money Transfer's fees and exchange rates:
Sending £200 to Australia
Exchange rate margin (GBP): £3.11
Fixed fee (GBP): £2.00
Total cost (GBP): £5.11
Total cost (%): 2.56%
Received (AUD): AU$350.02
Sending £5,000 to Australia
Exchange rate margin (GBP): £48.53
Fixed fee (GBP): £0.00
Total cost (GBP): £48.53
Total cost (%): 0.97%
Received (AUD): AU$8,893.00
* Data fetched on 06/05/2021 at 10:00 +02:00 GMT
Find Alternatives to XE Money Transfer's Fees & Exchange Rates
Customer Satisfaction
9.6
Customer review score
With a 4.6/5 star rating on Trustpilot, there's little doubt that XE customers are overwhelmingly fond of the service.
Number of positive reviews
Earning around 42 thousand four- and five-star reviews on Trustpilot, XE Money Transfer is much-loved in the eyes of its customers.
Customer Reviews of XE Money Transfer
With an average Trustpilot rating of 4.6 out of 5 stars, it goes without saying that XE Money Transfer is much-loved by its customers. In general, reviews reflect the following sentiments about the service:
Positive XE.com Reviews
International bank transfers are speedy and delivered fast;
Complex foreign exchange services are top-notch and set XE apart;
The web platform is simple to understand and use.
Negative XE.com Reviews
Exchange rates are not as good as they once were;
Waiting times on the customer support phone line;
Transfer fees were introduced after previously being fee-free.
How XE Money Transfer Works
Step 01

Check XE's Rates

Use Monito's comparison engine to see how XE Money Transfer's fees and exchange rates weigh up against the rest and make sure that they're indeed the cheapest option for your international money transfer. There, you'll be able to discover both the cheapest ways to fund your transfer and have the money received.

Step 02

Create an XE Account

Sign up using your email address, full name, country of residence, physical address, and mobile phone number. When prompted, you'll also be required to indicate how much you plan to transfer over the next 12 months and set a security question if you ever need to prove your identity in the future.

Step 03

Wait To Be Validated

After validating your mobile phone number via SMS, you'll be signed in to your new dashboard. However, your account will still under review at this stage, and you won't be able to start making transfers until it's been approved. This process can take up to two working days.

Step 04

Verify Your Identity

Once you receive a letter in the post confirming that your new account has been approved, you'll need to upload a valid photo ID to prove your identity (e.g. a national ID card, passport, or driving licence) and enter the unique reference code you find on your mail.

Step 05

Set Up Your Transfer

Once your documents are reviewed and your identification validation, you'll have full access to your new dashboard, from which you can set up your first money transfer. To do so, simply enter the amount you'd like to send and the sending and receiving currencies and click 'New Transfer'.

Final step

Review and Pay

After setting up your money transfer and adding your beneficiary, you'll be able to review your transfer, including your beneficiary's details, payment method, the exchange rate, and the amount to be received. If everything's in order, confirm the transfer and pay using your debit card, credit card, or online banking.

Try XE Today ❯
XE Money Transfer at a Glance
Frequently Asked Questions About XE
Is XE Money Transfer safe? 🛡️

Yes, as a world leader in currency exchange, XE Money Transfer is indeed a very safe service. It's licensed and authorized by the Financial Conduct Authority (FCA) in the UK under the Payment Services Regulations 2017. What's more, XE is part of the well-known Euronet Worldwide, the third-largest money transfer business in the world, making it parted of a prominent and trusted player in cross-border financial services.

Is XE Money Transfer free? 💲

No, XE Money Transfer is not free. While it's considerably cheaper than the banks and while its exchange rates are fairly competitive (especially for larger transfers), XE does come with two costs; namely an exchange rate margin of between 0.4% and 1.6% of the transfer value, as well as a fixed fee for transfers of under US$500 or equivalent.

How do I cancel a transfer with XE Money Transfer? 🛑

To cancel an international money transfer with XE Money Transfer, you'll need to call +44 1753 441 844 as soon as you can, and an XE customer support agent will assist you in reversing the transfer. However, be aware that doing so will come along with a service fee.

Is XE Money Transfer legit? 👨🏻‍⚖️

Yes, XE Money Transfer is indeed a perfectly legitimate company. The service is duly authorized and supervised in the following countries around and their respective financial regulators:

United Kingdom: FCA (Financial Conduct Authority)
United States: FinCEN (Financial Crimes Enforcement Network)
Canada: FINTRAC (Financial Transactions and Reports Analysis Centre of Canada)
Australia: ASIC (Australian Securities and Investments Commission)

Does XE Money Transfer send money to Nigeria? 🌴

No. Although you can send money to 98 currencies in over 130 countries with XE, Nigeria is currently not among them.

How does XE Money Transfer work? 💸

XE is not only an international foreign exchange service but also a money transfer platform. To transfer money with XE, you'll need to do the following:

Sign up for a XE Money Transfer account;
Verify your identity.
Decide how much you'd like to send and between which currencies;
Provide recipient's details;
Pay for your transfer (by bank transfer, credit card, or debit card);

How do I delete my XE Money Transfer account? ⛔

Because XE Money Transfer doesn't provide specific direction for how to delete an account online, the only way to get the job done will be to reach out to customer service, who will be able to assist you in closing and taking down your account.