Facebook finally authorized to make money transfers in Europe
Last updated
December 2, 2016
Written by
François Briod
While David Marcus recently announced the release of games on Facebook Messenger with great fanfare, you had to look elsewhere to find a major announcement for the messaging app claiming more than 1 billion active users.
Indeed, Facebook Payments International Limited was granted an authorization to operate e-money and payment services by the Central Bank of Ireland on DATE. This means that peer-to-peer payments through Facebook Messenger could finally be launching in Europe soon.
This authorization is not limited to Ireland, but can be passported in the European Union and is similar to the money transmitter licenses Facebook already holds in the US. The company confirmed in an statement to French newspaper La Tribune: "This license allows us to deploy services like donations to NGO or peer-to-peer payments via Messenger in Europe, like we did in the US".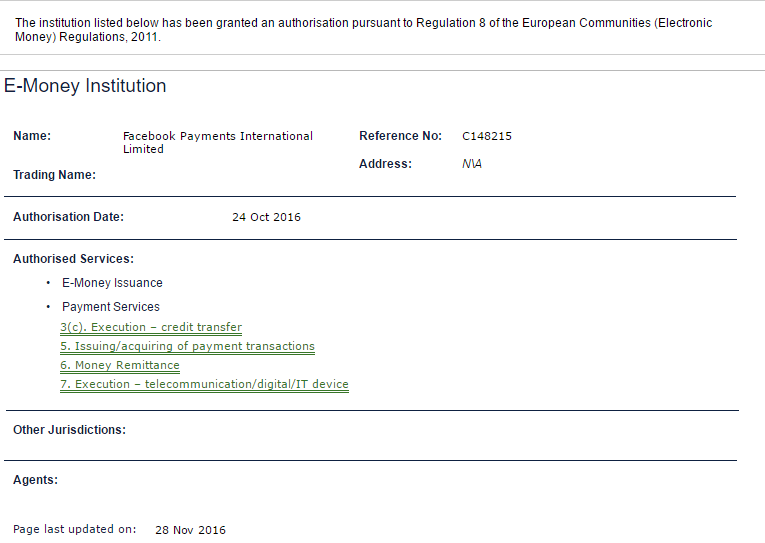 As we can see in the Central Bank of Ireland's Registers, Facebook Payments International Limited became licensed as an E-Money Institution on the 24 October 2016 and is authorized to issue E-Money and operate Payment services, including credit transfer, payment transactions and money remittance.
According to an article from the Financial Times, Facebook started the procedures to acquire this license more than two years ago, in April 2014.
Cross-border, cross-currency transactions?
Messenger money transfer in the United States only works with debit cards for transactions in US dollars within the US for now. This newly issued license is likely to change this status quo, but how much so? Is Facebook Messenger going to offer money transfers in all EU currencies,  or only in euro? Will the service be available for cross-border transactions within the same currency (e.g. euro in France > Euro in Germany) or extended to cross-currency transfers (e.g. GBP in the United Kingdom > EUR in Spain)?
As so many migrants are using Facebook to communicate with their family back home, it would make sense for the social network to venture into the $600bn remittances market with cross-border and cross-currency transactions. It now has the proper licenses to do so in Europe, but we will more likely see the Internet giant take its time by first launching domestic transfers and gradually extending its network, number of cards on file and capabilities. 

As money transfer specialist Faisal Khan points out, the compliance burden and complexity of setting up a cross-border platform, given Facebook's size, means that it will take some time before the company is able to carry out cross-border transactions. That's if they even consider it. If they do, partnering with or acquiring an existing money transfer business to leverage its network and expertise might be their best option, providing the quickest route to market.
UPDATE:
After Techcrunch reported Monito's findings, a Facebook spokesperson confirmed the news and added:
"Facebook Payments International Ltd. (FBPIL) is pleased to confirm we have been approved authorization as an electronic money institution by the Central Bank of Ireland (CBI).
The license enables us to roll out products like charitable donations on Facebook or peer-to-peer payments via Messenger in Europe, as we have in the U.S. The license authorizes FBPIL to issue donations from Facebook users to charities registered in the European Economic Area (EEA) only; and peer-to-peer payments, within the EEA."
Interested by mobile international money transfer, see our review of the Top money transfer apps on iOS & Android. Read this post if you're interested in alternatives to Venmo to send money internationally.
You can also review money transfer services here: