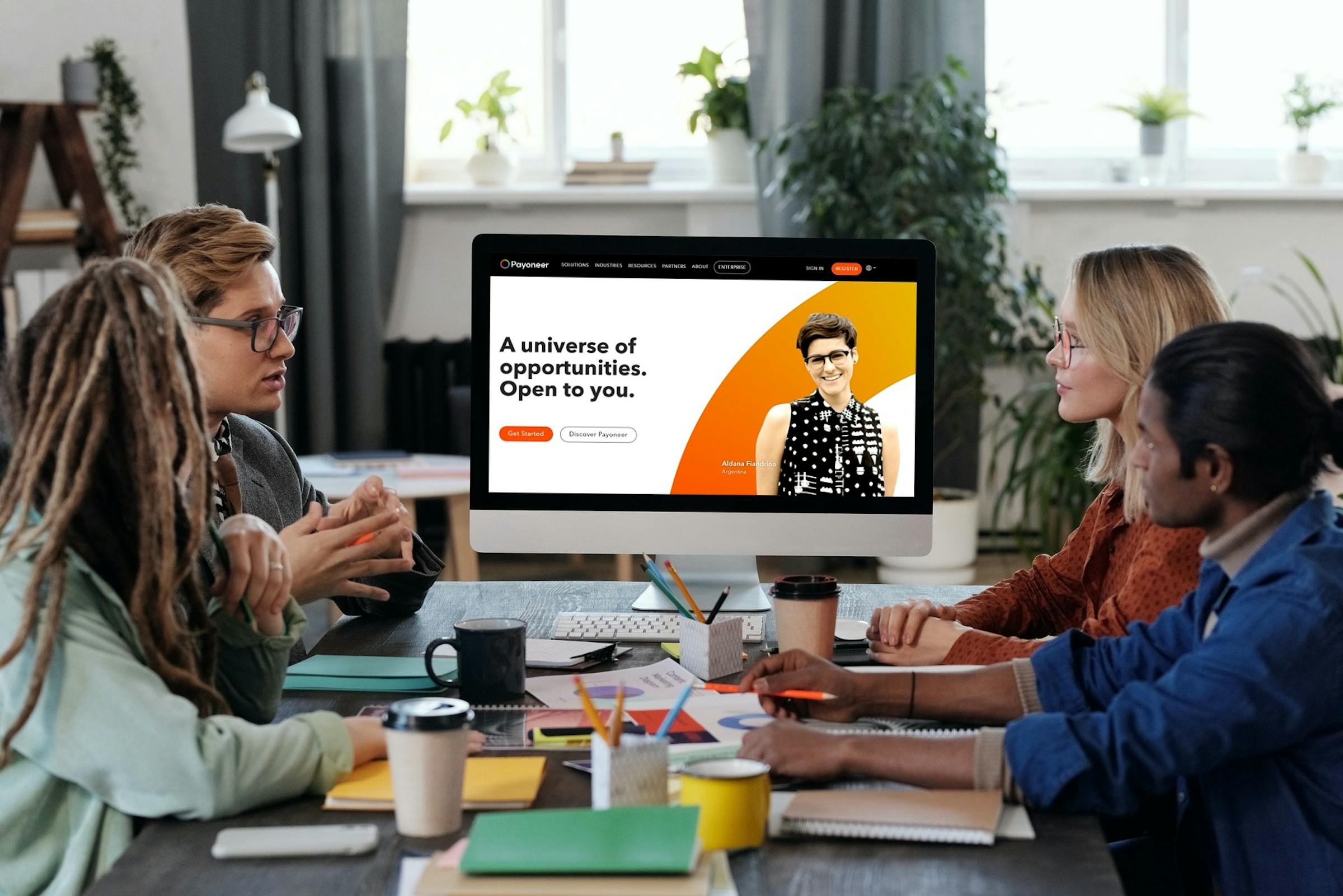 Payoneer Review: Functionalities, Fees, Alternatives, and Monito's Recommendation
Payoneer is a world-class digital payments system that offers an attractive business account option for SMEs and self-employed professionals relying on frequent cross-border payments and receipts. Especially well known for its free account management, attractive international payment fees, and countless other savvy features, Payoneer offers many unique advantages to SMEs, self-employed professionals, and freelancers alike.
Nowadays, it has become increasingly common for employers, employees, and independent contractors to work across borders. However, due to currency exchange, the cost of remuneration can be filled with onerous fees. These fees are particularly pricey for business payments, which are often significantly higher than personal payments.
However, while this doesn't tend to bother large corporations (which tend to have their own payment networks and thus secure more favourable rates), smaller companies and self-employed workers are hit especially hard by the high fees for international money transfers. This is where Payoneer comes into the picture. By offering a top-notch business account platform that brings together local bank details in different countries with cheap international payments, Payoneer can provide the ideal solution to meet the international payment needs of SMEs and self-employed professionals.
What We Like About Payoneer
A wide range of payment services and solutions;
Speedy processing of payments from anywhere in the world;
Currency exchange fees are reasonably priced.
What We Dislike About Payoneer
Many types of fees can stack up quickly;
Currency conversion is only intended for business transactions;
Strict terms of service;
Not ideal for making pure international payments (this function is best used through Payoneer accounts).
Monito's Recommendation
Because of its card pay-out processing functionality, local bank accounts in nine countries, fully-functional Mastercard debit card, and inexpensive international transfers, Payoneer is an excellent business account option that we recommend without reservation for SMEs, self-employed professionals, online retailers, and cross-border business operations of all kinds.
| | |
| --- | --- |
| 💶 Cash Deposit | No |
| 💳 Cards | Debit Mastercard |
| 💸 Fees for Local Payments | Free of charge |
| 💱 Conversion Fee for Foreign Payments | Up to 3.50% |
| 👩🏻‍💼 Available for | Freelancers, self-employed, enterprises |
| 🏧 Account Details | 9 |
| 🌍 Availability | Over 150 countries |
| 👪 Number of Customers | Approx. 5 million |
| 🔒 Trustpilot Score | 4.4 / 5 |
| 💬 Number of Reviews | Approx. 28,000 |
How Does Payoneer Work?
In contrast to many banks and other money transfer providers, Payoneer's account offering is restricted to only one product: the Payoneer Account. Although this account offers slightly different functionalities for freelancers and self-employed workers than it does for SMEs and larger enterprises, the underlying service itself remains practically the same, enabling all Payoneer customers to access the same core functions without upgrading their account for a fee.
In essence, Payoneer is an international business account that offers the following key benefits:
Receipt of payments through local bank accounts;
Dispatch and processing of payment requests to customers;
Processing of card payments from customers;
Low-cost international payments using the Payoneer account;
Direct integration with online vendors (e.g. Amazon, Airbnb, etc.);
VAT payments in the EU and UK with no currency conversion or fees.
In addition, there are special functions for online sellers and large enterprises, which include capital advance at the push of a button or collective payments to employees. However, in this review, we'll not be focusing on these benefits and instead explore the core functions shared by all Payoneer users.
Payoneer's Bank Details
One major advantage of Payoneer is its extensive global bank account offering, which make it possible to send and receive local payments in other countries free of charge. This allows international payments to be processed without customers even realising that the owner of a Payoneer account could be based in a different country entirely, as payments to and from the bank account are domestic bank transfers that are processed free of charge for the customer, thereby avoiding the fees associated with international wire transfers.
Payoneer currently offers nine local bank account details. These are suitable for receiving normal domestic transfers (e.g. via SEPA in the EU or ACH in the US) in the local currency. In addition, SWIFT payments can be received via a separate bank account in US dollars. To get a better sense of how these local bank details work, take a look at the breakdown below:
| | | | | | | | | | |
| --- | --- | --- | --- | --- | --- | --- | --- | --- | --- |
| Country or Region | EU | USA | UK | Japan | Australia | Canada | Mexico | Singapore | China |
| | | | | | | | | | |
| Supported Payments | SEPA | ACH, SWIFT | BACS or FPS | Zengin | BECS | EFT | SPEI or TEF | GIRO/ACH, FAST, or MEPS | Not specified |
| | | |
| --- | --- | --- |
| | Wise Business | Payoneer |
| | | |
| Bank account(s) | 10 | 9 |
| Platform(s) Supported | Mobile app, website | Mobile app, website |
| Account Opening Fee | €0.00 | 0.00€ |
| Cards Issuer | Mastercard | Mastercard |
| Card Fee (Per Annum) | €0.00 | €24.95 |
| Foreign Transfer Fees | Approx. 0.35% to 2.00% | 2.00% |
| Fees for Payments Abroad | €0.00 | 3.50% |
| Payout to a Local Bank Account | Approx. € 0.28 | €1.50 |
| Accept Card Payments | Not available | 3.00% |
| Requests for Payment | Not available | €0.00 |
| | Go To Wise | Go To Payoneer |