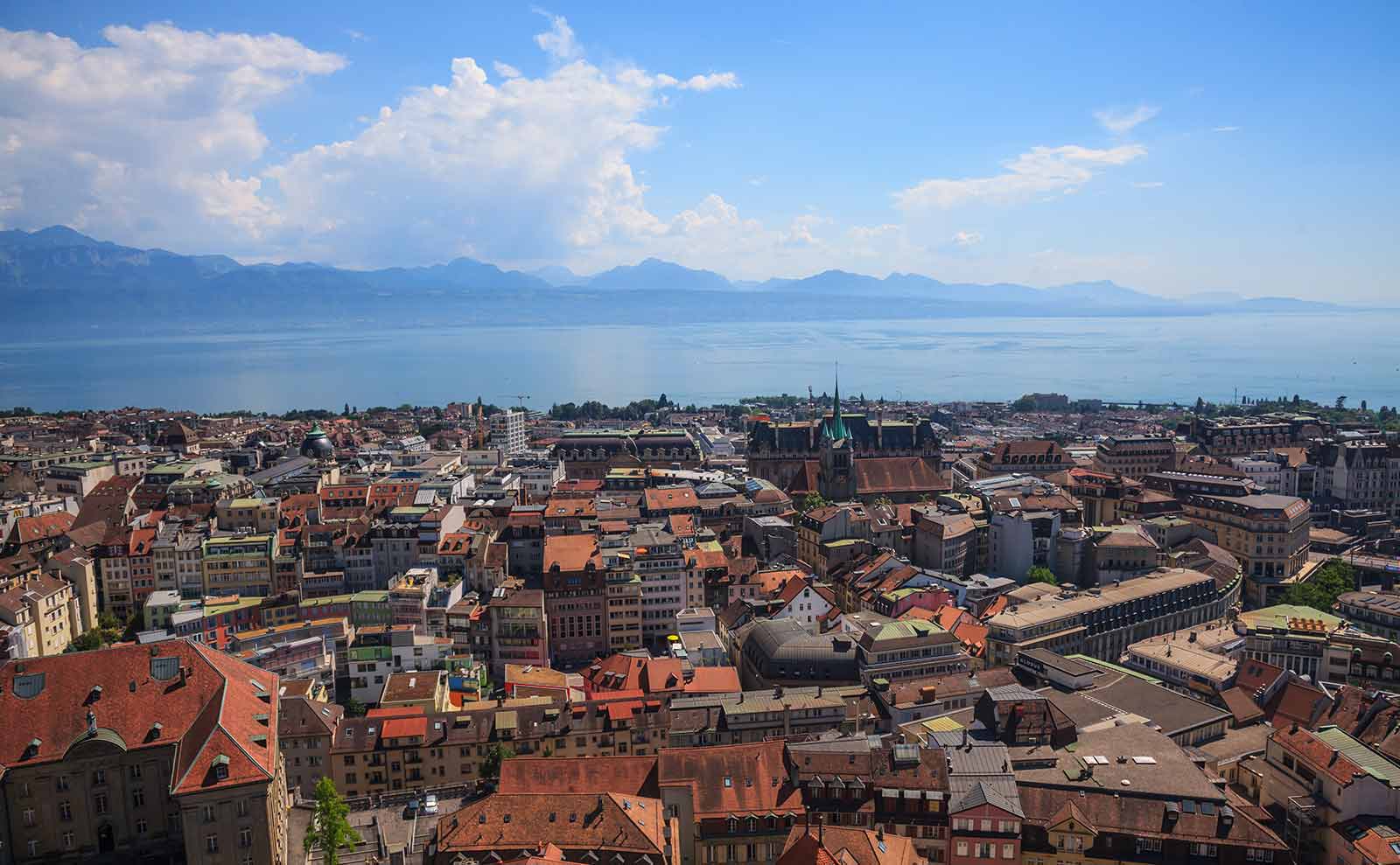 Find the best providers to send money to Switzerland
Our real-time comparison engine finds the cheapest providers for your transfer to Switzerland, you save on fees and exchange rates. That way, more money arrives.
How to send money to Switzerland
Find out how to make a money transfer to Switzerland with the best exchange rate in a few easy steps
1. Check the CHF mid-market exchange rate against the currency you want to send
Even though the evolution of the exchange rate is fluctuating, it is a good idea to follow it in order to maximize how many Swiss francs you will receive against your sending currency. You should set-up exchange rate email alerts to check the CHF mid-market's evolution.
2.Go with the most interesting deal by comparing the 64 available money transfer companies.
We compare quite a few services to transfer money to Switzerland, such as Wise, TransferGo, Wise Multi-Currency Account, Paysend, SingX. Optimize your transfer by comparing them all and select the most competitive deal for your upcoming money transfer.
3.Pick the best provider for your needs
What is the most important for you? Price, speed of transfer, number of customer ratings? Balance the pros and cons before making your choice.
4. Sign up and start your transaction with the service of your choice
Now is the time to complete the sign-up form on the money transfer provider's homepage (you usually have to provide information to prove your identity), and configure your transaction.
Best money transfer providers to send money to Switzerland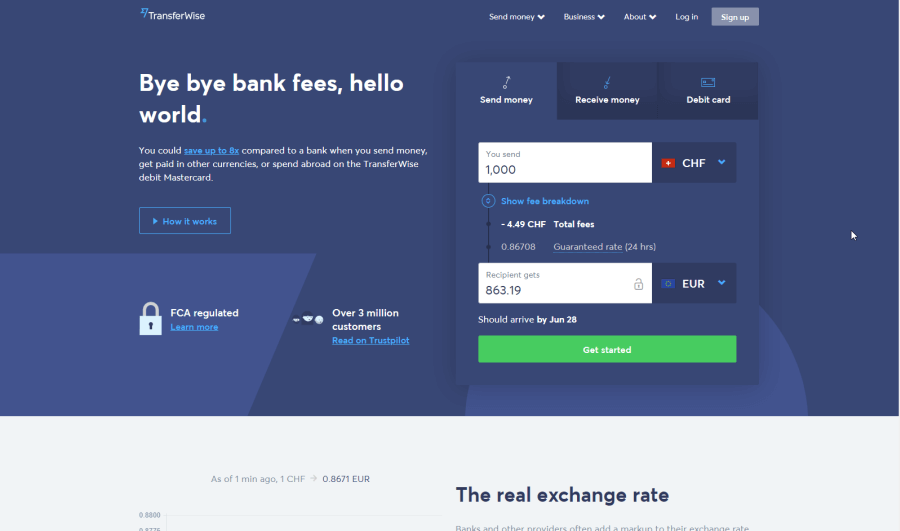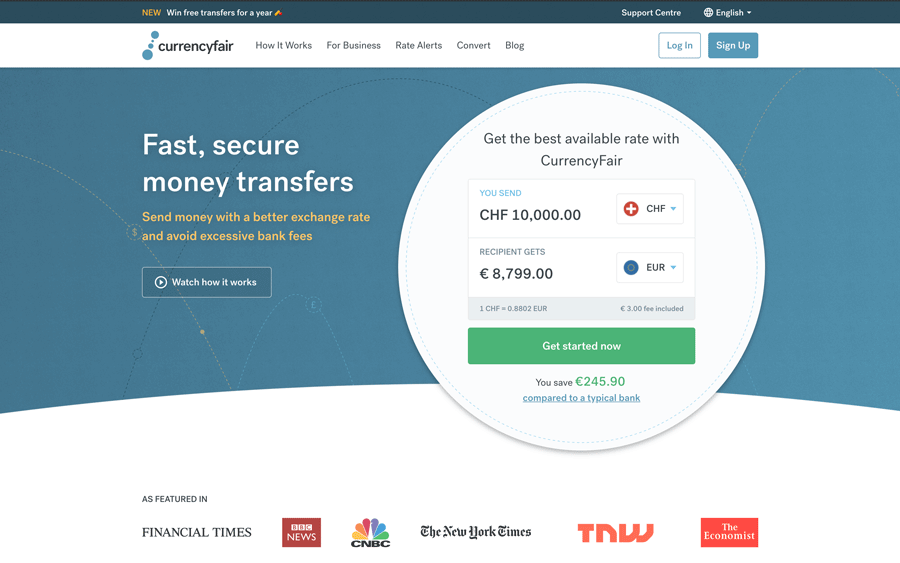 Which provider to use for transferring money to Switzerland?
As Switzerland is not part of the European Union, it is true that some of the latest money transfer providers don't have the necessary authorisations to operate in Switzerland yet. While this limits the number of providers you can use to send money from Switzerland, there are plenty of good solutions to choose from.
Most people sending money in CHF in Switzerland transfer the money to a bank account, and many of them still do an international bank transaction for this purpose. While banks often have low (or even zero) fees, they make money by offering you poor exchange rates. By using online money transfer providers that specialize in converting money at the lowest cost possible, you can save a lot of money. Companies like TransferWise, Azimo, CurrencyFair, Xendpay or TransferGo, all offer to send money from almost anywhere in Europe and the US to Switzerland, with bank-beating exchange rates and transparent pricing.
The online services mentioned above are easy-to-use and convenient, but if you plan to make a larger transaction in CHF (say more than 5000 CHF), you may want to use the more personalized services of a foreign exchange broker. Exchange Market, b-Sharpe, Currency Solutions, Currencies Direct, and OFX are our recommendations for Switzerland, and we would be happy to gather the quotes from all these providers for you to help you decide which one to use.
Switzerland is a very international country and there are many reasons why you would need to send money to Switzerland. Whether you are sending money to Switzerland for business or personal matters, it is essential to compare your options before each transaction to find the providers with the best Swiss franc (CHF) exchange rates.
With our independent comparison results, we help international students studying at ETHZ or EPFL find the best providers to transfer money between their home country and Switzerland. We also help expatriates moving to Switzerland for a job in one of the international organisations in Geneva select a better alternative than their bank to transfer their money in the country, or business owners find the right solution to pay contractors or suppliers in Switzerland.
What information do you need to send money to a bank account in Switzerland
IBAN (ex. CH93 0076 2011 6238 5295 7) 
The IBAN (International Bank Account Number) is an international norm for identifying bank accounts.
Name of the recipient 
The name of the holder of the receiving bank account..
All banks in Switzerland use the IBAN system to facilitate international transactions, meaning that the only information you need to make an international bank transfer to a bank account in Switzerland is the IBAN number of the recipient's bank account, as well as the name of the recipient.
All the providers and banks we list on our website can send money to any bank in Switzerland. You shouldn't need the SWIFT/BIC code or even the name of the bank, as long as you have the IBAN.
Crédit Agricole Financement
Banque Cantonale de Genève
Monito helps you find the best way to send money around the 🌎
Why Trust Monito?
You're probably all too familiar with the often outrageous cost of sending money abroad. After facing this frustration themselves back in 2013, co-founders François, Laurent, and Pascal launched a real-time comparison engine to compare the best money transfer services across the globe. Today, Monito's award-winning comparisons, reviews, and guides are trusted by around 8 million people each year and our recommendations are backed by millions of pricing data points and dozens of expert tests — all allowing you to make the savviest decisions with confidence.
Advertiser Disclosure
Instead of banner ads and paywalls, Monito makes money through affiliate links to the various payment service providers featured on our website. While we work hard to scout the market for the best deals, we're unable to consider every possible product available to you. Our extensive range of trusted affiliate partners enables us to make detailed, unbiased, and solution-driven recommendations for all types of consumer questions and problems. This allows us to match our users with the right providers to suit their needs and, in doing so, match our providers with new customers, creating a win-win for everybody involved. However, while some links on Monito may indeed earn us a commission, this fact never impacts the independence and integrity of our opinions, recommendations, and evaluations.