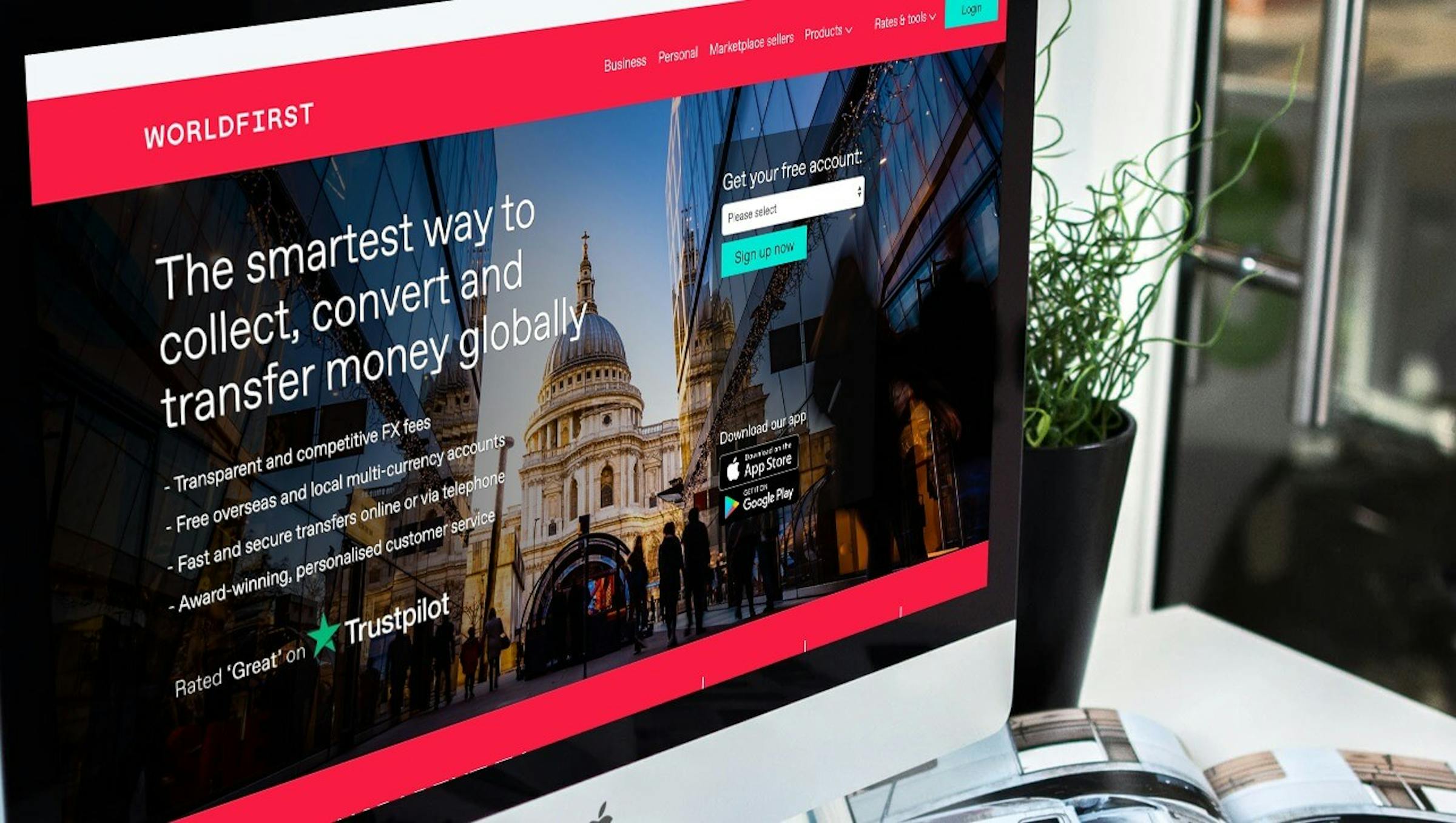 World First Review: Is it safe? How does it work? What are the rates?
How can you use World First to send money abroad? Is their service reliable? Can you trust World First with your money? How good are their fees and exchange rates?
Monito's Independent Review of World First
World First is one of the best established and well known specialist currency exchange providers. Headquartered in the UK, they provide dedicated international money transfers around the world. World First serves individuals and businesses, including online e-commerce exchange services.
Like many specialist currency providers, World First is designed for transferring larger amounts overseas, and they have a minimum transfer limit of £250 (or the equivalent in a local currency) online or £1,000 over the phone. Money can be transferred using their website, via calling their customer service centre, or through using their mobile app on Android, iPhone or Android Watch.
World First provide comprehensive money exchange services to reduce the risk for end-users. That includes standard currency exchange, forward exchange transactions, and more.
Although they are not as keenly priced as some other specialist currency exchange providers, this is offset by an extremely high level of service. We recommend them for individuals and businesses who are not exceptionally price-sensitive, but who want the reassurance of reliable currency transfers coupled with a personal account manager.
In summary, World First provides a very high-quality service combined with a dedicated account manager. Although they do not have the lowest fees, they are ideal if you want reliable, trustworthy exchange rates with a personal touch.
Savings of 0.25% to 4% with World First exchange rates compared to a bank;
Personal account manager provided as standard to help you with currency transfers;
Exceptional customer service.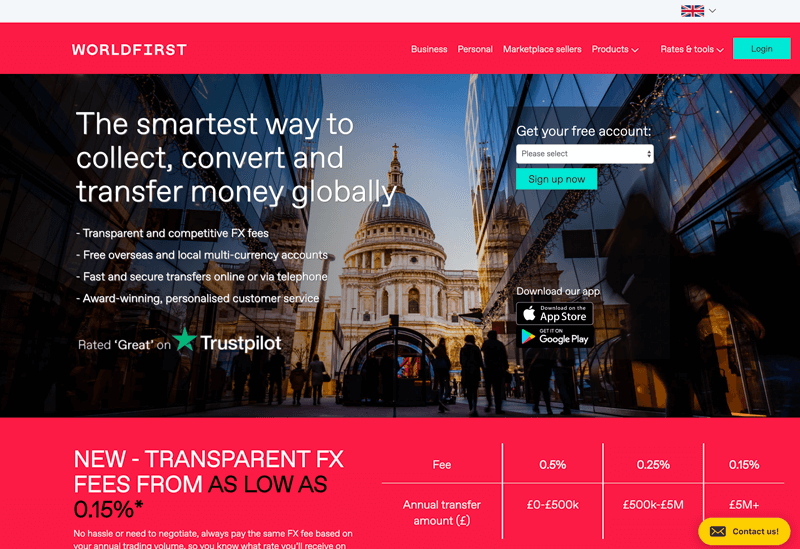 What we like about World First
Helpful, attentive, personal, and efficient customer service;

Rapid transfer of funds from one currency to another;

Provide comprehensive answers to questions to help customers understand the currency transfer process.
What we dislike about World First
They don't accept electronic documentation as proof of identification;

Only available to non-business customers in Australia;

Users need to understand minimum transfer amounts of £250 (online) or £1,000 (phone);

Some accounts may be refused due to "compliance issues."
📢 Important!
As of April 10 2021, customer-to-customer money transfers are no longer supported by World First, except for those made from Australia. Business-to-business money transfers, however, remain supported by World First. If this change affects you, be sure to compare your alternatives below:
World First fees & exchange rate
World First Fees
World First charges a standard fee of $10 for transfers of $10,000 or less (or the equivalent in your local currency).
They do not charge any fee for transfers over $10,000.
If you are sending money to a bank account, it is often cheaper to send at an agent location than online, regardless of the payment method used.
World First provides variable pricing for businesses (between $0 and $10 per transaction) depending on how much business you do with them.
World First also says, "And we try our best to make sure all your money gets to where it needs to by covering correspondent and receiving charges where we can."
Please note that receiving banks may charge to receive money, so it's worth checking with the receiving bank to understand any likely fees. You should speak with your World First account manager to see if they would cover those receiving fee costs.
World First Exchange Rates
World First's exchange rates are around 1% below the mid-market, interbank rates—the standard measure for exchange rate currency pairs. That means for every $1,000 you are transferring, you are paying $10 in the difference between the "best" exchange rate and what World First charges.
They state that they can save you around 0.25% to 4% of the amount being transferred compared to a bank.
Here's how that might look in practice.
Transferring £1,000 to $USD
Interbank rate of $1,242.09
World First rate of $1,229.70
World First fee of $10
Total charged by World First vs. "Best" exchange rate: $22.61 or 1.8% of what you're sending.
Transferring $20,000 AUD to Euros
Interbank rate of €14,426.00
World First rate of €14,282.00
World First fee of $0
Total charged by World First vs. "Best" exchange rate: $200 AUD or 1% of what you're sending.
World First Price Promise
World First does offer a price promise. They are confident they can offer excellent exchange rates, so if you're able to get a better quote from another provider, they state they will match it, as long as it doesn't result in a loss for them.
To take advantage you need to be registered with World First, be registered with the other provider, get a quote for the same amount and currency pair, and submit your quote to World First within three hours of receiving it from the other provider.
Credibility security
One of the most important factors when deciding on the right currency exchange provider is how safe and secure they are. We have no hesitation in recommending World First as a trustworthy, secure, effective way of transferring money. We base our recommendations on several key areas:
Work First is regulated by the Financial Ombudsman Service (FOS) in the UK (membership number 13405) and by the Australian Securities and Investments Commission in Australia (AFS Licence number 331945). Both regulatory bodies have strong requirements for encryption, security, and protection of user data.
World First also holds sufficient capital and reserves to meet its customers' commitments and safeguard its business. They have a "3A2" rating from Dun and Bradstreet credit agency, which means they are a "low risk" business and have large capital reserves.
World First's platform uses sophisticated security to protect your financial information and payment data. World First complies with all government and other official regulations regarding data security, financial management, and international currency transfers.
Client funds are held completely separate from World First's own business accounts, in segregated accounts. Should the company have any financial difficulties, your money would be safe.
World First has successfully transacted over £60 billion ($75 billion) in international transfers, over 1,000,000 transactions, for over 70,000 customers. They have consistently grown their business year on year.
97% of reviewers rated World First at four or five stars for the quality of their service.
World First has over 70,000 customers and has transferred funds for individuals, businesses, and e-commerce services. They have managed over a million transactions and transferred over £60 billion ($75 billion). They hold over £400 million in assets and made profits in 2015 of £15 million on revenue of £57 million.
World First has won several awards for its service excellence, including the Canstar Outstanding Value for International Money Transfers, The Queen's Award for Enterprise, and the UK Customer Experience Awards.
So, is World First safe? Absolutely, we wouldn't hesitate to trust them even with transfers of large amounts.
Service & Coverage
Additional services from World First
World First provides several services for individuals and businesses needing to make international money transfers.
Spot contracts — these are the rates offered if you need to transfer money straightaway.
Forward contracts — you can lock in an exchange rate now, but transfer the money in the future. That's ideal if you could get a good exchange rate at the moment, but want to transfer later.
Live exchange rates — World First provides continually updated interbank exchange rates between currency pairs.
Currency converter calculation — World First provides online currency conversion calculations based on the interbank rate.
Rate alerts — you can sign up for rate alerts for when World First's exchange rates meet a particular threshold or target.
Receiving accounts — World First provides receiving accounts in many different currencies. That means you can have money paid into a local account in the country you're selling to, and transfer the money back to your home country at a 
Customer Satisfaction
We looked at over 200 reviews of World First on Feefo and found that reviewers gave World First an overwhelmingly positive score of 4.8 out of 5 stars.
As expected, many of the reviews focused on how helpful World First's customer service is, with some reviewers saying it felt like World First were an extension of their internal team. Another user said, "Superior service from excellent, knowledgeable, efficient account managers!" and was impressed with how easy it was to understand the currency transfer process.
Other users cited the speed of World First's transfers, and the competitive exchange rates, while another reviewer summed things up succinctly, "Easy, fast, safe and cheap as always." It's notable that if any users reported less than optimal experiences, World First responded directly to the reviews, offering to help out.
There were a small number of negative reviews. Key issues from these users included trades lapsing because they were not called back by World First, or the occasional breakdown in communications between World First and its customers. One user did state they wished the online transfer service was easier to use. It's important to note that only 3% of all reviews for World First were rated at lower that three stars, while 97% of reviews were rated at four or five stars.
World First Mobile Applications

World First provides mobile applications for Android, iPhone, and Android Watch. Once you've downloaded and signed into the app, you can carry out the following functions:

Send and receive money internationally — exchange currency via the app.
Track payments — review the status of your payments and transfers.
Get live rates — see how exchange rates are performing for various currency pairs.
Market updates — learn what's going on in world markets.
World First Awards
World First has won several awards including:
Coolest Companies in Finance 2016 from Job Advisor.
The Queen's Award for Enterprise, International Trade, 2016.
Canstar Outstanding Value for International Money Transfers.
The Sunday Times International Track 200 2016 from HSBC.
Real Business Hot 100 for 2015.
RSM European Business Awards Winner, 2013/2014.
UK Customer Experience Awards, 2013.
Best Company, 2015.
The story behind World First
World First was created in 2004 by Nick Robinson and Jonathan Quin. Initially operated from a basement flat in Stockwell, London. Intended as a speedy, effortless way to transfer money and offer currency exchange at a better rate than the big banks, World First became popular quickly, booking £43 million in trades in the first year. They reached £1 billion in transactions by 2007.
Although Nick and Jonathan had experienced in the corporate banking industry, their real success came from creating a first-class customer service team. They combined that with fast, efficient technology and created dedicated systems to lower the cost of international money transfers.
This resulted in a secure, honest, and transparent organization, where savings on exchange rates are passed to the end customer. Since 2009, World First has been an "Authorized Payment Institution," meaning client funds are protected from creditors.
World First has over 70,000 customers and has transferred funds for individuals, businesses, and e-commerce services. They have managed over a million transactions and moved around £60 billion ($75 billion) in funds. They are typically used for salary transfers, export, import, mortgage payments, investments, business payments, and more. They are currently growing by around 40% a year, and are among the fastest-growing FinTech companies in the world.
World First Offices
World First has expanded considerably beyond a basement flat in Stockwell. They are now a global business headquartered in Millbank Tower, London and with offices in Sydney, Hong Kong, Singapore, Washington, The Netherlands, and the U.S. They currently employ over 300 people around the world.
Contacting World First
Account Setup with World First
Account setup for private individuals - Freephone 1 800 835 506 (World First UK) or +61 2 8298 4900 (International).
Account setup for business - Freephone 1 800 701 540 (World First UK) or +61 2 8298 4999 (International).
Account setup for online sellers - Freephone 1 800 701 540 (World First UK) or +61 2 8298 4917 (International).
Other Activities with World First
Making transactions, customer support, or questions - Private individuals - 1 800 835 506 (World First UK).
Making transactions, customer support, or questions - Business - 1 800 701 540 (World First UK).
Making transactions, customer support, or questions - Online sellers - +61 2 8298 4917 (International).
Why you can trust Monito's reviews

Monito's mission is to help you (and thousands of others each day) find the best providers for your money transfers.

We do that by providing real-time comparison of exchange rates and fees (you can use the form below to make a comparison) and by writting in-depth reviews about money transfer providers.

We have partnerships with many money transfer providers (World First included), which help us get access to their exchange rate and fees information (which we always check for accuracy). Those partnerships help us support our activity and offer our service for free.

We put a lot of efforts to review money transfer providers like World First in details and based on objective and verifiable criteria. A good example of that is the in-depth User Experience Benchmark Study we conducted in August 2018.
Why Trust Monito?
You're probably all too familiar with the often outrageous cost of sending money abroad. After facing this frustration themselves back in 2013, co-founders François, Laurent, and Pascal launched a real-time comparison engine to compare the best money transfer services across the globe. Today, Monito's award-winning comparisons, reviews, and guides are trusted by around 8 million people each year and our recommendations are backed by millions of pricing data points and dozens of expert tests — all allowing you to make the savviest decisions with confidence.
Advertiser Disclosure
Instead of banner ads and paywalls, Monito makes money through affiliate links to the various payment service providers featured on our website. While we work hard to scout the market for the best deals, we're unable to consider every possible product available to you. Our extensive range of trusted affiliate partners enables us to make detailed, unbiased, and solution-driven recommendations for all types of consumer questions and problems. This allows us to match our users with the right providers to suit their needs and, in doing so, match our providers with new customers, creating a win-win for everybody involved. However, while some links on Monito may indeed earn us a commission, this fact never impacts the independence and integrity of our opinions, recommendations, and evaluations.