Transparency – the only way forward for remittances
Last updated
June 18, 2015
Written by
François Briod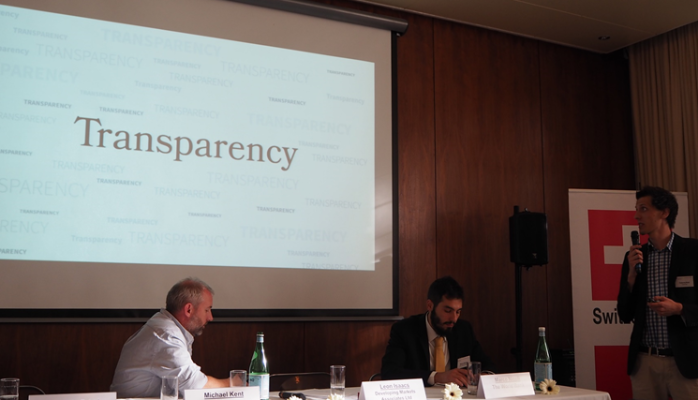 On the 2nd of June, a crowd of remittance specialists, journalists, and diplomats gathered at the Swiss Embassy in London to discuss the proposition: "Transparency is the only way forward for remittances."
Bringing together leading private companies such as Azimo, TransferWise, WorldRemit, Vodafone/M-Pesa, and MasterCard and institutions such as the World Bank, the International Organization for Migration (IOM), and the International Association of Money Transfer Networks (IAMTN) is key for the industry. As co-organizer of this event, we are glad to have found a neutral location symbolized by the Swiss Embassy to openly address hot topics such as transparency, increased competition, and derisking.
What does it really mean to be transparent?
The panel discussion, brilliantly moderated by Leon Isaacs from Developing Markets Associates, was begun by Marco Nicoli, payment specialist at the World Bank, who explored exactly what it means for a money transfer service to be transparent.
In order for a customer to compare services and be able to make an informed decision, he said, there are many pieces of information (the various fees, exchange rate margin, type of service, speed of the transfer, etc.) that must be provided. He also stressed that providing this information can be challenging for money transfer service providers because of operational limitations, specific business models, and reluctance to share too much information with the competition.
Sharing results from Project Greenback 2.0 studies, Mr. Nicoli highlighted the large information gap that still exists between real and perceived costs of remittances, saying that the costs as perceived by immigrants can be as little as one-tenth of the true cost.
"Transparency is kind of tough"
Michael Kent, CEO of Azimo, began by noting the good news that remittance prices are going down thanks to the efforts of the private sector, technology, initiatives from the public sector such as the World Bank, and comparison websites such as TawiPay. He explained how Azimo and other innovative providers take advantage of digital, mobile, and social technologies to simplify the remittance value chain and lower costs by replacing the many intermediaries of a traditional money transfer. Mr. Kent concluded by briefly stating that transparency is "kind of tough" because of the complexity of price structures.
Half of the costs are hidden to the customers
At TawiPay, we have run a "transparency check" on our database to quantify the impact of transparency. The results are surprising:
Because banks and traditional money transfer operators have been using financial jargon and marketing tricks (such as "FX gains apply") to deliberately hide the truth about the total costs of sending money abroad, immigrants have a biased perception of the true costs of remittances. Not only is this situation bad for the people sending money, it also affects new players with lower costs, who need to convince their customers that they are effectively cheaper.
In my presentation, I stressed the importance of trust as the most important factor influencing immigrants when selecting a money transfer operator to use for their transfers.
You can find TawiPay's full presentation below:
To conclude, I wish to give my sincere thanks to Mr. Dominik Furgler, Swiss Ambassador to the United Kingdom, for hosting us; to Rebekka, Corinne, and the entire staff at the Swiss Embassy for the bulletproof organization; and to the Swiss State Secretariat for Economic Affairs for making this event possible.
See you next year maybe, who knows?