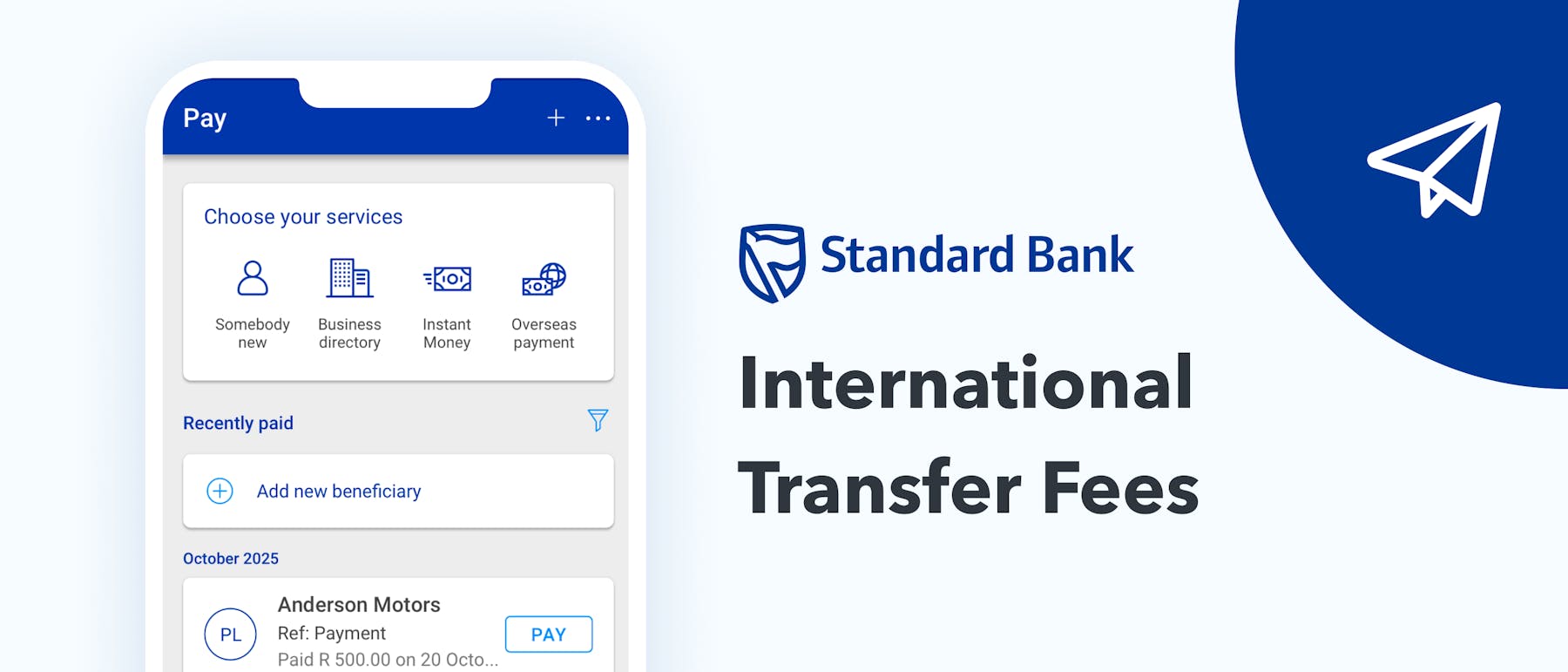 Standard Bank International Payments: SWIFT Fees, Forex Rates, and More
One of the largest banks on the African continent, Standard Bank is a Johannesburg-based financial services giant that offers a broad range of consumer and business banking, investment, wealth management, insurance, and credit services to customers across South Africa.
While Standard Bank does offer fast and secure online international payments among its many services, these transfers can be costly — the most expensive we've seen from any South African bank. For international payments made online through your Standard Bank Online Banking profile or via the mobile app banking, you'll be charged the following:
a 0.5% commission (min. R151, max. R690),
a R108 tele-communication fee,
a

2% to 4.5%

exchange rate margin.
These fees mean that Standard Bank offers very poor exchange rates for all foreign currencies (other than the Euro, US dollar, and British pound). Save money now by finding the cheapest and fastest alternative with Monito's live comparison engine below. 👇
Standard Bank is pricey. Compare better deals instead:
Standard Bank International Transfer Fees
For international SWIFT payments made using your online banking or mobile app, Standard Bank will charge you a set of fixed fees and commissions on every transfer that you send abroad. These fees are as follows:
0.5% (charged at a minimum of R151.00 and a maximum of R690.00).
R108.00 tele-communication fee.
If you instruct your international money transfer with the teller at your Standard Bank branch, then you'll pay a steeper 0.6% commission at a minimum of R200 and a maximum of R850. In addition, your tele-communication fee will also be higher if you pay at the branch, this time at R129 per transfer. Due to the much higher costs associated with doing SWIFT transfers at your branch, we recommend sending money online rather than in person wherever it's feasible for you to do so.
Note that you cannot send an international payment by phoning up Standard Bank's call centre; it'll need to either be online or at the branch.
Lastly, suppose Standard Bank cannot transfer your funds directly into your beneficiary's bank account and needs to rely on a correspondent or intermediary bank to get the job done. In that case, you may pay a correspondent bank fee that can range anywhere between R150 and R1,500.
Avoid 'OUR' Payments
If you're asked to choose between 'SHA,' 'BEN,' and 'OUR,' we recommend avoiding 'OUR' payments wherever possible. These instructions can open the door to third-party banks levying further fees from you long after the transfer has been sent.
Receiving International Payments With Standard Bank
While Standard Bank makes receiving money from overseas in South Africa very easy, it's nevertheless almost as expensive as the other way around. To receive a wire transfer from an international bank via SWIFT, Standard Bank will charge the following fee:
0.43% (charged at a minimum of R153 and a maximum of R555).
R122 tele-communication fee.
Similarly to the fees for outgoing payments outlined earlier, the fee will be higher still if you'd like to receive money from overseas via the call centre, namely 0.554% with a minimum charge of R185 and a maximum of R791. It's currently not possible to receive an international payment at a Standard Bank branch.
When receiving international payments, the Standard Bank bank address for international transfers you should provide should always include:
Your full name;
Your bank account number;
The Standard Bank SWIFT code: SBZAZAJJ;
The Standard Bank clearing code: 051001.
It's very unlikely that the international bank instructing payment to Standard Bank will require other information, including your account type, branch, and branch code (this information is usually only relevant to domestic EFTs in South Africa).
Finally, when your money's on its way from overseas, Standard Bank will contact you to complete a SARB Reporting Mandate Form. This is an obligatory step for all South African recipients of foreign exchange, requiring you to fill out a few personal details and declarations via an online form before the transaction is settled into your account.
Standard Bank Forex Fees
In addition to the standard set of service fees above, Standard Bank will also weave in another, less-transparent fee called an exchange rate margin to every international payment that you send.
In essence, this means that the exchange rate you'll be offered by Standard Bank will be ever-so-slightly worse than the real exchange rate used by banks, which is known as the mid-market exchange rate. It's in precisely this way that banks can claim that their international money transfers are free or low-cost, while, in reality, slipping in a hidden fee that can be as high as 11% of the entire transfer amount, in the case of Standard Bank.
What's more, Standard Bank remains vague regarding these exchange rate margin fees on its website, mentioning only the fact that its standard fees and possible additional fees from correspondent or beneficiary banks may be charged.
Standard Bank Total International Fees
All in all, Standard Bank's exchange rate margins combined with its standard fees on wire transfers leave the bank an expensive choice indeed. For example, if you were to send R2,500 to a family member in India, Standard Bank would charge you R259.00 in commission and tele-communication fees and a further R72.40 in exchange rate margin fees at the time of writing. Combined, these two fees come to more than 13% of the total transfer amount!
Contrast this to making the same transfer with WorldRemit, a London-based money transfer specialist available to South Africans that was the cheapest for this transfer on Monito's comparison engine at the time of writing. With WorldRemit, you'd pay no commission or tele-communication fees and R52.37 in exchange rate margin fees.
In the end, the Standard Bank transfer would leave your family member with ₹10,798 at the time of writing, while the WorldRemit transfer would get them ₹12,260 — nearly 14% more!
To get a better sense of how these fees are charged and what you might expect to pay when you send money abroad with Standard Bank, take a look at the table below:
Compare better alternatives for international payments:
Is Standard Bank Good for International Payments?
All things taken into account, Standard Bank is a world-class bank with a stellar reputation that you can most certainly rely on to take care of your international money transfer needs. If you're already a customer of the bank and value its service and standing, then paying a bit extra for these services may well make sense for you.
However, if you're somebody who's looking to get the best deal on every transfer abroad, then Standard Bank shouldn't be your first pick. Fortunately, in this case, you've got several low-cost money transfer specialist services to choose from! Just run a search on Monito's real-time comparison engine to see how much you can save on your next transfer abroad:
Compare and save up to 95% in fees compared to Standard Bank:
How Do Standard Bank International Transfers Compare?
To get a better picture of just how much you could be saving by switching to a money transfer specialist service, take a look at how WorldRemit and Skrill compare to Standard Bank on a R2,500 transfer to Australia:
Why Trust Monito?
You're probably all too familiar with the often outrageous cost of sending money abroad. After facing this frustration themselves back in 2013, co-founders François, Laurent, and Pascal launched a real-time comparison engine to compare the best money transfer services across the globe. Today, Monito's award-winning comparisons, reviews, and guides are trusted by around 8 million people each year and our recommendations are backed by millions of pricing data points and dozens of expert tests — all allowing you to make the savviest decisions with confidence.
Learn More About Monito
Monito is trusted by 15+ million users across the globe.

Monito's experts spend hours researching and testing services so that you don't have to.

Our recommendations are always unbiased and independent.