Going Borderless? Your questions on TransferWise's newest service, answered
Last updated
July 13, 2017
Updated 27 July, 2018
TransferWise is one of the best money transfer and currency exchange providers we work with. We love their mid-market exchange rates, wide availability, low fees, and easy-to-use services. In fact, we wondered, could they get any better?
It turns out they can. In May 2017 they announced a brand new service, the "TransferWise Borderless Account." It's an exciting development and a great new service, especially for businesses around the world. We know you've got questions — we've got answers. Read on, for what you need to know about the TransferWise Borderless Account.
Who is TransferWise?
TransferWise is a new money transfer service, they've only been around since 2011. Since the beginning, they've been disruptive — both from having big backers like Richard Branson, through to their low rates and simple services.
When we reviewed them, we said, "TransferWise is a top choice for international money transfers between bank accounts, as evidenced by the thousands of excellent TransferWise reviews on Trustpilot. They can send 40+ different currencies to 70+ countries and are one of the very few companies who can offer the true mid-market rate. Their low and transparent transfer fees make them extremely competitive."
In other words, they were already awesome!
What is the TransferWise Borderless Account?
The TransferWise Borderless Account gives you a "virtual" bank account in various different countries, that acts exactly like a local bank account. You get a sort code/routing number, account number, SWIFT / BIC, and IBAN codes that you can use to easily make and accept payments in a local currency. You can transfer money between currencies at TransferWise's mid-market rates and low fees. You also get a free debit card, which we cover in more detail in a separate post.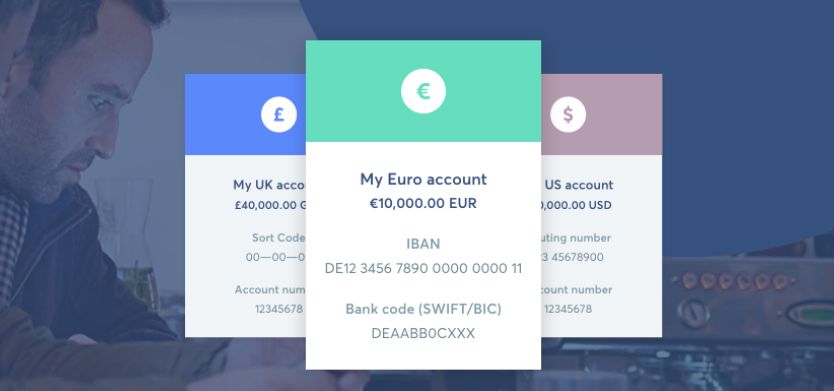 Can you give me an example?
Sure. Imagine you are a US-based business, but you take payments and pay suppliers in the US, UK, and Europe. You can setup your TBA in the US, then "add on" virtual bank accounts for the UK and Eurozone. You get local bank details for those areas and can effortlessly make and receive payments in Pounds Sterling and Euros.
Who is the account designed for?
The TBA is an extremely helpful solution for businesses and freelancers who have international customers, clients or operations in general. They won't have to pay expensive international wire fees or suffer from the poor exchange rates traditionally offered by banks. TransferWise is very well-known for being easy to use, and this account is no exception.
How can the account be used?
As present, the account can be used through TransferWise's website, and by using the virtual bank account details to make and receive payments. Your clients and vendors can demand, make, and send payments the same as with any other local bank account.
At the moment the account can only be used for transactions where SWIFT / BIC, IBAN, sort code / routing number and bank account numbers are used — bank drafts, direct debits, etc. TransferWise do plan to offer a debit card, which would make paying for goods and services in other countries and currencies much easier.
Sounds great! How do I sign up for a Borderless account?
If you're already with TransferWise, and have a business account, creating a Borderless account is as easy as clicking a button. If you don't already have a business account, applying for one is simple — you just need to sign up with the standard proof of address and ID requirements.
What happens when I open an account?
The first virtual bank account you get will be in your default currency. You can add other currencies and localities as needed. For any country where you want a local presence, TransferWise provides you with a unique sort code / routing number and account number for that bank account.
When do I pay fees to use the account?
You don't pay any fees for accepting money or making payment in a local currency. You only pay fees when you convert money between different currencies. You do pay a fee for adding money to the account with some debit and credit cards. There is a small fixed fee for moving money between your Borderless Account and a regular bank account, typically around £0.50 / $1.30 / 0.60€.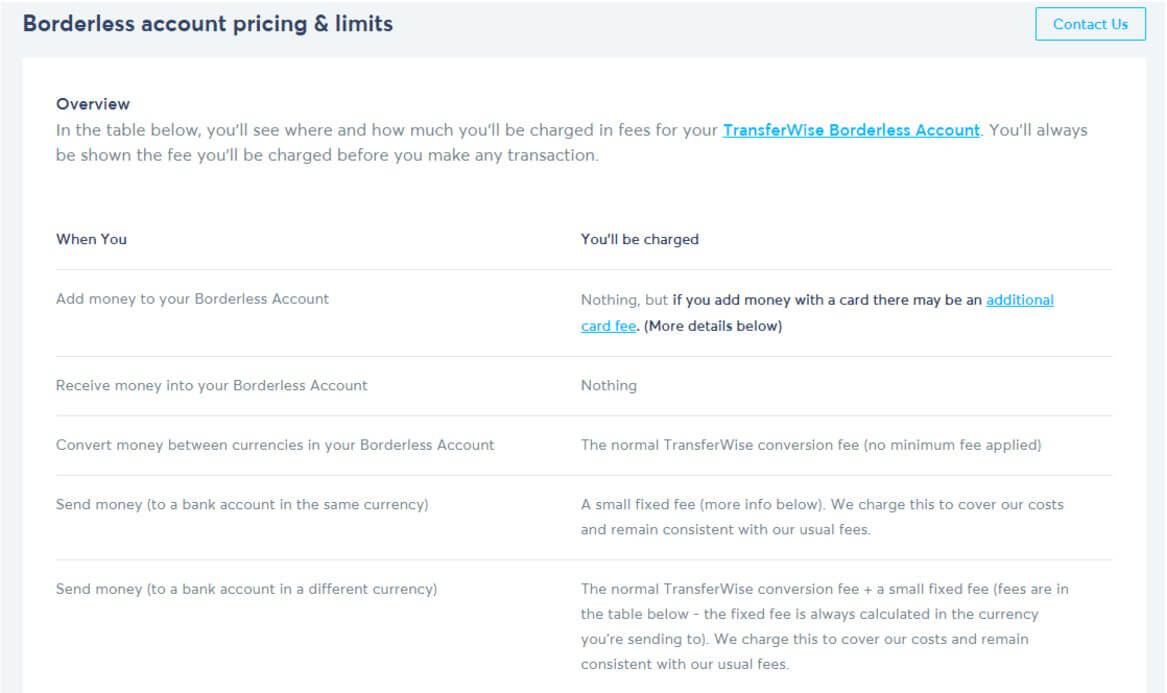 Can you summarize the pros and cons of the TBA for me?
Sure.
TransferWise Borderless Account — The Pros
Get a "local" bank account that lets you make and receive payments in different localities and currencies.
Easily add new countries and currencies to the account.
Some of the best exchange rates and lowest fees of any currency exchange provider.
No setup fees, monthly charges, or fees to send or receive payments.
TransferWise is a trusted, secure, reputable, reliable money transfer service.
Free debit card (currently the card can only be sent to customers in Europe)
TransferWise Borderless Account — The Cons
Not all countries and currencies are covered by the Borderless Account, but TransferWise are adding more all the time.
No debit cards in local currencies yet (July 2017) although that will be added.
There is a small charge to make external transfers to a bank account, typically around £0.50 / $1.30 / 0.60€.
There are limits on how much you can receive into your Borderless Account.
The debit card can only be sent to customers in Europe
What's your final word?
The TransferWise Borderless Account is a simple, easy-to-use, fast way to make and send payments in multiple countries and currencies. TransferWise has a great reputation as an excellent currency exchange provider — their speed, reliability, and customer service combines with this new initiative to create a groundbreaking product that will help merchants and small businesses worldwide.