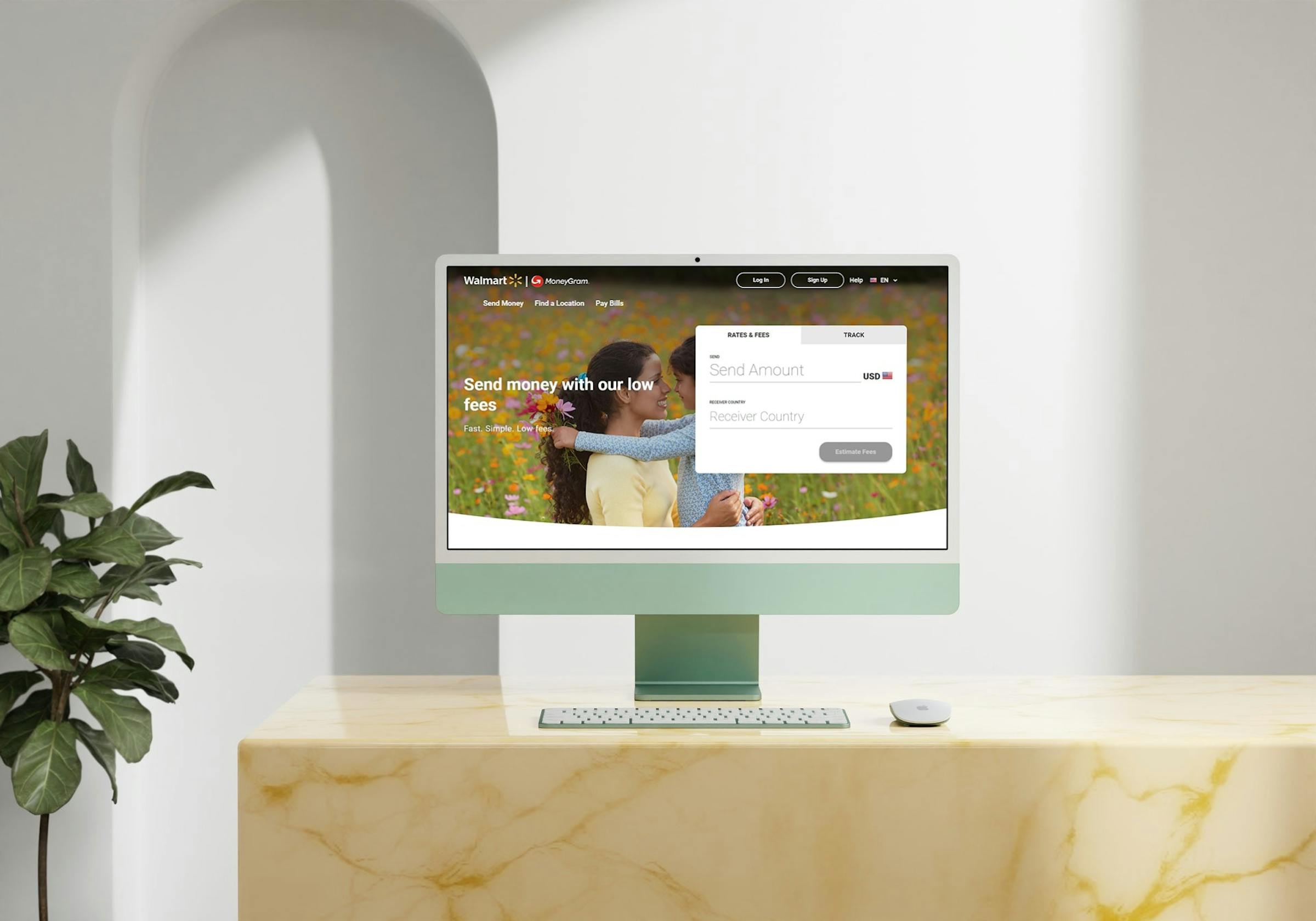 Walmart Money Transfer Review: Currency Exchange Rates, Fees, Usability, and Monito's Verdict
Walmart Money Transfer is a poor money transfer service (6.5/10) that's seldom recommended by Monito's experts for international money transfers, largely because of its comparatively very high fees and exchange rates (1.5/10). In every other respect, however, Walmart is a good way to send money. Not only are Walmart transfers highly secure and backed by one of the largest companies on the globe (8.7/10), but signing up and sending money is relatively easy on MoneyGram's platform via Walmart2World (7/10), which enjoys very high satisfaction from customers (8.9/10).
What We Like About Walmart Money Transfer
Backed by Walmart, the largest company in the world by revenue;
Over 350 thousand locations in 200 countries via MoneyGram;
Multiple pay-out options are supported;
High-speed money transfers, often arriving in minutes;
Transfers can be started in-app or online and finished in-store.
What We Dislike About Walmart Money Transfer
Fees can be high, especially for smaller transfer amounts;
Exchange rates are uncompetitive on Monito;
Photo identification required to send and receive money;
The maximum limit via Walmart2World is sometimes low.
Because of its high fees and exchange rates, we recommend against using Walmart Money Transfer for sending money internationally in almost all cases. Instead, we recommend running a search on Monito's award-winning comparison engine to find the best transfer alternative in real-time.
| Category | Monito Score | Highlight |
| --- | --- | --- |
| | 8.7/10 | Transfers are backed by one of the world's largest companies and operated by Western Union, MoneyGram, and Ria. |
| | 7/10 | Signing up can take time due to ID verification, but making a new money transfer is fast and seamless. |
| | 1.5/10 | Very poor fees and exchange rates compared to the rest of the market. |
| | 8.9/10 | Excellent aggregrated consumer review rankings through MoneyGram. |
Who Is Walmart Money Transfer For?
Walmart Money Transfer — and specifically its international transfer segment, Walmart2World — is available to US residents for US dollar transfers to around 200 countries and territories worldwide.
See How Walmart Stacks Up
How Monito Reviewed Walmart's Services
As with all services reviewed by Monito, Walmart Money Transfer underwent a rigorous evaluation to assess the quality of its service. To begin with, our experts opened a Walmart2World account via MoneyGram to test out its functionalities, including the ease of registration and speed of transferring money, which provided a well-rounded overview of the platform's strengths and limitations. Next, we weighed this score against several other key criteria, including customer reviews, percentage of fees constituted by exchange rate margins, pay-in options, access to customer service, as well as business and legal metrics such as volume transferred, appropriate authorization, and company size. Finally, we analyzed nearly 122 thousand searches on Monito's comparison engine to determine how often Walmart Money Transfer was the cheapest service and how often it was competitive against its rivals over the past three months, giving a reliable overview of the service's pricing in relation to the market. As with all Monito Scores, Walmart Money Transfer's score was peer-reviewed by at least one Monito expert.
Reviews are written independently by Monito's editors and recommendations given are our own. Services you sign up with using our links may earn us a commission.
Background check
Walmart is a publicly traded company, and its money transfer partners are duly licensed and authorized in the US and in every region in which they operate globally.
Security & reliability
Walmart's platforms are fully secured and use top-notch security protocols, including segregated user accounts and HTTPS.
Company size
A well-established company with a long history, Walmart today has more than 1.5 million employees globally, millions of customers, and handles some US$800 million in transactions every year.
Transparent pricing
Walmart Money Transfer is not transparent about its pricing, with some 51% of total fees being buried away in hidden exchange rate margins.
Can I Trust Walmart Money Transfer?
True to its name, Walmart Money Transfer is a service that's backed by Walmart itself, meaning it enjoys the institutional backing of and resource sharing with the world's largest company by revenue and number of employees. As a result, Walmart Money Transfer is indeed a legitimate and trustworthy way of sending money internationally.
Each week, nearly 270 million customers and members visit more than 11,700 stores under 65 banners in 28 countries and eCommerce websites. With fiscal year 2020 revenue of $559 billion, Walmart employs approximately 2.3 million associates worldwide.
Is Walmart Money Transfer Safe?
Yes, Walmart Money Transfer is safe. Moving around US$800 million on an annual basis through trusted partners MoneyGram, Ria, and Western Union, Walmart is as safe and secure as it gets when it comes to sending money.
Opening an account
Account registration with Walmart2World is a reasonably laborious process, and you'll be required to enter a lot of personal information before making your first transfer.
Making a transfer
Transferring money with Walmart Money Transfer is simple and straightforward, although you might encounter some regulatory questions along the way.
Contacting support
Customer support features such as a FAQ are available; however, accessing live chat support is only possible if you're making a transfer.
Walmart Money Transfer's Service Quality
While transferring money with Walmart Money Transfer via Walmart2World and MoneyGram is usually a painless process, you may face some hurdles while signing up for a new account. What's more, both you and your beneficiary will be required to provide a photo ID to send and receive money.
What Is Walmart Money Transfer?
Walmart is the largest retailer globally, and they provide a comprehensive range of products and services to their customers — one of which is money transfers. The Walmart MoneyCenter, for example, offers several ways to manage your finances, including sending money to people in the US and over 200 other countries and territories.
Walmart operates around 12 thousand stores worldwide, with 5 thousand of them located in the US, and you can use the Walmart2Walmart service to send money between them via Ria. If you're exchanging currency outside the US, the Walmart2World service can send money to over 350 thousand additional locations through MoneyGram's network.
The sheer number and accessibility of Walmart locations make them a convenient choice, especially if you're already at the store for your shopping trip. Walmart money transfer services provide three main ways to send money.
Walmart2Walmart
This service, powered by Ria, lets you send money to any Walmart store within the United States, including Puerto Rico. Fees start at US$4.00, and you can start your transfer in a Walmart store, for example using a money order, or through the mobile app.
Ria is a trusted provider for domestic and international money transfers. They offer a range of low-cost currency exchange services with a large international network of affiliates and agents. Unlike Walmart's offering with MoneyGram, you can't use Ria as a separate service through Walmart. Ria processes Walmart2Walmart transactions behind the scenes.
Walmart2World
This service, powered by MoneyGram, lets you send money to any MoneyGram location in over 200 countries and territories. Fees start at US$4.00, and you can start your transfer in a Walmart store, online or through the mobile app.
In addition to a large international presence through their own stores and the MoneyGram agent network, Walmart lets you transfer money online through the MoneyGram platform. You can also choose to start a transfer via Walmart's smartphone application and then finish your transaction at a local Walmart store. When you get to the store, you can fund your transaction using a debit card and PIN or pay with US dollars.
Your beneficiary has a few choices on how to access the money you send them. Depending on the service you use and the beneficiary's location, they can pick up their money in person, have it transferred into a bank account, use a mobile wallet or even have the cash sent to their home.
The fees for money transfers can be quite high, especially if you're sending smaller amounts. If you're using Walmart2Walmart or Walmart2World in-store or through the app, the fees range between US$4.00 and US$16.00. If you're sending money via the Walmart MoneyGram website rather than paying in-store, you will still need to pay these fees.
The Walmart2Walmart and Walmart2World services are fast, with most beneficiaries able to access their money within minutes of you sending it, although this does vary by your beneficiary's location, currency and how they're getting the money.
Fees & Exchange Rates
1.5
Transfers to a bank account
Walmart Money Transfer was not the best deal on any available Monito comparison for bank transfers analyzed.
Transfers to cash pickup
Walmart Money Transfer was the best deal on around 10% of available Monito searches for cash pickup transfers analyzed.
Walmart Money Transfer's Fees & Exchange Rates
Walmart Money Transfer is seldom the cheapest service on Monito's comparison engine and offers comparatively highly-priced fees and exchange rates for transfers abroad.
Through Walmart2World, for example, while MoneyGram processes transfers, Walmart applies its own set of fees to each transfer which are even more pricey by comparison. These fees fall into two types and can be broken down as follows:
Walmart Money Transfer Fees
If you're paying in-store or online for a money transfer, you will pay the following fixed fees to send money internationally with Walmart:
Sending US$0.00-60.00: US$4.00
Sending US$60.01-1,000.00: US$8.00
Sending US$1,000.01-2,500.00: US$16.00
This makes Walmart Money Transfer fees high, especially compared to other services which often charge considerably less. In some cases, fees for Walmart2World international money transfers may vary depending on where you send your money, the amount you send, and your payment method.
Walmart Exchange Rates
The Walmart2World money transfer service uses exchange rates provided by MoneyGram for sending money internationally. Unfortunately, MoneyGram's exchange rates are not very competitive.
For example, if you were to send US$1,000.00 to a friend in Canada in July 2021 via the Walmart2World option, you would pay around US$32.00 in hidden exchange rate margin fees. This is around 3.00% worse than the mid-market exchange rate, meaning for every US$1,000.00 you are transferring; you are paying around US$32.00 more due to the difference between the mid-market exchange rate and the Walmart exchange rate. Bear in mind that this fee is in addition to the exchange rate margins listed above.
By contrast, a more competitive money transfer provider might eliminate your fixed fees and provide more competitive exchange rates.
Take a look at the table below to get a snapshot of how much Walmart's exchange rate margins amount to:
| Destination Currency | Walmart Exchange Rate | Mid-Market Exchange Rate | Margin (%) | Margin per 1,000 USD |
| --- | --- | --- | --- | --- |
| | 73.7494 | 74.25642 | 0.68% | US$6.77 |
| | 1.1988 | 1.2388433 | 3.23% | US$32.06 |
| | 20.3316 | 20.607356 | 1.34% | US$13.27 |
| | 3,692.3136 | 3,761.2678 | 1.83% | US$18.19 |
| | 47.8576 | 48.698325 | 1.73% | US$17.13 |
| | 0.8139 | 0.84062191 | 3.18% | US$31.53 |
| | 4.9457 | 5.0146609 | 1.38% | US$13.64 |
| | 55.6924 | 56.947739 | 2.20% | US$21.87 |
| | 3.9498 | 3.9536295 | 0.10% | US$0.96 |
| | 154.3452 | 158.22652 | 2.45% | US$24.33 |
We used a minimum viable amount of data to derive Walmart's Fees & Exchange Rates' score. The score may therefore change as new data comes in.
Walmart MoneyGram Estimator
To get a sense of how much you'll be paying in fees to make a Walmart2World money transfer via MoneyGram, take a look at the Walmart MoneyGram estimator here and run a few test estimations to see how much you can expect to pay in fees for transfers to different countries and using different pay-in and pay-out methods.
(Bear in mind that the Walmart MoneyGram estimator won't display the exchange rate margins costs we went through above.)
Compare Fees & Exchange Rates
Customer Satisfaction
8.9
Customer review score
Gleaning 4.3 out of 5 stars from customers on Trustpilot, Walmart2World via MoneyGram is without a doubt a much-liked money transfer service.
Number of positive reviews
With more than eight thousand reviewers on Trustpilot awarding four- or five-star to Walmart2World via MoneyGram, the service is reliable in the eyes of many customers.
Customer Reviews of Walmart Money Transfer
Through MoneyGram, international money transfers with Walmart Money Transfer generally earn very positive reviews from its base of customers in the US. The following consumer sentiments came up time and time again among MoneyGram's reviews (Walmart2World has no reviews of its own but the underlying service is the same as MoneyGram's):
Positive Walmart Money Transfer Reviews
Customers liked the fact that the money was available in minutes at the receiving end of the money transfer;
Friendly and helpful telephonic assistance;
Easy to use the web and mobile apps.
Negative Walmart Money Transfer Reviews
Some customers have seen their transferred cancelled and had problems getting their money back;
Negative experiences with customer service-little support or dedicated, personal service;
Customers had problems using their online service;
Some were annoyed by the verification process to identify themselves (which MoneyGram is required to perform by law).
How Walmart2World Works
Step 01

Check Walmart's Rates

Use Monito's comparison engine to see how Walmart's fees and exchange rates weigh up against the rest and make sure they are indeed the cheapest option for your international money transfer. There, you'll be able to discover both the cheapest ways to fund your transfer and have the money received.

Step 02

Open a MoneyGram or Ria Account via Walmart

You can sign up for Walmart Money Transfer on the web or using the mobile app using your email address through MoneyGram or Ria. In the steps to follow, we'll look at the process through MoneyGram. To get started, you'll need to provide MoneyGram with your full name, residential address, mobile phone number, country of birth, and date of birth.

Step 03

Verify Your Identity

If you'd like to transfer over a threshold limit (e.g. US$900), you'll be required to verify your identity regardless of your payment method. To do this, start the verification process when prompted and follow the instructions to scan and submit your valid photo ID. Take note that, depending on the amount you send, you may be questioned about your occupation in order to verify your identity.

Step 04

Set Up Your Money Transfer

After you're signed in, you'll be able to set up a new transfer by entering how much you'd like to send, your destination country and currency, and after clicking 'Estimate Fees,' you'll also be able to specify your payment method and your beneficiary's receiving method. You may be asked additional questions about your occupation, source of funds, relationship to the receiver, the purpose of your transaction, and your country of citizenship.

Step 05

Add Your Beneficiary

Next, you'll be directed the 'Receiver Information' section where you'll need to specify your beneficiary's full name and bank information. If you're sending money within the Eurozone, you'll need your recipient's IBAN and their SWIFT/BIC code and their bank name.

Final step

Review and Pay

Having added your beneficiary, the final step will be to enter your payment details in the 'Payment Information' section. This will include an option to enter you card details if you chose to pay by card, or it will show the bank details of the bank account to which you should send your money if you chose to pay by bank transfer.

Go To Walmart Money Transfer
Frequently Asked Questions About Walmart Money Transfer
Is Walmart Money Transfer safe? 🔒

Yes, Walmart Money Transfer is safe. Run by the world's largest retail company, Walmart2World moves around US$800 million on an annual basis through trusted partners MoneyGram, Ria, and Western Union, making the service is as safe and secure as it gets when it comes to sending money online or in-person.

Does Walmart transfer money? 💸

Yes, retail giant Walmart offers money transfers to customers in several ways through Walmart MoneyCenter and selected partners. For example, Walmart customers can send money from one Walmart store to another via Walmart2Walmart, powered by Ria, or internationally through Walmart2World, powered by MoneyGram.

How long do Walmart money transfers take? ⏱

Depending on the pay-in method, pay-out method, and destination countries involved, Walmart money transfers can take anywhere between 10 minutes and three working days to arrive at their destination internationally.

How do I receive money with Walmart Money Transfer? 📥

There are three main ways in which beneficiaries can receive money via Walmart Money Transfer. They can either choose to fetch the money in person from a cash pick-up location, receive the funds into an eligible mobile wallet, or have the funds deposited directly into their bank account.

How do I track money with Walmart Money Transfer? 🔍

When sending money with Walmart Money Transfer, you'll need to visit the relevant partner website in order to track your funds. When you send money with Walmart, you'll receive a tracking number or other transfer details on your receipt. These can then be used on the Ria, MoneyGram, or Western Union websites respectively to track the status of your money transfer.

How do I cancel a Walmart money transfer? ⛔

To cancel a money transfer sent through Walmart, you'll need to contact the customer support team of the relevant partner service. For example, if you sent money abroad through Walmart2World, you'll need to contact MoneyGram. On the other hand, if you send money domestically through Walmart2Walmart, you'll have to contact Ria.

Can I send money with Walmart online? 💻

Yes, it's certainly possible to send money online with Walmart. For example, Walmart customers can send money from one internationally through Walmart2World, powered by MoneyGram, which can be accessed through the Walmart MoneyGram money transfer web page.